Criminal Justice professor works with Miami police to create real-time crime center
December 4, 2019 at 10:00am
---
A 911 call comes into dispatch. A citizen says he has spotted a suspicious male with a backpack and what appears to be a gun.
Many thoughts can run through officers' minds as they drive toward the scene, wondering if they'll be dealing with a violent attacker, said criminal justice professor Rob Guerette.
With limited information and under the traditional model of policing that includes armed officers and armed vehicles, officers may find themselves considering a "use of force scenario," Guerette said.
To give officers more information before they encounter a potential suspect, Guerette is working with the City of Miami Police Department to build and evaluate what is known as a real-time crime center or RTCC.
With the RTCC, the same call would be relayed to the officer – but it would also go to the department, where a team of information analysts and seasoned supervisors could begin searching for additional information about the crime scene, previous cases and camera footage while officers are in route to the scene.
Within a matter of minutes, this team of experts can dig up information to provide officers with more context – and more accurate information on possible scenarios at the scene.
"In the age of information, technology and data, the purpose of the real-time crime center is to harness all of the available information that is out there and deliver it to responding officers in real time so that they can make better decisions,'' Guerette said. "[This system will allow them] to investigate and solve crimes with better information, which will hopefully lead to better outcomes."
To implement the center, Guerette and the Miami police department received a $700,000 grant from the U.S. Bureau of Justice Assistance (BJA). This is the second round of funding for Guerette's work. The first phase was a $600,000 grant to help enhance the department's crime analysis unit.
Working with two students in the international crime and justice doctoral program—Joelle Lee-Silcox and Kimberly Przeszlowski—Guerette refined the Miami police department's crime analysis techniques and assisted in overhauling the department's data systems.
That proved to be so successful, department officials wanted to continue with a second phase to develop the real-time crime center, which has become an increasingly popular concept nationally, Guerette said.
Housed within the City of Miami Police Department, the RTCC is located in one room, with multiple TV screens and computers throughout.  Workers are stationed at computers with access to closed circuit television cameras throughout the city. These cameras are also connected to a gunshot detection system that alerts the center when a gunshot is fired.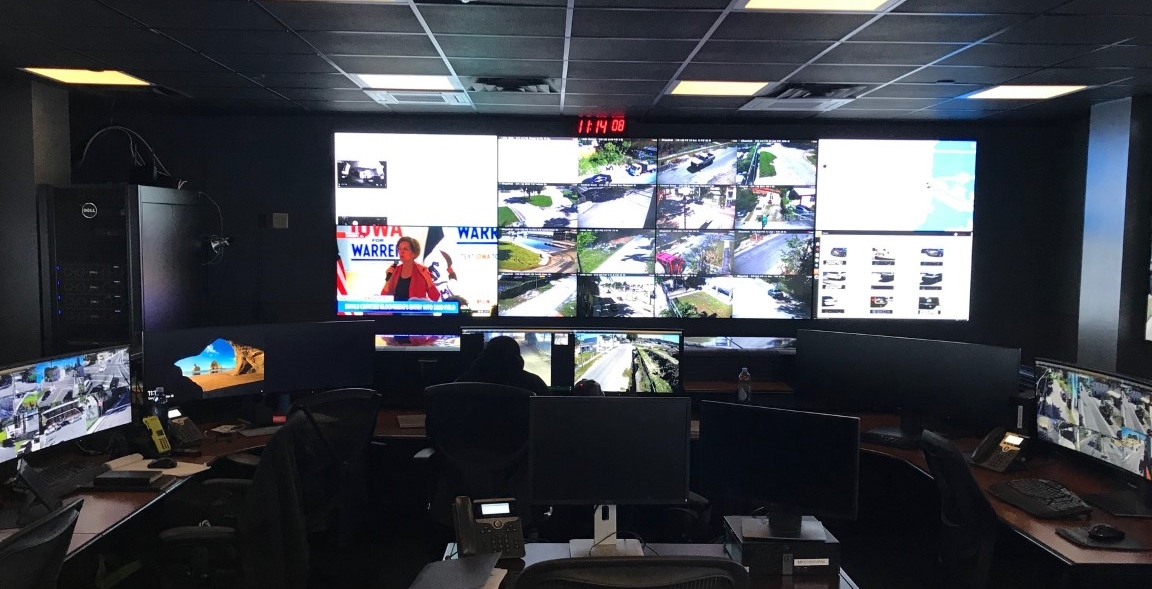 Databases united under one software portal allow crime analysts to quickly access and deploy information to officers.
"We hope to arm officers with information to make the community safer," Guerette said.
The project is an example of the many recent technological developments in law enforcement, such as body-worn cameras and biometrics, that have had far-reaching effects on police agencies, said Professor Lisa Stolzenberg, chair of the Department of Criminology and Criminal Justice, a part of the Steven J. Green School of International & Public Affairs.
"It aligns perfectly with our new bachelor's in crime science degree, which integrates the latest advancements in forensics and computer science with traditional criminology and criminal justice, as well as the Ph.D. program in international crime and justice,'' she said.
Guerette and his students will conduct an impact evaluation of the RTCC, analyzing crimes that were relayed by the real time crime center and comparing them to those that were not. Their evaluation will focus on violent crimes throughout a three-year period.
Embedded in this project since the first round, the students have been working for the City of Miami Police Department for almost three years. They have a designated space within the crime analysis unit and work alongside the crime analysts. Guerette oversees their work and provides them with guidance. One of the students, Lee-Silcox, has been hired as the department's fulltime director of crime analysis.
"This project provides ICJ doctoral students with an opportunity for real-world applications of their research and analytical skills that are learned within the curriculum of the ICJ program,'' Guerette said. "It also provides the students with first-hand evaluation, research experience and first-hand observational experience with how crime and policing operates."
With the possibility that the RTCC will reduce officers' use of force, improve officer safety, improve citizen safety, increase case clearance rates and decrease the time it takes to do so, Guerette said he is optimistic that this will ultimately lead to safer communities.