Dance marathon raises more than $94,000 to help sick children
April 22, 2019 at 12:00am
---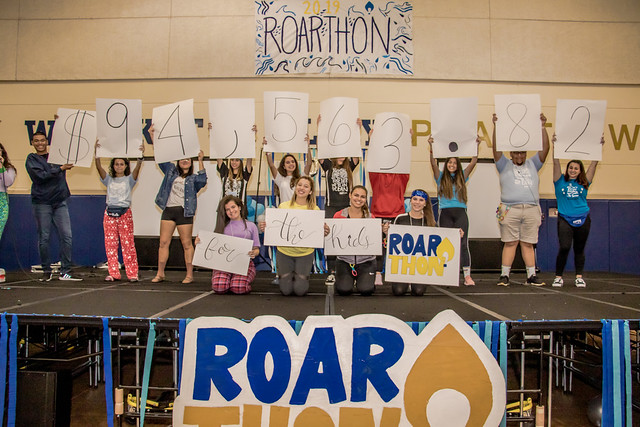 Roarthon is more than a 17-hour dance marathon. It's also an FIU tradition and a year-long fundraising organization that raises proceeds benefitting the Nicklaus Children's Hospital Foundation through the Children's Miracle Network. Moreover, participating students learn key skills such as marketing, recruitment, planning and morale boosting.
This year, 533 students, faculty and staff members raised a total of $94,563.82. The proceeds raised will help provide financial support to families who cannot afford proper hospital care for their children. Since 1997, FIU has raised more than $1 million for the cause.
While dancers make it look easy, raising a large sum of money doesn't happen overnight. In fact, four major events take place throughout the year leading up the dance marathon.
How does Roarthon raise funds?
Fundraising for Roarthon begins in the summer when 40 to 50 committee members kickoff the planning process. Each committee member commits to raise $600.
A pivotal moment of the fundraising campaign occurs in the fall semester when committee members organize a fun-filled event at the Panther Pit to reveal Roarthon's theme for spring. This sets the tone for the year and offers an opportunity for participants to sell food and Roarthon merchandize.
One of the organization's most popular fundraising initiatives is the  Mr. and Miss Roarthon Pageant—a weeklong event in early February where registered Roarthon dancers compete for the coveted title and a chance to become honorary committee members. The 2019 event raised $10,275.03 and crowned  Zach Lendzian  and  Loraine Sierra  as  Mr. and Miss Roarthon .
Finally, a week before the dance marathon takes place, Roarthon's morale captains host  Miracle Week, which is comprised of a variety of fundraising events to increase awareness and get registered dancers excited.
However, the biggest fundraising push comes from individuals' and team's innovative and creative ideas to raise money. A truth that was reflected in this year's Roarthon theme:  Individually, we're one drop. Together, we're an ocean.
"When people hear about Roarthon they feel overwhelmed or obligated that they have to be fundraisers, but simply coming to the event and donating to your friends who are trying to reach their (fundraising) goals is also really helpful — even if it's just buying a hat for $10," says Katelyn Bodwell, Roarthon advisor and coordinator for the  Center for Leadership and Service.

How can you get involved in Roarthon 2020?
Become part of the Executive Board. The Roarthon Executive Board is made up of seven students who serve as peer leaders to their respective committees and are in charge of the program's strategic plan.

 

Learn more.
Join the Roarthon Committee. Want to be part of the team that runs the program's behind the scenes?

 

Applications for the 2020 Roarthon Committee are currently available. To apply, you must be an FIU student taking at least six credit hours and have a 2.5 GPA or above.

 

The deadline is April 26 at 5 p.m.
Participate as a dancer or join/create a team. Students, faculty and staff can all register to become fundraising dancers. Dancers take part in the 17-hour marathon along with other FIU students & community members as they learn a fun and unique Line Dance, enjoy live entertainment, games, classes, great food, and hear firsthand stories from Miracle Families. Participants are asked to pledge their commitment to raise $125. Registration for dancers opens at the start of the fall semester and closes the day of the Roarthon event.
Show your support by cheering for others. The dance marathon is free for students to attend. Family members, visitors, faculty and staff can pay $5 to enter the event and cheer on dancers.
---
The Center for Leadership and Service provides students with developmental and experiential opportunities that foster leadership and community involvement, grounded in values and moral purpose. Through leadership education, service learning, advocacy and volunteerism, students become active global citizens on campus, in their respective communities and in the workplace.