By virtue of their education, professional backgrounds and personal experience, FIU alumni possess expert knowledge on a wide variety of topics. FIU Magazine asked two dozen to offer helpful suggestions (in 100 words or less) that almost anyone can use.
Work and finances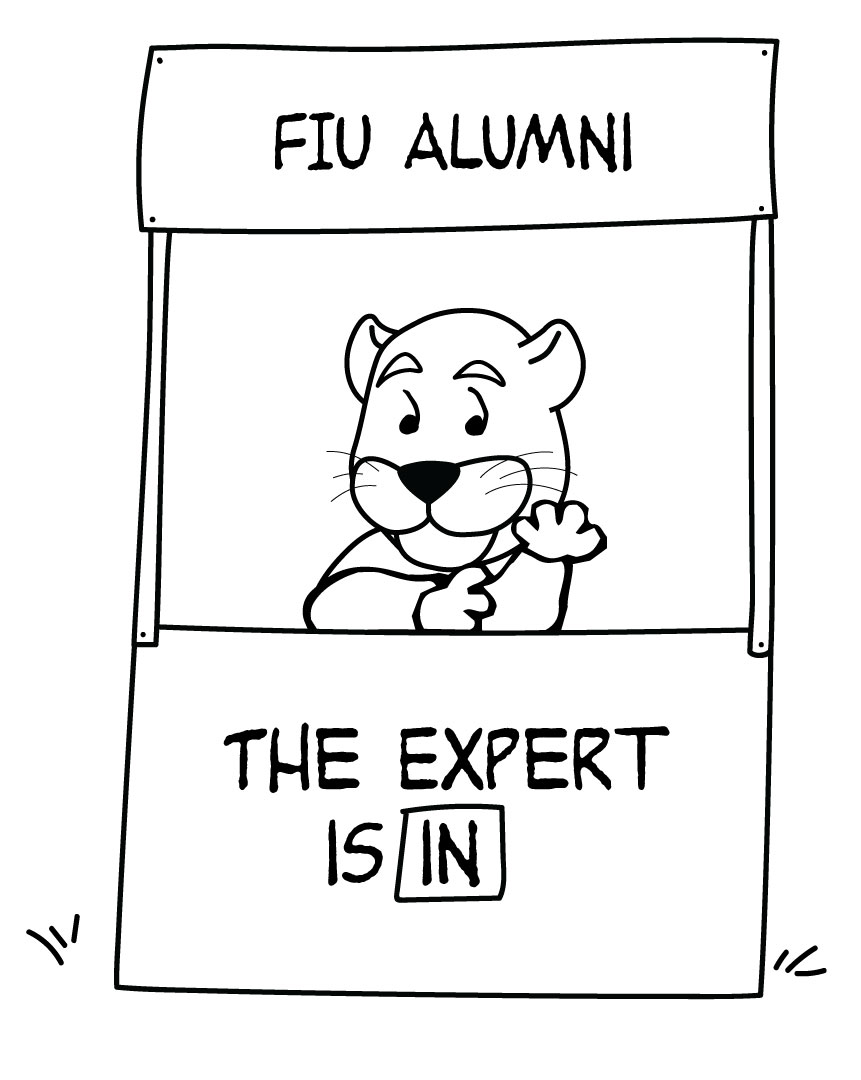 Stay relevant in a fast-paced economy
Unless you continue to expand your skills, moving ahead professionally will be difficult. New jobs and knowledge are constantly emerging. If you don't evolve—sometimes even "unlearning" approaches that worked previously—you will not be successful long term. So block time weekly to learn something new, either in your current area or an entirely different one, to keep abreast of changes and stay ahead of the curve. This might include watching appropriate YouTube videos, participating in webinars, reading articles or picking the brain of someone at the cutting edge. And don't discount the value of continuing education or an advanced degree.
David Van Rooy '03 '05 is vice president for talent and organizational capability at Walmart Canada.
Look like you mean business
People don't realize how much color influences perception, whether on a website, logo or product packaging. The same goes for one's clothing. Color subliminally affects how others view your authority and intelligence. Project a strong image by wearing high contrast, such as a dark suit with a white shirt. This carries over to accessories such as eyewear, shoes and jewelry. Finally, know which color is best for you based on the hue of your eyes and hair and the underlying tone in your skin—blue, yellow or pink. Once you find what suits you, stick to it.
Weyleen Ma '98 EMBA '07 is founder and president of International Image Consulting.
Secure a financial adviser you trust
People look for someone they like and trust. After all, this is about relationships. But consumers don't know what they don't know. I suggest vetting an individual financial adviser on brokercheck. nra.org to make sure he or she doesn't have any industry violations. Personal bankruptcy and criminal activity also show up there. And look for credentials, the letters that follow a name. While some don't mean much as they require only a simple test, one that does matter is CFP—certified financial planner. It is comprehensive and requires passing a big exam.
Gustavo J. Vega '98 is a certified financial planner and co-founder of WealthEngage.
Family
Raise imaginative kids
A healthy imagination is the foundation for learning, problem-solving and creativity. To spur that, make sure your child has access to toys that encourage inventive play, such as building blocks and dress-up clothes, as well as a wide range of books. Allow children to explore play that is based on their individual interests and not on a parent's or caregiver's gender stereotypes. And finally, allow them to get bored. That should encourage resourcefulness as they seek unstructured "free play" opportunities.
Gabriela Brown '96 is founder and CEO of I Know Science Toy Store & STEM Center.
Preserve your mother tongue
Adopt practices that work for your family. For example, at home I only speak in Portuguese, and my sons have to answer me back in complete sentences. Switch the default language on mobile devices so you can communicate with family members in the familial language. Build a home library of books, magazines, games, DVDs and CDs that reflect your heritage. Teaching kids your native language keeps it from being lost.
Ivian Destro Boruchowski MS '14 is a bilingual education and curriculum specialist.
Community
Deepen your civic engagement
Volunteering on a municipal board or committee provides an ideal opportunity to serve your community. Boards and committees make recommendations to elected officials about decisions that will benefit the greater good. To get involved, visit your municipality's website to see available positions—these can range from budgeting and finance to historic preservation—and figure out what you're passionate about. Next, reach out to your elected officials. They're always looking to fill vacant spots. Getting involved at the local level is a critical investment in your family and your community. Your contribution serves everyone.
Alfredo Riverol '98 MPA '00 MST '03 is chief financial officer for the City of South Miami and an adjunct professor of public policy and administration at the Steven J. Green School of International and Public Affairs.
Find meaningful volunteer experiences
Volunteering contributes to personal and professional development and builds new relationships. Find opportunities at FIU by looking for student groups that need help or inquiring with the Alumni Association. Use social media to seek recommendations and make connections. Finally, volunteermatch.org can pair your interests with a local nonprofit. Once you agree to an assignment, always show up and never put personal gain above the work at hand. Be patient and kind, especially while waiting for direction and, when appropriate, jump in with something specific by asking 'Can I help you with X?' Most importantly, have fun! Positive energy supports everyone.
Marly Q. Casanova '06 MS '08 is the founder of the volunteer-driven project called PARK (Perform Acts of Random Kindness) and has delivered a Ted Talk called "Kindness is your Superpower."
Communication skills
Make small talk with a VIP
Always greet important people by name and with the appropriate title, and remember to introduce yourself. While you should show respect and proper decorum, never stand in awe of them. Most people want to be treated like everyone else. Watch for cues to determine whether someone is in the mood to engage. If yes, then knowing something about current events in the country he or she comes from or something of his or her work provides the basis for a nice little conversation.
Moraima Meijaard '87 is a protocol officer with Miami-Dade County and meets diplomats and other dignitaries daily at Miami International Airport.
Listen actively
We are all so distracted that we rarely pay real attention to one another. To change that, we must make a conscious effort not only to hear but to listen. This will improve our human interactions. Practice active listening by putting down your cell phone and closing your eyes. You won't encounter silence. Instead, the humming of the refrigerator or the whirring of the AC will grow in your ears. Concentrate long enough and you may detect a rhythm. Do this regularly and you will find yourself better in tune with the world and the words of those around you.
Catalina von Wrangell MM '13 is a composer, performer, educator and arts management professional.
Stay calm and carry the conversation
People get nervous talking in situations that are rare: job interviews, meeting future in-laws, approaching strangers at a party. The best advice is to trust yourself and not care too much. The more you think, the more you worry, the worse it goes. Lower your expectations and you're likely to succeed. Just treat those with whom you are talking like you do friends. With friends there are no rules, and you generally feel comfortable telling them your story. If you can tell that story with passion, even those who don't know you will be interested in what you're saying.
Peter Mir '12 is cofounder of Villain Theater in Miami an actor who teaches improvisational skills.
Ramp up your public speaking proficiency
Listen to great public speakers, in all areas of expertise, as you refine your own style. You might pick up a tone, pace, rhythm, structure or other attribute to incorporate into your own. Focusing on one or more of these as you deliver a speech helps take your focus away from the nerves you may have and helps you deliver your substance more clearly. You may not be a master today, but with enough technique gleaned from those who are, you soon will be.
Dane Stuhlsatz JD '18 was selected by his peers to speak on behalf of the graduating class at the 2018 FIU law school commencement.
Diet and health
Transition to a plant-based diet
Make cooking meatless dishes an adventure. It's all about creativity. Get protein from great options such as quinoa, beans, chickpeas, lentils and tofu. Don't tell friends or family about a plant-based meat substitute until they've tried it. That's what I do, and my friends can't tell the difference! For those who don't want to give up meat entirely, or want to move toward vegetarianism slowly, Meatless Monday has become a popular trend. But why not turn that around and do Meatfull Monday instead? Essentially, eat meat once a week and plant-based meals the rest of the week.
Brian Machovina BS '92 MS '94 Ph.D. '15 is an entrepreneur, an inventor and a scientist.
Distinguish a migraine from a less-serious headache
Migraines are a leading cause of disability, but how do you tell a migraine from the more-common tension headache? Migraine is often a throbbing headache associated with sensitivity to light, sound and odor and sometimes accompanied by nausea and vomiting. While milder headaches can usually be treated with over-the-counter medications, migraines should be seen by specialists who can sort out possible triggers, suggest preventive measures and prescribe appropriate pharmaceuticals or other options such as acupuncture. If you experience symptoms such as confusion, weakness, speech problems or vision loss, or if your pain interferes with work, school or other activities, seek help.
Dr. Teshamae Monteith '98 is an assistant professor of clinical neurology at the University of Miami Miller School of Medicine and chief of the headache division.
Personal
Find the love of your life
Many of my clients are successful women, and the most important thing I tell them is to stop trying to control everything, whether it's where to go on dates or how the other person is supposed to react. That takes the joy out of getting to know someone, and it certainly kills the spark and the spontaneity, not to mention the sex. I tell male clients to make their love life as important as their careers. Too often, in the midst of climbing the ladder, they forget to look for love. I'm convinced there is someone out there for everyone.
Casandra Henriquez '04 MPH '06 is a life and love coach who owns the consulting firm Inspire Many; she is hosting the Success in Love Summit Feb. 14-16, 2019.
Live joyfully
As beautiful as life can be, it is also full of ups and downs that can take a toll on your well- being. The best way to achieve a joyful perspective is to extract the positive lesson in every situation, including negative ones, and to be grateful for what you have. At the end of every day, I take a few minutes to reflect on one thing I'm grateful for. Sometimes, it's a person that impacted me or an event that occurred that day that made me happy. Being grateful and acknowledging what's going right in your life has powerful results.
Avni Parekh '10 is the author of "Be the Bigger Person: Scenarios & Solutions to Better Yourself."
Home
Redecorate on a budget
If your furniture is in good condition and not dated, rearrange it and then go "shopping" for pieces in other areas of your home. It's a fun scavenger hunt! A dining room sideboard, for example, can function as a media console. If you must make a purchase, hit clearance sections and discount home stores to make your decorating dollar go farther. Adding new paint is an inexpensive update, and you can create a feature wall with wallpaper, wood planks or tiles that add texture and a focal point. Complete the makeover with low-cost area rugs and toss pillows.
Martin Amado '96 is an interior decorator and lifestyle expert who hosts a design show on local South Florida TV and this year published "One-Day Room Makeovers: How to Get the Designer Look for Less with Three Easy Steps."
Turn your living space into a smart home
First, purchase a smart hub and then determine its compatibility with various brands of smart thermostats, voice assistants, lights and anything else you wish to buy. Why? It's true that individual smart devices, such as a smart lock, may let you do neat things, like remotely turn off the lights when you've already crawled into bed. The real power of home automation, however, comes in the ability to have devices in your home talk not just to you, but to each other. The hub will make that possible.
Michael Alexander Alan '14 MS '16 is an R&D Electrical Engineer at Sandia National Laboratory.
Gain control of a messy closet
Instead of shutting the door and ignoring your closet, spend a few hours tackling it. First, empty it out! Give your closet shelves, walls and floors a good cleaning. Then create "keep," "toss" and "donate" piles. Haven't worn it in six months? Donate it. Old and raggedy? Toss it. Finally, organize what is left by article of clothing and by color. In three hours or less, you should be able to look at your closet and feel excited about what you see.
Maria Arbiol '03 is a life and fitness coach, blogger and founder of Keep It Together.
Travel and entertainment
Land affordable flights to (almost) anywhere
Anyone can find cheap flights in three easy steps. First, sign up for email alerts to be notified whenever there's a last- minute price drop or error fare. Next, fly with budget airlines like WOW Air, Norwegian, JetBlue, Ryanair and Allegiant Air—you'll have a no-frills journey but save hundreds in the process. Finally, consider becoming a travel hacker. With the right credit card and targeted spending, you can earn enough points or miles to redeem for a free flight to the destination of your choice—you'll just pay the taxes and fees.
Jen Ruiz '09 is founder of Jen on a Jet Plane and the bestselling author of "The Affordable Flight Guide."
Improve your restaurant experience
Increase your odds of a great night out with a little homework. Research newly opened spots on eater. com and then visit the web sites of the places you've selected to preview their menus. Look for items you want to try and, if on a budget, pay attention to price points. As most new restaurants are busy, make a reservation and arrive on time. Otherwise, you're pushing someone else's table reservation back. Lastly, don't make assumptions about anything on the menu. When in doubt about a dish, ask your server.
Andreas Schreiner '00 is co-founder of Pubbelly Restaurant Group.
Throw a killer party without killing yourself
It's important to interact with your guests. Too often, at the end of an event, a host will say, "I barely got to see you." The trick is to keep everything as simple as possible so you can talk to people and enjoy their company. For example, don't have too many food options, and always keep an item or two in the refrigerator that you can just pull out and set on the table. Do whatever else you can ahead of time so you can actually have fun at your party.
Jessyca Perez Canal '11 is owner of Events by Jess.
Hobbies and recreation
Get started with backyard beekeeping
If you have two square feet of outdoor space and about an hour and a half of time to spend twice a week, you can get into beekeeping. (Note that even a balcony is a fine spot, but your neighbors will probably freak out!) The best way to begin is to learn everything you can by reading books and watching YouTube videos. A search for "Beekeeping 101" will answer all your questions and prepare you for honey farming. So long as there is a nearby source of freshwater and nectar, bees will thrive. Really, anyone can do it.
Andrea Saladrigas '17 is founder of Master Honey, which trains beekeepers, and an account representative for Procter and Gamble.
Plan your personal art collection
Before you buy your first piece, look at 10,000 works of art. That isn't hard. There are thousands at an art fair, and the number available online is almost limitless. The reason to look at so many is to build context and create a mental inventory of objects that you can use as benchmarks against items that you might consider collecting. This practice will allow your taste to evolve quickly and, as your knowledge and aesthetic change, keep you from making purchases you later regret.
Dennis Scholl '77 is president and CEO of Art Center/South Florida and a long-time art collector.
Keep your pickup game friendly
Unless you're playing with friends you want to bond with, a pickup basketball game should be strictly about your cardio workout—and maybe bragging rights—so have fun and don't get upset. To get the most out of it, focus on your shooting, post-up, pick and roll or whatever skills need work. Don't start calling fouls on others, unless they do something outrageous. And as for trash talk, if you're going to give it, you have to take it. Better yet, if you want to avoid it, don't start it in the first place.
Tymell Murphy '14 played basketball for FIU and is now with a professional team in China.
Are you an expert? We'd love to hear from you. Share something in the comments section.