Educating business-savvy artists feeds Miami's creative renaissance
January 8, 2019 at 12:00am
---
It is easy to see, in the picturesque murals that decorate Miami's Wynwood Art District, and to feel, in the excitement leading up to the annual Art Basel fair in December on Miami Beach: Over the past 15 years, South Florida has blossomed into a cultural mecca that attracts tourists to its flourishing arts scene.
Just as the city has embraced its awakening, FIU has kept pace right alongside it by supporting arts students and making possible their participation in the colorful transformation.
The nonprofit advocacy organization Americans for the Arts stresses that "the arts are uniquely equipped to solve many of our community's toughest problems and also bridge our nation's cultural, political and economic divides." And the National Endowment for the Arts reports that the arts contribute more than $760 billion to the U.S. economy and employ 4.9 million workers. All of this points to the increasing need for academic programs and curriculums that blend creativity and economics—and FIU is answering the call.
The College of Communication, Architecture + the Arts (CARTA) has invested in South Florida's future artistic leaders by establishing a variety of dynamic facilities
 for creative production. These nurture the practice and development of students' talents and will contribute to Miami's growing innovation economy.
"CARTA is pushing some of the boundaries of what it means to be an art or design student in a state public university," said Brian Schriner, dean of the college. He is overseeing programs and spaces that redefine the role of the artist by offering students the chance to build, print, paint, design and engineer whatever lives in their imaginations.
Miami Beach Urban Studios (MBUS) on Lincoln Road serve as a collider 
for innovative people and ideas, a home to classrooms, labs and other maker spaces where artists, musicians, scientists and technologists can collaborate and present their work. Opened in 2011, MBUS has since become a cultural anchor in the city of Miami Beach, annually offering 125+ art exhibitions, lectures, public discussions and concerts.
As a student, photo-based artist Jose Garcia MFA '18 hosted four exhibits at MBUS. He says the intermingling of disciplines and mindsets one finds there pushes students to expand upon their talents even as they gain invaluable professional skills.
"It was a safe bubble to experiment and practice exhibition design," said Garcia, who appreciated learning how to stage a successful show as well as the chance to network with those in the local arts community. He currently works as an instructor of photography at Miami Dade College.
The CARTA Innovation Lab at MBUS provides another opportunity for students to harness their creativity, this time through 3D printing technology. Student technicians run the space—which features 70 printers, making it one of the largest 3D printing labs in the nation—and young designers can create whatever they desire, at no charge, so long as their individual projects feature an innovative twist.
The requirement that they do 
something new and different encourages entrepreneurship, explained John Stuart, executive director of MBUS. He notes that many visitors to and even residents of Miami Beach look specifically for such novelty,
 and already some students have sold their creations to passersby on the spot.
"When you walk outside of MBUS, you see potential clients," he said. "This real-world component to being here is quite special."
Matthew Wasala '17 couldn't agree more. A graduate of FIU's master's program in architecture who now works at Berenblum Busch Architecture, he successfully peddled several of his unique ice buckets— each printed using a pattern inspired by 
the curvature of sand dunes—for $200 a pop. The lab, he says, is "a playground for the mind," and he credits MBUS with helping him and fellow students keep up with new technologies and integrate them into their art.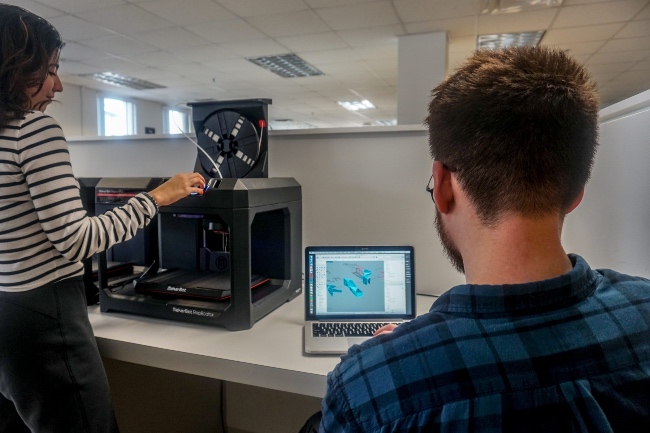 The Academy of Portrait & Figurative Art
What does it take to be a professional artist? David Chang, professor and chair of the Department of Art + Art History, says it boils it down to three principles: passion, patience and perseverance.
Both newcomers and veteran artists alike, however, need an environment where they can fully commit themselves to their art and apply said principles to their work. For that reason, last year FIU launched the Academy of Portrait & Figurative Art, the first of its kind at a public university.
The academy functions like a classical atelier—a studio where artists work intensively under the supervision of a "master." Its courses in drawing and painting focus on the traditional techniques of two-dimensional representational art.
As many as 15 students gather for each class, with easels and canvases perched before them and charcoals and pencils at the ready. Sessions feature either a live model or an element of still life, such as fruit or a plaster replica of a classical sculpture. Students are required to put in a minimum of eight hours weekly at the studio, a commitment that Chang says reinforces patience and dedication.
Undergraduate Kiara Hernandez, who outside of the academy has an interest in abstract and contemporary art, says the techniques required for representational art—such as precise proportionality—have strengthened her conceptual work and now figure into everything she does.
Others are perfecting their technique in hopes of becoming art instructors. "To be an effective art teacher, you need to know how to create art, but it's hard to teach if you can't do," student Ariel Alfonso said. "This class teaches you how to do."
Chang, who founded and runs the studio, concurs. Through the careful study of centuries-old techniques and approaches, students learn the nuances of a genre that dates back thousands of years that they can apply to their work.
The Ratcliffe Art + Design Incubator
Whether through selling their art, building an audience or opening a gallery, every artist is a creative entrepreneur. Founded in 2017, the Ratcliffe Art + Design Incubator at the Biscayne Bay Campus expands upon traditional studio training and courses by providing mentorship, instruction and funding to students who are designated "fellows." The goal: turn talented artists into businesspeople.
"We knew that art students were probably perceived as the most vulnerable when dealing with the outside world in the business sector," said donor Carole Ratcliffe. "For us, that was 
a perfect opportunity to help them get that training on the outside world in business."
Professionals with expertise in economics, branding, graphic design and emerging technologies work with the fellows. The young people learn that many of the traits and skills they already hold as artists—emotional intelligence, creative problem-solving—have value in business endeavors as well.
The curriculum guides them in developing the mindset of an entrepreneur whether they eventually want to work as independent artists, small business owners or directors of social impact projects. Among their assignments, students must research the costs of producing their art, understand exactly how much they need to charge to turn a profit and where their work fits into the marketplace.
Ideas alone do not cut it, explained Dimitry Chamy, a graphic designer and web developer who serves as a mentor at the incubator. "They have to gather evidence about the market they're trying to enter and explore it in a very deliberate way."
An example of someone who met the challenge: a student who is an experienced ceramicist documented every aspect of her work, both creative and practical, to identify the costs of gathering materials and operating her kiln furnace so that she could factor in her labor and appropriately mark up her pieces.
"She went from being a passionate creator to an absolute expert on the entrepreneurial and business aspects of making art," Chamy said. "She became the queen of databases," he added of her newfound skills in creating the all-important spreadsheet.
Building that type of financial literacy remains critical to eradicating "starving-artist" syndrome, say the students who today feel empowered to treat their artwork as the basis for viable businesses.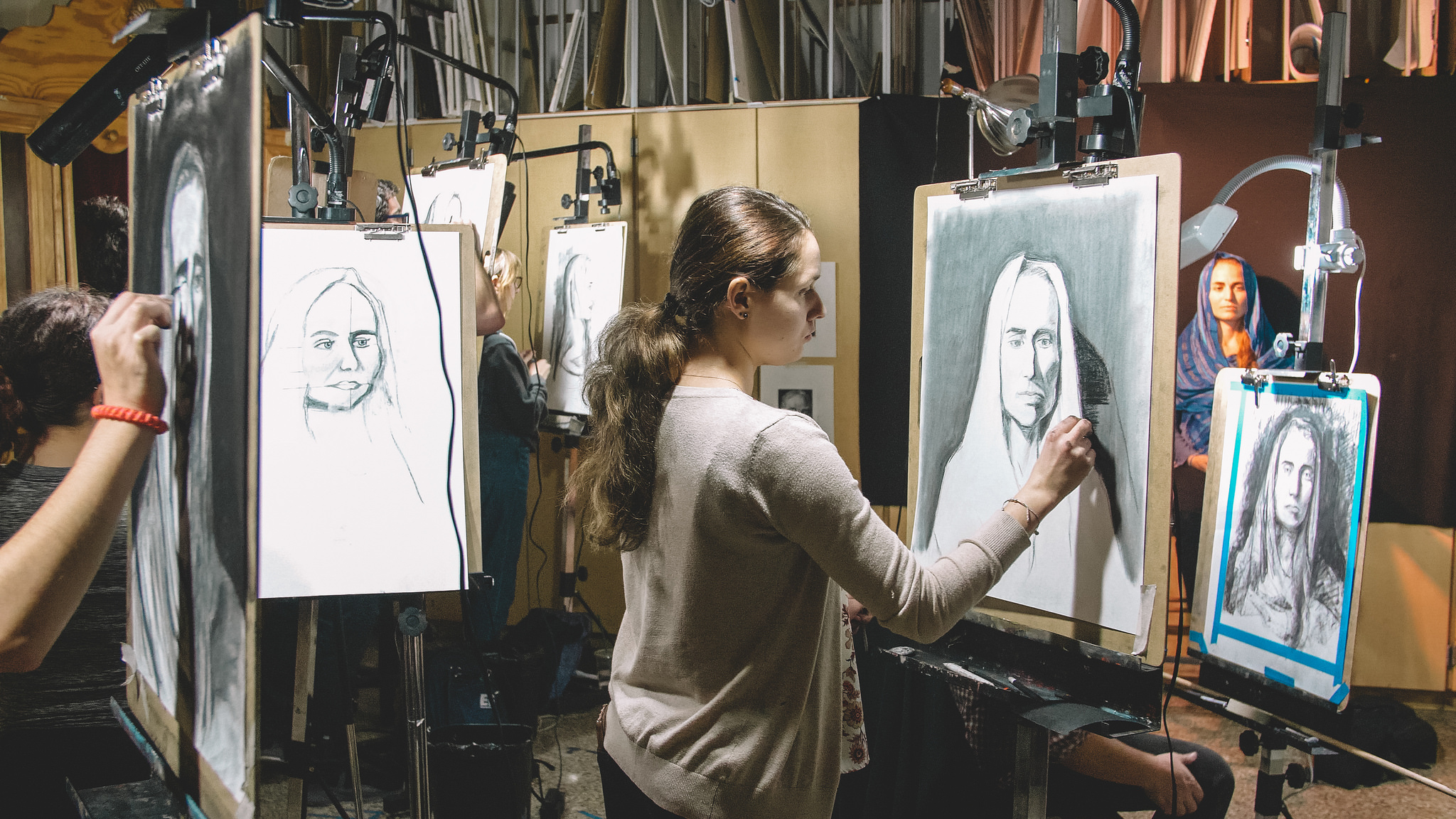 Robotics & Digital Fabrication Lab
Across the programs and facilities available to CARTA students, disciplines overlap, with a significant emphasis on technology.
The movement to broaden the prevailing academic focus on Science, Technology, Engineering and Mathematics, or STEM— borne out of U.S. concerns that professionals in such fields are not being educated in large enough numbers to meet future demand—to encompass the creative disciplines has resulted in a push for STEAM, the "A" representing "art." CARTA is committed to fostering integrated, interdisciplinary creative activities and research solutions, and the newly opened Robotics & Digital Fabrication Lab advances this goal.
The state-of-the-art facility is a collaboration between CARTA and the College of Engineering and Computing. Equipped with robotic arms, laser cutters, 3D scanners and more, it offers courses and workshops on robotics and other innovative technological design while encouraging students and faculty in engineering and the arts to interact on shared projects. Such cooperation across academic lines takes advantage of talents that might previously have been overlooked.
"We need to be able to think about and solve problems in ways that are multidisciplinary, engage the creativity of the arts with science, math and technology," said Stuart, the executive director of MBUS.
"Artists and art students are needed now more than ever because of their lack of conformity to established norms," he added. "They and their creativity hold the key to helping us forge the best future we possibly can for ourselves."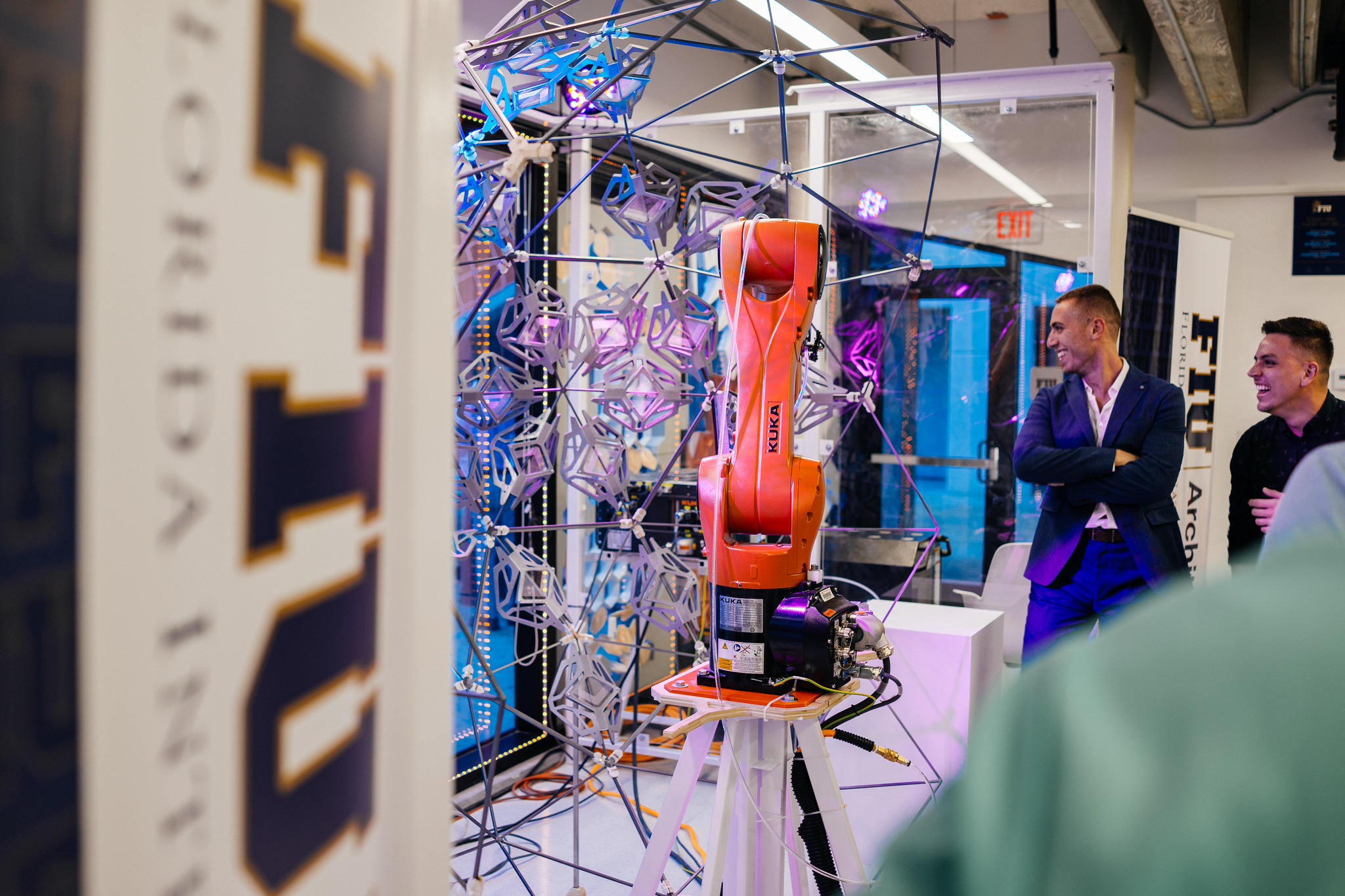 Coming soon: CARTA @ Mana Wynwood
Miami developer Moishe Mana has set aside 15,000 square feet in his 30-acre Mana Wynwood art and design center
for FIU classes, exhibitions, studios and labs. Additionally, the businessman has donated millions in scholarships to support students as they pursue creative and research activities in a vital and growing arts environment. "Our main focus is to nurture Miami's cultural scene through quality and innovation," Mana said, "to become Miami's hub for the arts and culture, and to continue to bring international recognition to the city and the Wynwood Art District. We see this investment as the start of a mutually beneficial collaboration that will bring in more partners from around the world."