Engineering students teach FIU retirees how to be tech-savvy
---
The Internet of Things has revolutionized how people interact with the world. Whether it's a smartwatch or a home virtual assistant, smart devices keep us connected on demand. Millennials and Gen Z have grown up in the age of the digital transformation, but older generations did not, making technology intimidating for some of them.
A group of engineering students is hoping to change that. They have come together to form Tech Team and help FIU retirees become tech-savvy.
Carlos Velez, Antonio Rubio, Jacob Wawerczyk, Jorge Caripidis Troccola and Julianna Delgado formed Tech Team with the support of Subbarao Wunnava, distinguished professor emeritus from FIU's College of Engineering & Computing, and Trudy Fernandez, director of Human Resourcesand the FIU Retiree Association.
Wunnava, is an FIU pioneer who joined the institution in 1976. He recalls a meeting with Douglas Wartzok, provost emeritus, on how retirees felt out of tune with the digital revolution and suggested some type of technical briefing. This sparked an idea in Wunnava – having engineering students host these briefings and provide training.
"I had always wanted to find a community service program I was passionate about, where I'd feel motivated to attend all the events and meetings consistently," said Delgado, a student of Wunnava. "Once I went to the first event and helped retirees, it made me think of my grandma and how good it felt to give back."
Tech Team's first workshop was an open forum. In the two-and-a-half-hour session, retirees spoke to the engineering students about specific problems they had, including how to properly maneuver WhatsApp; how to access Microsoft Excel on their smartphones; and how to use the "cloud." One retiree was also trying to figure out how not to see people's posts on social media, without having to unfollow them – a common problem in this day and age.
Wawerczyk recalls one participant asked about Twitter. "He asked to tweet Serena Williams," said Wawerczyk. "So we tweeted Serena Williams."
The workshop was not what Tech Team had expected. "I anticipated difficult questions. However, their questions were regular things that we take for granted," said Velez. "I think they enjoyed it as much as we did."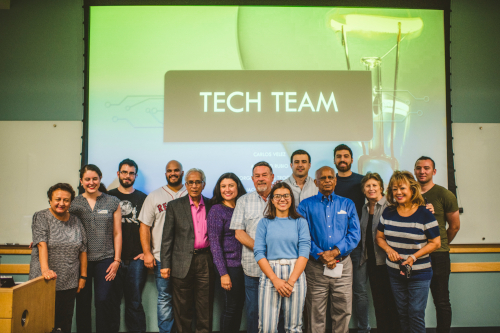 Tech Team hosted their second workshop this past March and the topic was cybersecurity. The team highlighted password security and how it is essential to often update passwords and avoid using the same password for every account. They also explained the concept of "Wi-Fi Pineapple," which occurs when a Wi-Fi mirrors an existing Wi-Fi in a public location, like a coffee shop, and the user accidentally logs on to the fake Wi-Fi. This allows hackers to access information from the user's personal device.
The retirees paid close attention and were grateful for the tips. "It's beautiful to see students share their knowledge with us, the older generation," said Ruth Hamilton, former executive director of the Graham University Center, who retired from FIU in 2014. "I'm going to remember their faces."
The team also delved into email security, virtual private networks (VPNs), browser security and spam calls. The students made it a point that no one is hacker proof, that precautions need to be taken to make it harder for hackers to obtain sensitive information.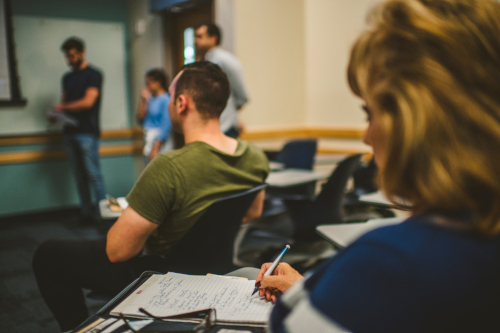 "A lot of times retirees don't know what is available to them," said Rubio. "Our goal is to introduce them to new technologies that can make their lives easier and help them apply it."
Trocolla added: "It was also a good way to connect with someone you wouldn't really connect with elsewhere. After the sessions, we spoke about life and trips."
Tech Team workshops are open to FIU retirees; however, the students are planning to open the sessions to retirees in the South Florida community in the near future. They have workshops scheduled for the upcoming months that cover smartphone photography, social media, smart homes and more.