Faculty and staff giving helps university reach new heights
Employees put their money behind student success and other university goals
---
From staying late to help a student grasp a concept introduced in class to developing programs that help students beyond the classroom, university employees show they care for FIU and its students in many ways every single day. Another way is by giving to the Ignite Campaign.
Faculty and staff have together given more than $27 million to the university since 2012 in support of more than 200 projects and specially designated funds.
No gift, not even the minimal price of a trip to the campus Starbucks, is too small because every dollar makes a difference in Panthers' lives.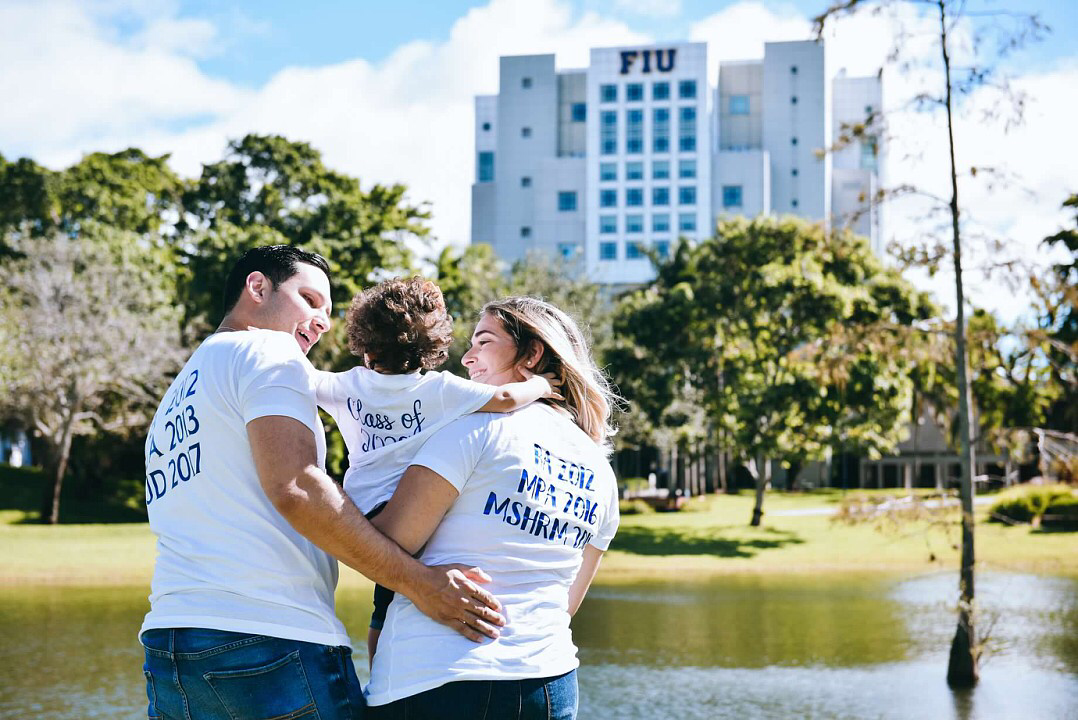 It's something alumna Claudia Gonzalez, a three-time alumna and assistant chief of staff for FIU's Office of the President, knows firsthand. (She is pictured above with her husband Anthony and daughter Sofia.)
"Being a first-generation college student myself, I understood the impact even just a few hundred dollars has on a student's academic success," Gonzalez said. She and her husband, alumnus Anthony Gonzalez, now proudly support the First Generation Scholarship Fund, which provides financial and academic support to students who do not come from a college-going background but are the first in their families to pursue university degrees.
"Access to higher education is a priority for our community, and it feels right to be able to give back to the same scholarship fund that had my back during my undergraduate studies," she said, adding, "This university saw both my husband and I grow up. It was our home during late-night study sessions and a place where we always find comfort. We're a true blue and gold family."
In 2018-2019, participation in Ignite soared to 82 percent and raised $5.4 million for the university. And in 2017-2018, FIU led in employee giving among the state's 12 public universities. 
"We are incredibly proud of our faculty and staff for stepping up to support our FIU. It shows that the spirit of giving back truly begins right at home," said Howard Lipman, CEO of the FIU Foundation, Inc. "It's a testament that those who work at FIU believe in our mission and our vision."
The campaign's success has caught the eye of the Council for Advancement and Support of Education, which in a report noted the "exceptional" level of support by employees and the impressive number of planned gifts that faculty and staff have pledged. The latter constitute contributions of several tens of thousands of dollars or more that are made as part of a donor's financial or estate plan.
One such gift was made by Chaplin School Associate Dean Mohammad Qureshi and his wife, Saadia Qureshi, a library specialist in the Green Library. Both are alumni who encouraged their children—daughter Rabia, a 2018 graduate, and son Rahil, a current student—to attend FIU. Their gift will create a scholarship endowment.
"We as a family are very appreciative of this university, and giving back is a small thing that we can do. What Ignite is asking for, you won't even miss that dollar amount, believe me," Dean Qureshi said. "There are so many places where we spend money and there is no return on it – it gives you temporary happiness. But giving back to a university that changes lives, and making a difference for others, I think is an everlasting feeling of gratitude and pride."  
Next Horizon Update
FIU's Next Horizon campaign continues to achieve record results to advance student success and research excellence at the university. As of June 30, the campaign had raised a total of $512.58 million toward its $750 million goal, and a record $67.38 million was raised during the 2018-2019 fiscal year. 
The comprehensive campaign seeks to increase scholarships and student support; optimize 21st-century teaching; advance a vibrant, healthy Miami; accelerate research and discoveries; and escalate discovery to enterprise 
"I would like to thank everyone whose investments in our FIU are improving the future of each FIU student, our community, and those we touch far beyond our campuses through research," said Howard R. Lipman, CEO of the FIU Foundation, Inc. "With such sustained support, FIU will reach its next horizon of distinction and excellence."