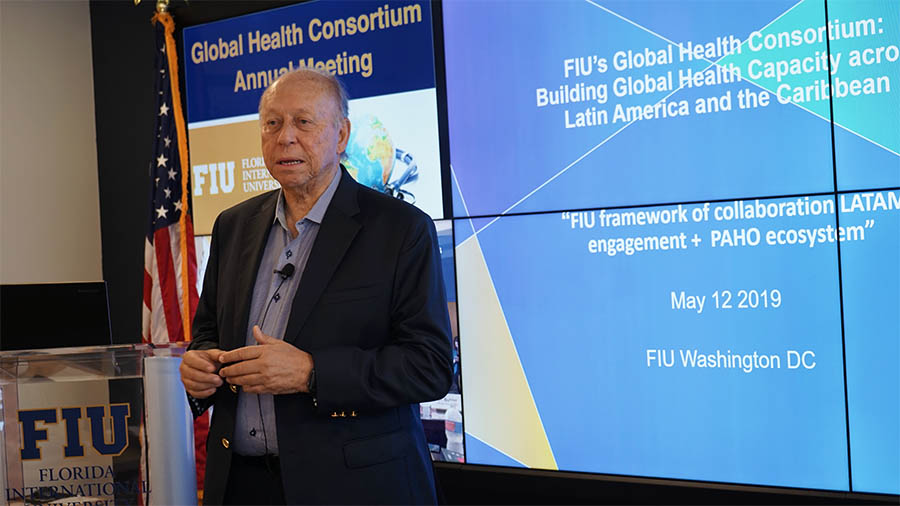 By Alejandra Marquez Janse
As part of FIU's continued effort in asserting the university's leadership in areas of research preeminence, faculty convened and attended key meetings in Washington, D.C. earlier this month. They discussed public health; environment and coastal sustainability; biomedical engineering, health and environment; equity in higher education; and Latino student success.
Global and public health
The first briefing on June 12 was hosted by Carlos Espinal, director of the  Global Health Consortiumat the  Robert Stempel College of Public Health, with executives from Sanofi Pasteur, one of the leading pharmaceutical companies in the country and a long-time partner of FIU.
"The objective of the meeting was to discuss the partnership initiatives that we have with Global Health projects," explained Espinal. "Beginning with immunization, diabetes and vaccine confidence."
The group reviewed current challenges to public health in Latin America and the Caribbean, including migration and an anti-vaccination movement. According to Espinal, Sanofi Pasteur wants to continue its partnership with FIU as both seek to reduce the impact of those issues.
Other problems discussed included the cost of medicines and lack of communication with the public, both of which make public access to vaccines more challenging in the region.
Environment and coastal sustainability
On June 13 and 14, the Associate Dean of Research for the  College of Arts, Sciences & EducationRita Teutonico and Maria Fernanda Pulido, research development officer at the  Institute of Water and Environment, brought together a dozen scientists and agency representatives to synthesize recent research on coastal resilience.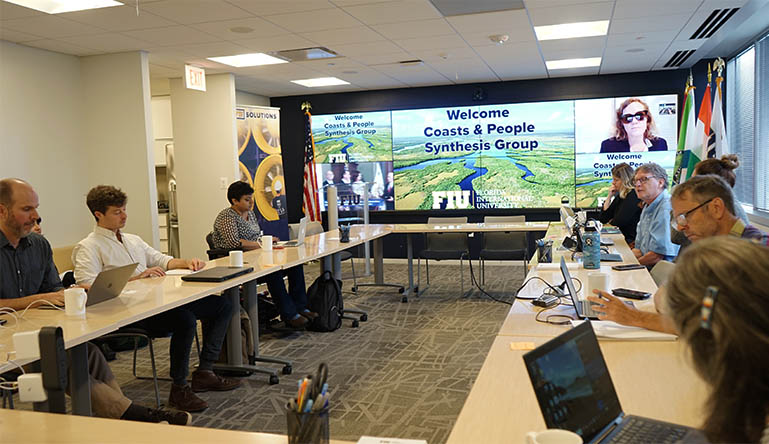 The group was part of the National Science Foundation's  Coastlines and People workshops, which combined researchers from the organization and the University Corporation for Atmospheric Research to analyze current issues that affect communities living in coastal regions such as Florida.
The group met for two days at  FIU in Washington, D.C., defining and synthesizing research priorities in coastal regions, such as how to inform the public about sea level rise and how to prepare coastal communities for extreme natural events.
Biomedical engineering, health and environment
On June 14, Professor Chenzhong Li of the  College of Engineering and Computing visited Capitol Hill to conduct a research briefing on how to use sensor technology to positively impact the health of communities.
While on the Hill, Li met with team members from the offices of Congresspersons Donna Shalala (FL-27), Mario Díaz-Balart (FL-25), Debbie Mucarsel-Powell (FL-26) and Frederica Wilson (FL-24) to educate congressional staff and "demonstrate the importance of federal science funding."

After the meetings, Li spoke at a lecture hosted by the  American Institute for Medical and Biological Engineering(AIMBE) about the emerging technology of biosensors and how it can improve health care on a national level.
"The lecture helps to bring important issues to the attention of Congress by shaping briefings and hearings for members and their staff," said Li.
Li has developed this technology at FIU using biomedical engineering. As he explained, biosensors can increase the efficiency of medical diagnosis while reducing their cost and environmental footprint.
Equity in higher education
On June 19, the House Education & Labor Committee met to discuss ways in which institutions are providing equity for all students through access initiatives and innovation. Florida Congresswomen Frederica Wilson and Donna Shalala both serve on this committee and engaged in questioning, with Congresswoman Wilson highlighting FIU's work on improving pathways to college degrees for high school students.
Leading in Latino student success
On June 20,  FIU was recognized with the Seal of Excelencia as one of nine institutions that are leading the nation in their success enrolling, retaining and graduating Latino students.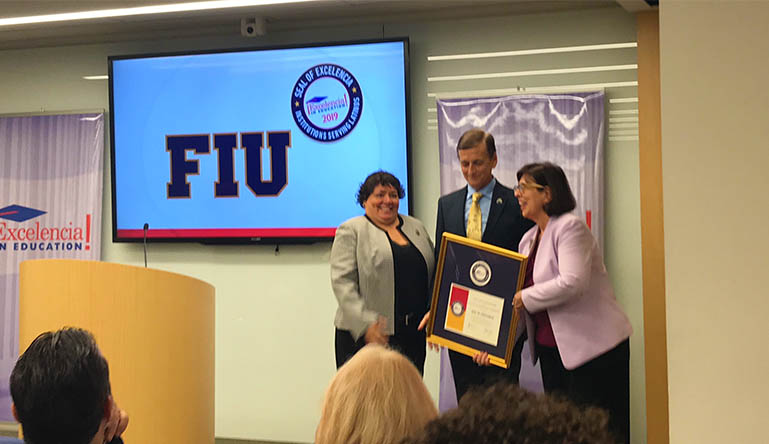 Kenneth G. Furton, FIU provost and executive vice president, arrived in Washington, D.C., to accept the seal from  Excelencia in Education, which gave the recognition, for the first time ever, to institutions that have demonstrated outstanding commitment to serving the Latino community.
---
Learn more about the 2019 Seal of Excelencia.
---
These exciting weeks reflect how different FIU colleges and departments travel to the capital to educate policymakers and partners and to develop stronger connections that will enhance their research to make a greater impact. They also showed FIU's leadership and dedication to preeminent research and student success.
Other Panthers spotted in Washington, D.C.:
William Vega of the Research Center in Minority Institutions
Jefferson Noël, Student Body President Emeritus of FIU- BBC
To learn more about FIU in DC, visit our  website and follow us on  Facebook,  Twitter and  Instagram.