Panthers in D.C.: Stempel College unveils Alzheimer's framework, students meet with members of Congress
November 5, 2019 at 9:00am
---
 By Alexia Del Valle
For years, researchers at the Robert Stempel College of Public Health & Social Work have been studying health disparities among minorities and how various diseases – including Alzheimer's – can be prevented or mitigated.
In partnership with UsAgainstAlzheimer's, Stempel College has helped create a new framework for researching how gene-environment interaction impacts chances of developing the disease; the project is led by Dr. Bill Vega, distinguished professor and senior scholar for community health. Vega and Jason Richardson, professor and associate dean for research at Stempel College, were in Washington, D.C., recently to release the new framework at the UsAgainstAlzheimer's national summit.
 Some of the new framework's recommendations include:
Advance an intervention research framework that incorporates gene-environment, life course, lifestyle factors, resilience and chronic disease factors in

 

brain

 

health
Promote non-pharmacological intervention research that tests different mechanisms of action
Integrate gene-environment interaction research within non-pharmacologic interventions with research participants from socially disadvantaged groups
Initiate federal pilot research projects aimed at attaining a higher state of readiness in chronic disease management programs
Earlier that day, Richardson met with key advisors at the White House to encourage greater focus on minorities, brain health research and environmental factors that contribute to health disparities.
"We're starting to realize that environmental factors are key contributors to Alzheimer's and that many of these factors disproportionally effect minority populations," Richardson said.
He adds further studies in this area are sorely needed – and must be part of Alzheimer's research in the future.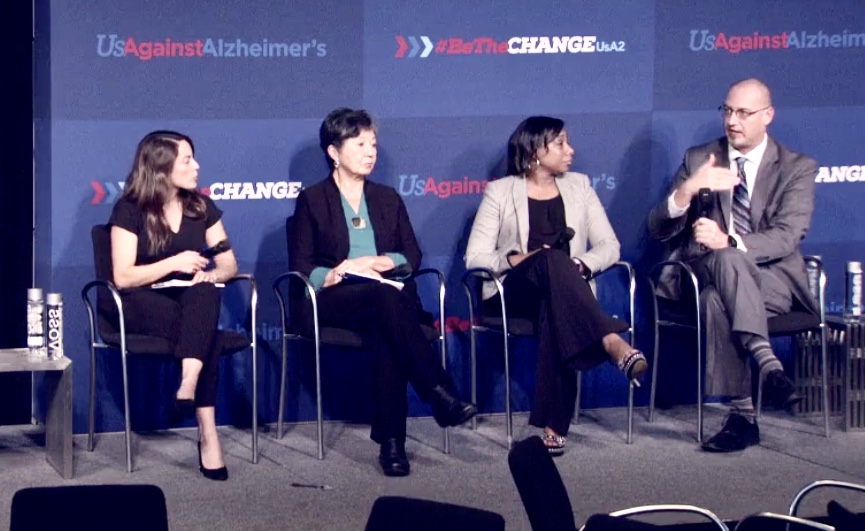 Richardson speaks on a panel at USAGAINSTALZHEIMERS on his research discoveries. 
Fly-in students meet with members of Congress      
In the past month, more than 60 students have participated in five career and advocacy fly-ins hosted in Washington, D.C.
These "fly-ins" offer students the opportunity to learn about FIU's advocacy efforts, explore its top national initiatives and engage with D.C. partners, all while exploring career options in the area.
This past week, FIU in Washington, D.C.'s, signature Future of Waters and Coastal Economies seminar brought 16 students from across the university to the capital for a three-day experience visiting federal agencies, corporations and Capital Hill focused on careers and policy relating to water and coastal resilience.
Earlier, students from FIU's Fostering Panther Pride and Golden Scholars programs visited and met with officials from the Department of Health and Human Service's Administration on Children and Families, including Deputy Secretary Lynn Johnson. They discussed their experiences in the foster care system and the need for wraparound, post-adoption services. They also met with staffers from members of Congress in the Foster Youth Caucus, such as Karen Bass of California. Amid their advocacy efforts, they explored career opportunities in the federal government with visits to the Federal Bureau of Investigation and the Library of Congress. 
College of Law students attended the Equal Justice Conference and Job Fair, participating in workshops, resume-writing critiques and networking events. Through an FIU in DC reception, the group of 12 also met alumni and public and private sector attorneys, including three litigators from the Department of Justice.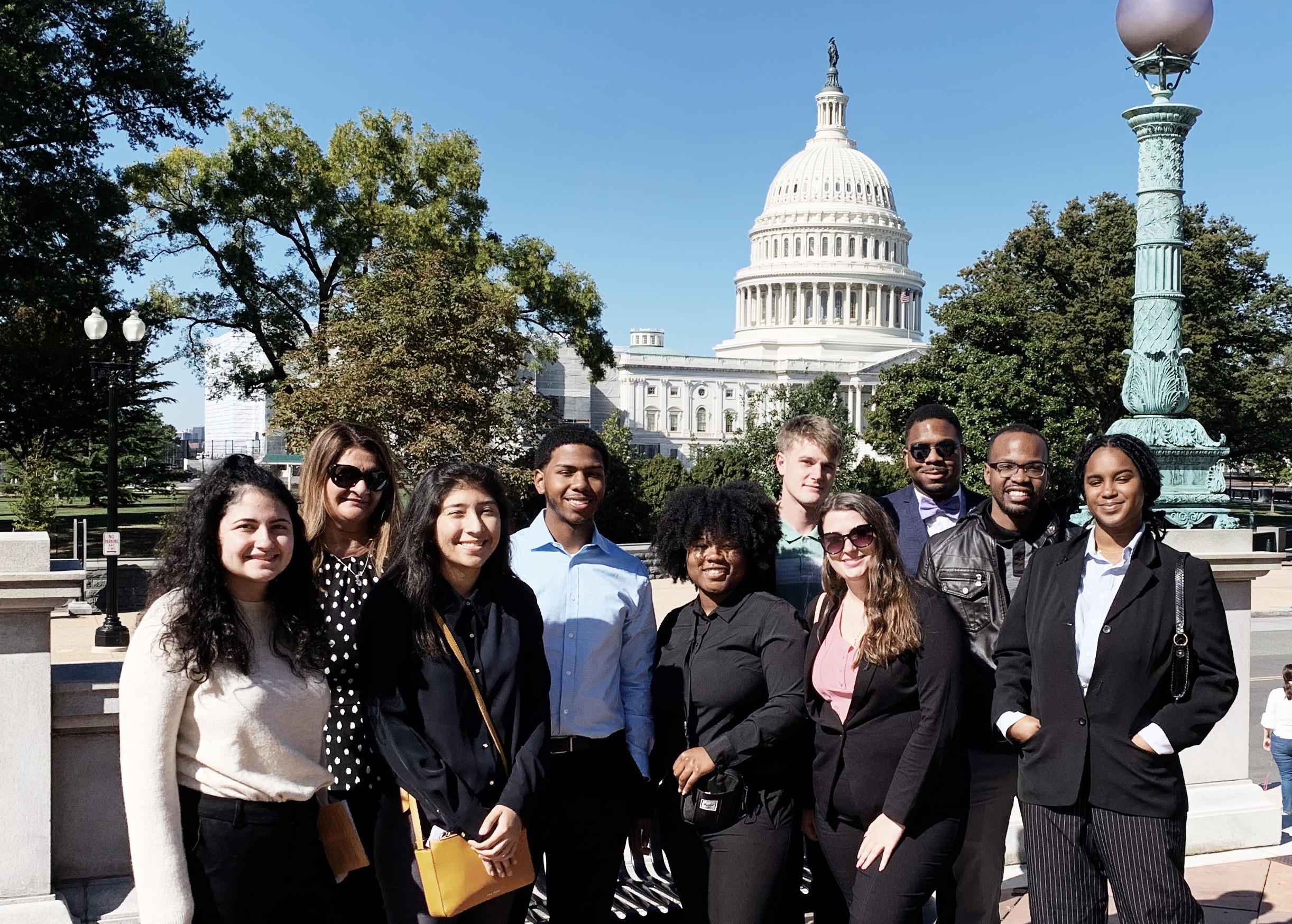 Student Access Success fly-in group in front of the Capitol after touring the Libary of Congress.  
Meanwhile, students in the Master of Public Administration (MPA) program met with Donna E. Shalala and Mario Diaz Balart, members of Congress representing the state of Florida. To learn about future job possibilities, students visited agencies such as the U.S. Agency for International Development and the U.S. Department of State.
"The trip to D.C. provided us with invaluable information on pathways into the federal government and the many intricacies that go into crafting policies," said MPA fly-in participant Ana Blanche '19.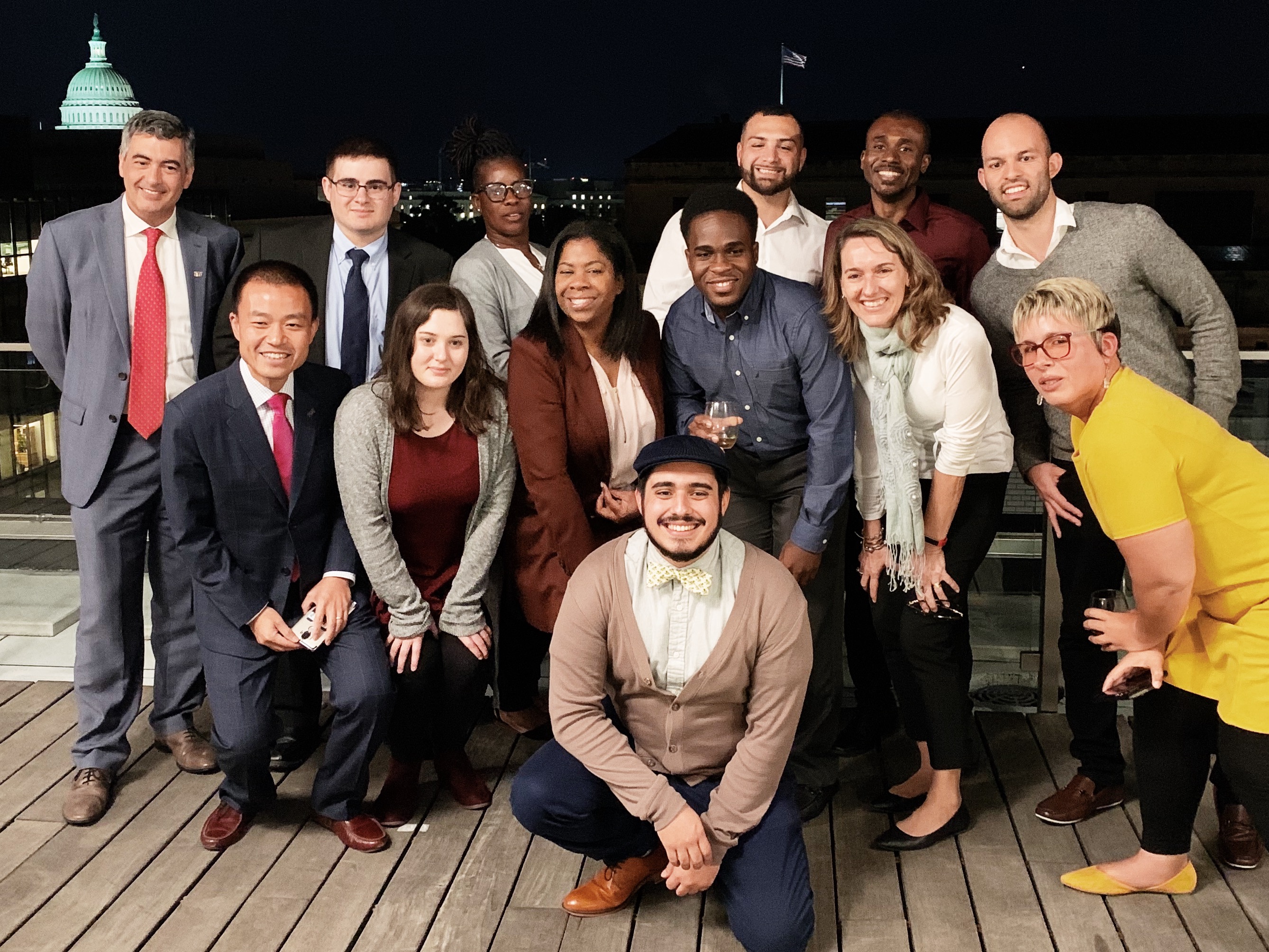 MPA fly-in students on the FIU in DC rooftop after their reception  
Also last month, a group of students from the Chaplin School of Hospitality & Tourism Management attended a 1-credit "programming on demand" course. During three hours at FIU in DC, the students received a unique master class on restaurant food waste, policy-oriented event planning and hotel industry advocacy. Speakers represented the U.S. Environmental Protection Agency (EPA), National Restaurant Association, The Hill Events and American Hotel & Lodging Association.
VP of Academic and Student Affairs represents FIU   
Vice President of Academic and Student Affairs Elizabeth Bejar was also spotted in D.C., representing the university at two national convenings.
She attended the Excelencia awards ceremony – which recognized programs advocating for Latino student success – and the U.S. Chamber of Commerce's Talent Forward conference, dedicated to exploring ways students, workers, educators and employers can work together effectively.
While at the Chamber of Commerce, Bejar met with Alexander Alonso, chief knowledge officer of the Society for Human Resource Management. She also met Lucas Nardin, an FIU intern at the chamber.
"The biggest thing that I have learned from my internship is how to be intellectually versatile," said Nardin, an international relations major. "I've learned how to apply my education at FIU into [the] real-world dealing with cybersecurity and policy."
Nardin is one of 27 interns in D.C. this semester.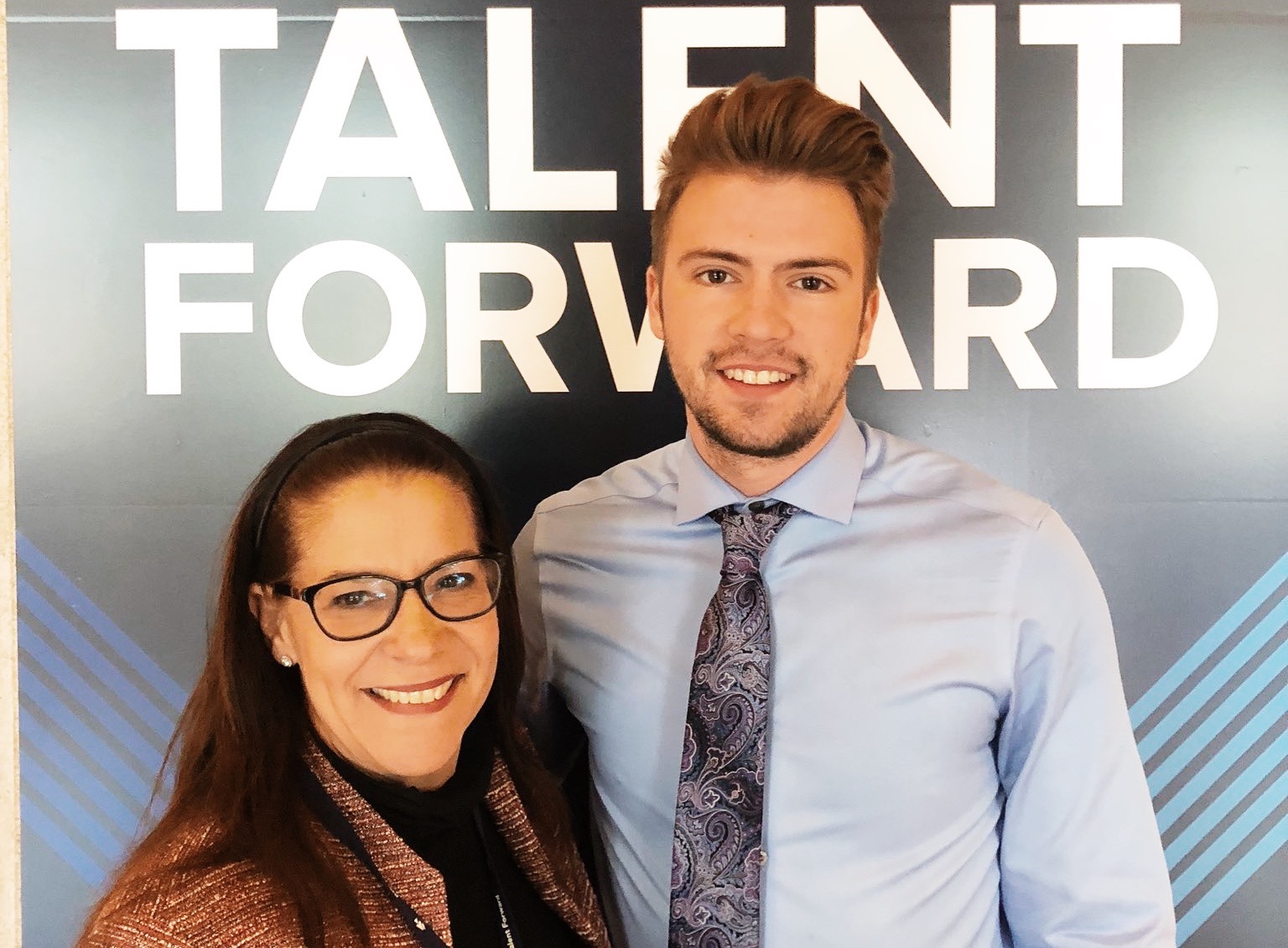 Bejar with current U.S CHAMBER OF COMMERCE intern Lucas Nardin '19. 
---
FIU in Washington, D.C., is an integrated advocacy approach aimed at increasing FIU's national reputation and federal support for FIU's preeminent and emerging preeminent programs, faculty and students. The FIU in DC team collaborates with academic units to provide learning experiences and support the placement of students and alumni in internships and permanent employment.  
Follow FIU in DC on Facebook, Twitter and Instagram.