FIU celebrates its role as a solutions center with members of the 116th Congress
March 11, 2019 at 12:00am
---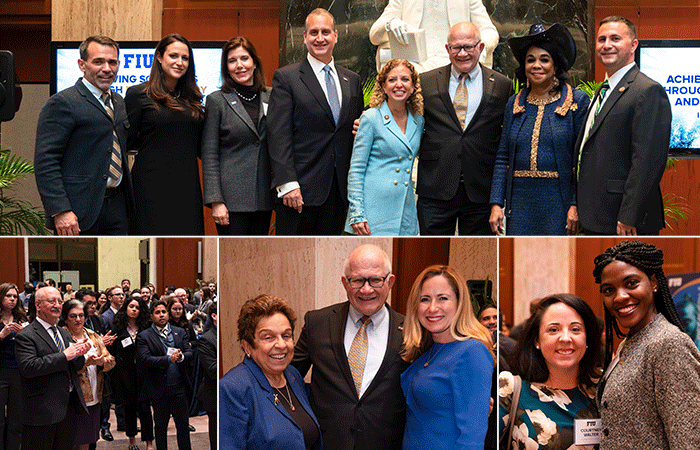 On March 5, FIU held a reception welcoming the 116th Congress. Members of the Florida Congressional delegation joined more than 150 guests to celebrate FIU's success as a solutions center.
"FIU is the people's university of South Florida. The Florida delegation, Republicans and Democrats are united when it comes to making sure that FIU continues to be the preeminent university not only of South Florida, but the entire state of Florida," said Congressman Mario Díaz-Balart.
Joining Diaz-Balart, university leadership and Trump Administration appointees that evening were Congresswomen Debbie Wasserman-Schultz, Donna Shalala, Debbie Mucarsel-Powell, and Frederica Wilson, along with Congressman Darren Soto.
FIU seeks to support the U.S. government's priority initiatives relating to higher education, the environment, veterans health and critical defense technologies. Through federal investments in our research, FIU has been able to advance solutions that are making an impact. This past year, FIU carried out more than $196 million in sponsored research.
President Mark B. Rosenberg and Board of Trustees Chair Claudia Puig made a special point to recognize the 40 alumni currently working in Congress.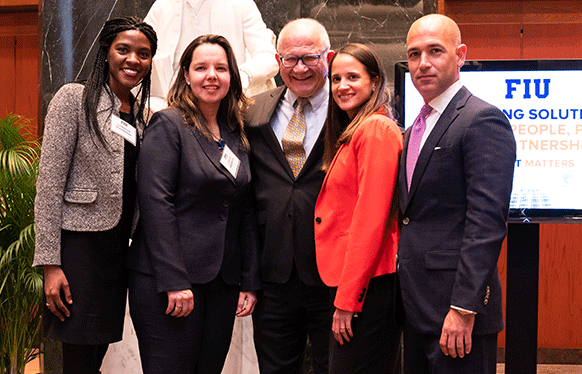 Also honored that evening were the five alumni and chiefs of staff serving members from three states and Puerto Rico: Gabriella Boffelli, representing Congresswoman Jenniffer González-PR; Charlyn Stanberry, representing Congresswoman Yvette Clarke, NY-9; Cesar Gonzalez, representing Congressman Mario Díaz-Balart, FL-25; Laura Rodriguez, representing Debbie Murcarsel-Powell, FL-26; and Leticia Mederos, representing Congresswoman Rosa DeLauro, CT-3.
Many of these chiefs were also able to provide valuable advice to FIU student interns working in Washington, D.C., this semester.
"If you're interested in government service, go ahead and do it! Follow your passion, do everything you can to serve your community as I have and had the honor to do with my position in Congress for the last 15 years," said Gonzalez.
For more pictures: https://flic.kr/s/aHsmBADiKA.
For video of the Congressional recognition: https://bit.ly/2H0QgU0.
And for more information on FIU's federal priorities: https://washingtondc.fiu.edu/solutions/advocacy/index.html.
Panthers spotted in D.C. last week
Dean Brian Schriner, College of Communications, Architecture + The Arts advocating for Arts Education
Dean John Stack, Steven J. Green School of International & Public Affairs
George Corton, FIU Advancement, visiting the National Association of Investment Companies
Jessica Elliott Parra, Division of IT, participating in Educause Conference
Vanessa Vasquez, Graham University Center, advocating for Tuberous Sclerosis research funding
Karla Hernandez, FIU Advancement, visiting the Hispanic Association for Corporate Responsibility