FIU hosts national dialogue focused on multi-sector collaboration for water quality
Faculty and students made the case for for working together with government and private stakeholders to find solutions and build technologies.
November 14, 2019 at 12:00am
---
By Alexia Del Valle
On November 6 in Washington, D.C., FIU hosted The Role Of Water, a focused national dialogue that explored opportunities for federal, state, local, corporate and university collaboration on solutions and technologies relating to water quality, water resilience and long-term restoration efforts. The discussion was the launch of a national initiative led by FIU to increase recognition of the importance of water quality research and multi-sector collaboration. FIU convened a distinguished list of key stakeholders—ranging from political appointees, Congressional staffers and thought leaders—while at the same time showcasing FIU's innovative water-related technologies.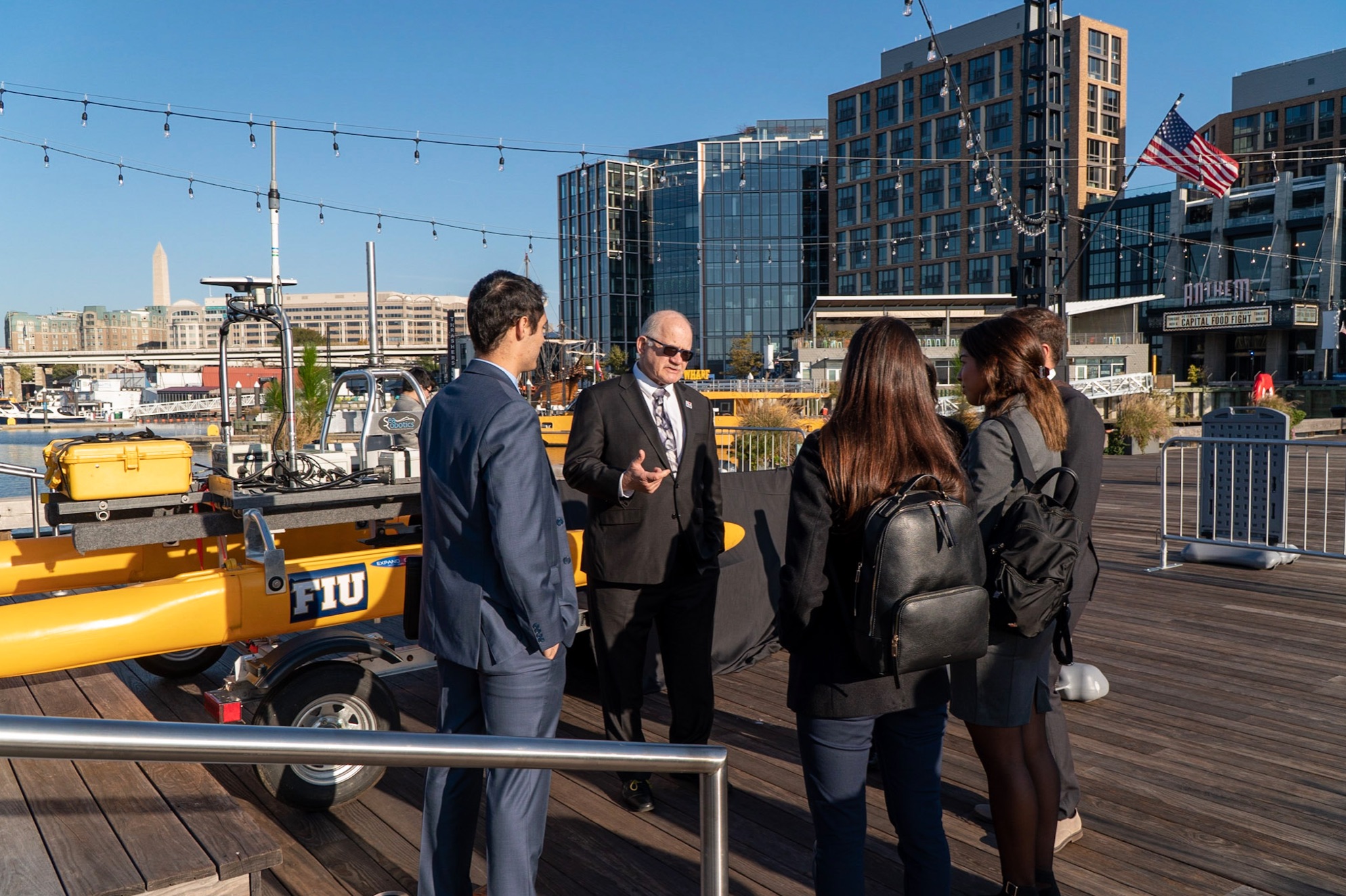 President Rosenberg speaks with students in front of FIU's aquatic drone. 
"The best part of this challenge is that the relationships I've been working on for decades are going to play a huge part in figuring out the necessary next steps," said Timothy Petty, Assistant Secretary for Water and Science at the U.S. Department of Interior.  
Petty discussed how the Department of Interior is working across sectors to address key water issues and how important relationships are between federal agencies. 
FIU President Mark B. Rosenberg began the dialogue by welcoming Mary Neumayr, chair of the White House Council on Environmental Quality. Other federal officials who participated included David Solan, deputy assistant secretary for Renewable Power at The Department of Energy, and Stewart Levenbach, chief of staff for the National Oceanic and Atmospheric Administration.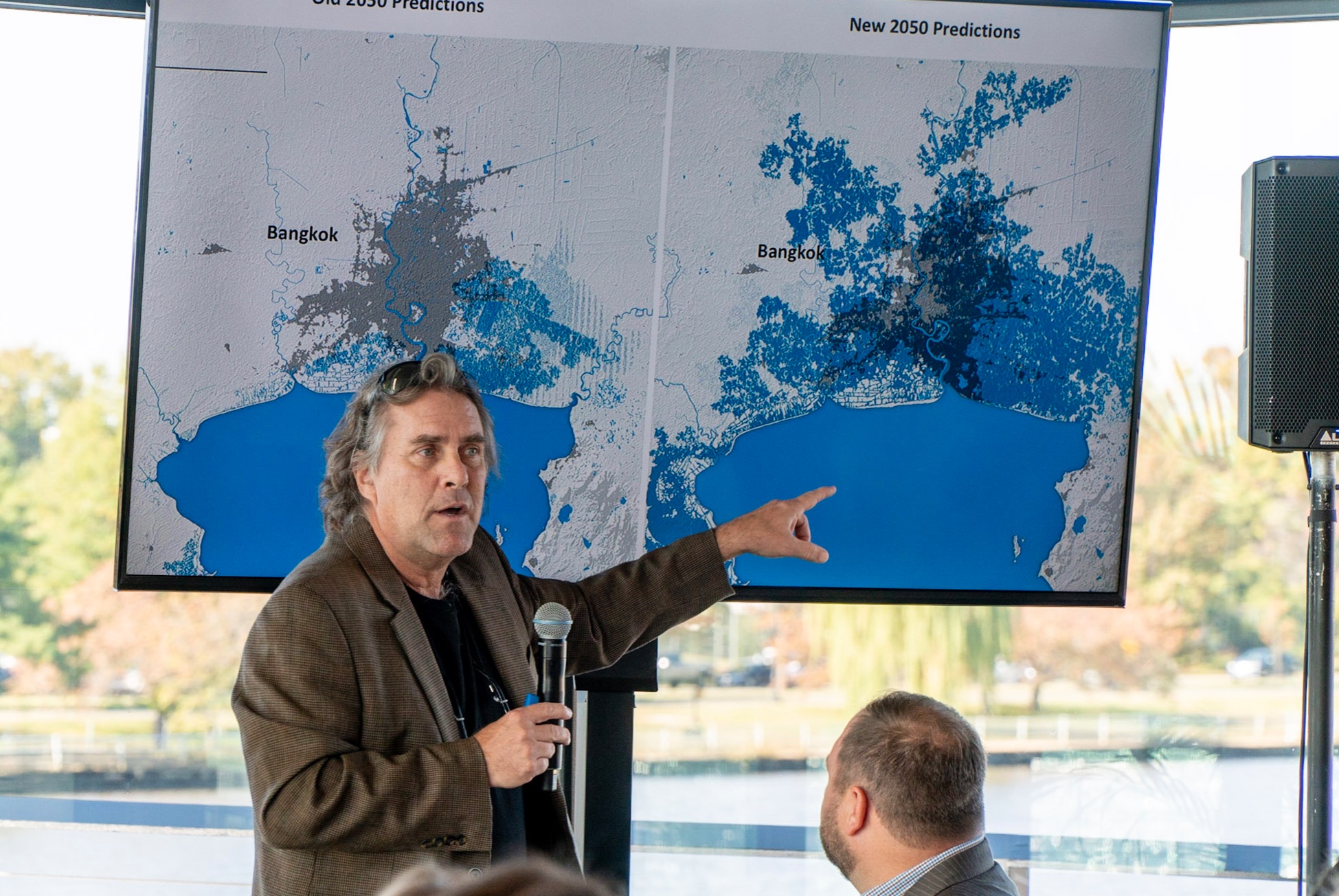 Todd Crowl gives a presentation at Role Of Water.
Todd Crowl, director of FIU's Institute of Water and Environment, highlighted the importance of Everglades restoration for freshwater availability and explained how FIU's innovative technologies are allowing stakeholders to monitor and assess the quality of water resources.   
"We need to act and we need to act quickly. Everglades restoration is a must for ensuring our freshwater supply" Crowl said. "We need to integrate all potential technologies, from remote sensing to advanced monitoring to green infrastructure' to develop actionable solutions that will have significant nationwide impacts on monitoring and preserving future water resources."
Also making a special appearance, NANUQ, an aquatic drone, which was developed as a collaboration between FIU Marine Ecology & Acoustics Lab and SeaRobotics Corp. The drone conducts autonomous sampling in remote marine habitats that are otherwise inaccessible. 
Other thought-provoking presentations included ideas on the national challenge to multi-sector collaborations by Lil Alessa of the Center for Resilient Communities at the University of Idaho. "We need to think of water and coastlines connected in ways we don't usually consider," she said, "including impacts on crime and economics."  
Mario Loyola, senior fellow at Competitive Enterprise Institute, presented thoughts on market-driven options to fund solutions to environmental challenges.
Students Explore Solutions and Career Paths in Water
In attendance were also 20 FIU students who facilitated discussion groups and gave insight from their own perspectives. 
Most were participating in a three-day visit focused on the future of our country's waters and coastal economies. They began with a visit to the National Oceanic and Atmospheric Administration (NOAA), a workshop on science communications and then a visit to the Embassy of France for an event focused on plastics in waters. Additional visits included the Environmental Protection Agency (EPA) and Congressional offices and ended with a policy hackathon.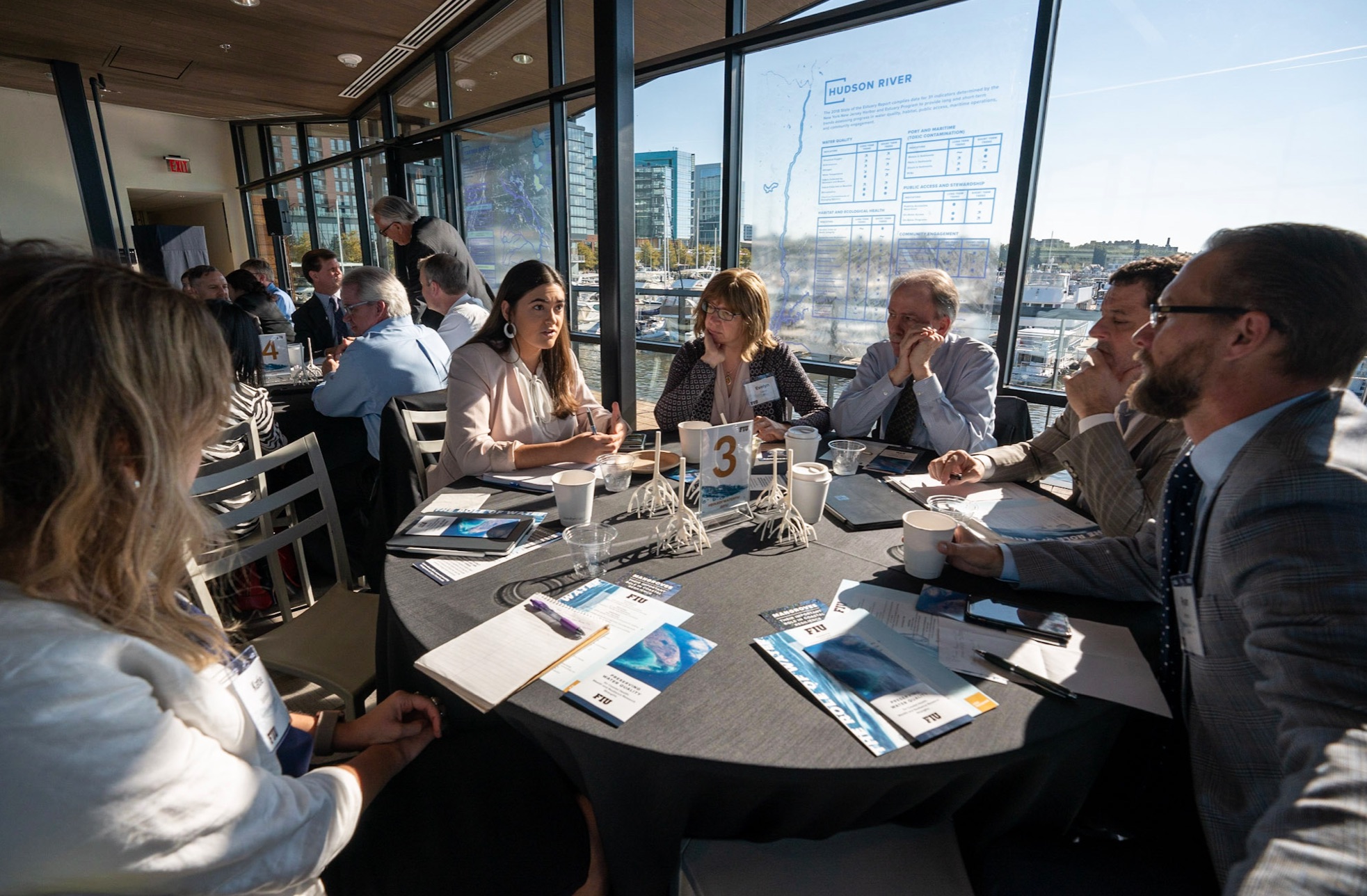 A student leads a discussion with attendees at Role Of Water. 
"As an environmental studies and sustainability double-major, I was able to absorb so much new info about water issues, understand new perspectives and see how important it is to bridge the gap between science and policy." Gabriela Rodriguez '21 said.  

Watch the recap: Here
For the webcast of the program: FIU RoleOf Water
For photos: Album