Fulbright scholar takes public health lessons home to Burkina Faso
---
Donald Yanogo chose to attend FIU to effect change in his home country of Burkina Faso.
A medical doctor, Yanogo applied for a Fulbright scholarship and to the Robert Stempel College of Public Health & Social Work to gain the skills and knowledge necessary for him to tackle health issues on a greater scale at home.
But first, he had to learn English.
"I went to Arkansas for three weeks to take an intensive English course," says Yanogo, who grew up speaking French. "Of course, I knew some English from a few hours a week at school, but an intense course helped get me to a point where I could feel more comfortable speaking with professors and researchers."
After the course, Yanogo came across another hurdle as he prepared to begin classes at FIU; he found it difficult to find a place to live. Turns out Hurricane Irma was headed straight for South Florida.
"I didn't know anything about hurricanes or hurricane preparedness. I was looking for a place to live and everyone was trying to leave! Even that was a lesson in public health —one I hadn't expected," he says.
But once Yanogo got to class – his luck quickly changed. He found himself studying exactly what he needed.
"The health promotion and disease prevention concentration here is rather unique," he says. "I couldn't find many programs like it in the country or in the world. This has prepared me to face many challenges that affect public health. For instance, I really appreciated the classes in the last two semesters with Dr. William Darrow, building on the pre-requisites on Health Behavior Change and Health Promotion theories. Using relevant research methods, I enjoyed this journey while mapping health promotion interventions, planning for implementation and finally carrying out an appropriate evaluation."
After his first year in the program, Yanogo applied to be a summer intern at the Bill and Melinda Gates Foundation. After a long and competitive process, he was selected as one of three students to represent Stempel College; they are the first students from the college to intern at the prestigious organization.
At the foundation, Yanogo worked in the nutrition department, which is part of the global development department. 
"It exposed me to a new level of the public health work and very relevant to everything that I wanted to learn," he says. "It also gave me the opportunity to make connections that will influence my future work. I have maintained contact with many of the researchers and program managers whom I met during my internship and will likely continue to collaborate with them on initiatives that the foundation and its partners are undertaking in the African Region."
After graduation, Yanogo plans on returning home with a new vantage point that will give him the opportunity to work with government and relief organizations to tackle health challenges.
 "As a medical doctor, I am a health care worker, and I want to engage more with the public health system in my community. As an endocrinologist and nutritionist, I deal with diabetes issues and other chronic illnesses that affect people on a daily basis. It takes more than talking to patients in your office to make a change – and with the knowledge that I have gained in health promotion and disease prevention, I know how to contribute to make a profound impact on health, moving forward the Universal Health Coverage agenda."
Of his time as a student at Stempel College,Yanogo says he'll always remember the people he met, the education he received – and of course, the unique Miami culture that is like nowhere he has ever been.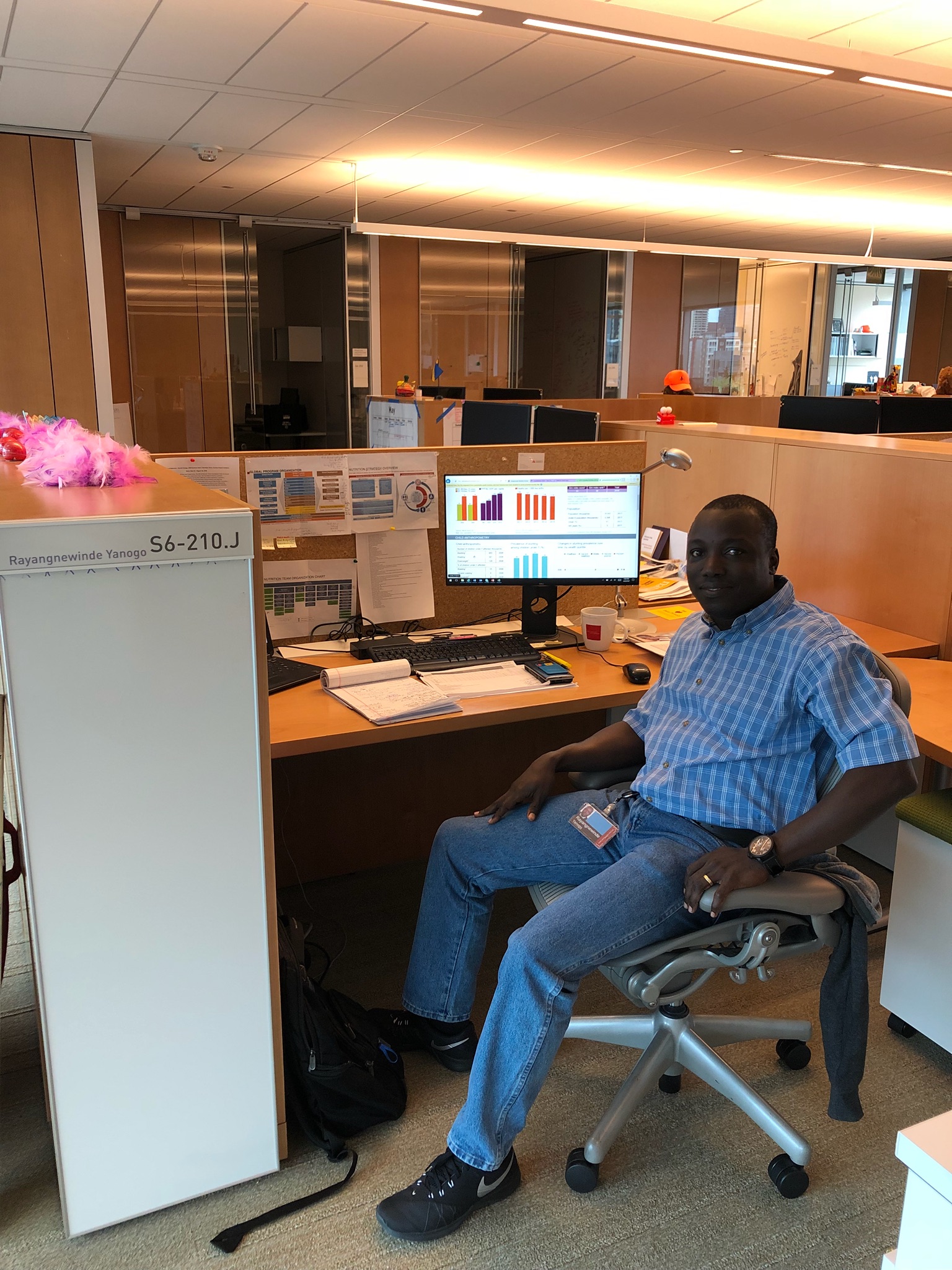 Donald Yanogo, interning in the Nutrition Department of the Bill and Melinda Gates Foundation in the summer of 2018.