Got my first job! Working for the Federal Reserve Bank of Atlanta
August 7, 2019 at 10:00am
---
In this series, recent grads share their journey to landing their first professional job out of college. After years of studying and working toward a degree, these Panthers' hard work paid off. Now they're paying it forward by letting you know how they did it.
Name: Natalee Collazo
Hometown: Miami, Florida
Degree/major: Master's in disaster management
Where are you working? Federal Reserve Bank of Atlanta
What was your greatest fear going into your first job after graduating? Before working at the Federal Reserve Bank of Atlanta, I was employed by the Facilities Construction Department at FIU. While working for the university, I was responsible for the record assets of the construction department across both campuses— Modesto A. Maidique and Biscayne Bay. My greatest fear was leaving my "nest" at FIU. I'd built wonderful relationships over the years and entering a different culture and atmosphere that was not the one I had grown accustomed to at the university was scary.
What surprised you the most about your job? My first day on the job, I was taking a tour of the cafeteria area for the first time and a cafeteria employee walked up to me, offered her hand and said: "Welcome to the Fed, Natalee. We're happy to have you here." It was shocking to me because I had never met this person in my life and in that moment she knew more about me than I knew about her. This eventually became a trend within the branch and it became apparent that everyone at the branch, including the branch manager, knew who I was. I realized, soon after, that as an employee of the bank you become part of a family, and I was glad to be welcomed so warmly into it.
What advice do you have for those beginning the job search process? Never miss the opportunity to interview or apply for a job you thought was out of your league. It's incredible how much weight your resume actually holds. The last thing you think will stand out from your resume might actually be the thing that gets you the job.
How does your job connect back to your coursework? Recently, due to my degree in disaster management, I was designated as my department's point of contact for the business continuity office at the Miami branch. The business continuity office is the equivalent to an emergency management department within the bank.
What's been the coolest thing about your job so far? The cafeteria! All I have to do is walk in, choose a meal or create my own and walk out. It gets deducted eventually but at least I don't have to carry anything with me (wallet or cash) to the cafeteria when I get my breakfast and/or lunch. It's very convenient.
Anything you'd like to add? Often times, transitioning from one institution to another is difficult. People grow accustomed to their schedules, the faces they see and the different job functions they perform on a daily basis. Not only was this the case for me but the change from a state university setting into a central bank was intimidating for me. I was overjoyed when I got the news that I had been offered a job with the Federal Reserve Bank but I was also scared. I didn't know what was expected of me and what to expect back. Fortunately, I was able to receive guidance from someone I could trust within the FIU community and I felt confident and prepared walking into the Miami Branch on my first day thanks to the advice she gave me.
As a recommendation to future graduates, I urge you to find a mentor. Someone who can relate with what you are about to go through. A wise person once told me that all of the answers we need are already within us but it is nice when you can validate them by someone you trust.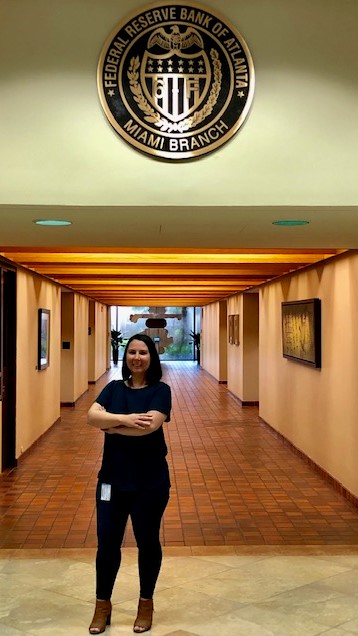 Natalee Collazo at the Federal Reserve Bank of Atlanta office in Miami. 

Natalee Collazo with a classmate taking part in the Diaster Management Field Course in July 2019.