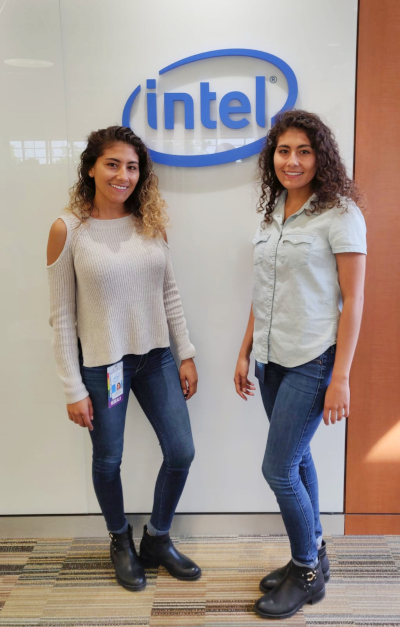 In this series, recent grads share their journey to landing that first job out of college. After years of studying and working toward a degree, these Panthers' hard work paid off. Now they're paying it forward by letting you know how they did it.
Twin sisters Laura Coronado and Natalia Coronado graduated from FIU with bachelors' degrees in computer engineering. Now, the Coronado sisters are both working for Intel.
Even though they work in two different Intel campuses in California – Laura is based in San Jose and Natalia works in Folsom – the two sisters communicate daily and visit one another every other weekend. "We get to sightsee the wonders of California, together," said the Coronado sisters.
What is your title?
L: I am a product marketing engineer.
N: I am a SoC (System on Chip) design engineer.
What does a day on the job look like?
L: Every day is a little different. Some days, I have to work at the lab debugging and doing the verification of our boards, meaning I have to check if everything in the boards works as it's supposed to and, if not, fix it or figure out how it can be fixed. If time permits, I go for a coffee break with a friend or a person I want to get to know better. These little breaks help me relax and give me a boost when I get back to my task.
N: I arrive at the office and right away check my email, look at my calendar for meetings and make a to-do list. I read and write micro-architecture specifications and implement the design using SystemVerilog, a hardware language. I do simulation-based debug and verification. I use SystemRDL language for the design of IP (intellectual property), which helps with reusability during the development of complex digital systems. At Intel, every day brings something new!
How did you get your job?
L: I attended the SHPE (Society of Hispanic Professional Engineers) conference, where I interviewed with several companies. I interviewed with my current manager and one of Intel's senior directors. I received the job offer the same day as my interview.
N: I got my job through an internship I did at Intel while I was at FIU. I obtained the internship at the BEYA Conference, a STEM conference held annually in Washington, D.C. There, I was offered a seven-month internship and moved to Folsom. I was able to finish school remotely and about four months into my internship, received a full-time offer.
What was your greatest fear going into your first job and how did you face or overcome it?
L: Asking questions if I did not understand something. I realized that managers and team members are there to help and guide you.
N: My greatest fear coming back as a full-time employee was not having enough knowledge to excel at my job. It can be challenging to work with people who have decades of experience. What has helped me overcome this fear is to ask questions.
What surprised you the most about your first job?
L: I was surprised how many people at Intel are willing to take time out of their day to explain and teach younger professionals. When I first joined the team, my supervisor immediately encouraged me to ask questions about new projects.
N: It surprised me how diverse the company is and how people are there to help each other. As a company, we're encouraged to share our knowledge, communicate effectively and support one another.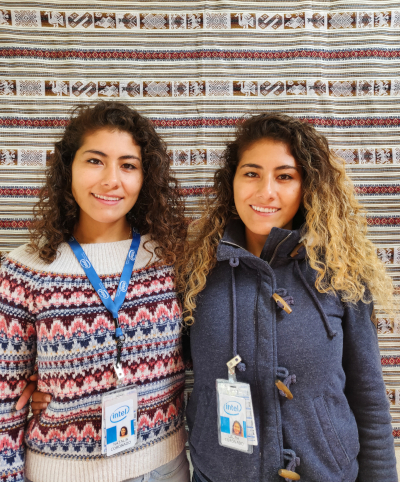 What advice do you have for those beginning the job search process?
L: Research and apply to many positions that interest you and do not hold back on applying to big companies.
N: Don't be afraid to aim high! Apply to your dream company and start applying early.
How does your job connect back to your coursework?
L: Since I work with integrated circuits designed to be configured by a customer called FPGA's (Field Programmable Gate Array), some of the theory classes I took like logic design, microcomputers and circuits, relate to my daily tasks.
N: I took computer architecture, digital logic and design classes that relate to my current job. These classes taught me the theory, which I'm now putting into practice.
How has your transition been from school to work? How do you balance your time?
L: Since I was a student-athlete for the FIU women's swimming and diving team, I didn't think the transition from school to work was difficult. At FIU, I was always busy with practice, classes, homework and studying. At work, it is pretty similar. Sometimes when work gets a little too stressful, I take a break by going to the gym. Also, I try to get up and go for a walk every two hours to refresh my mind.
N: It has been a little bit hard in the sense that I am not used to sitting at a desk for a long period of time. I enjoy moving. I blame that on my athletic background! At FIU, I was also a student-athlete on the swim and dive team. However, being on that team helped me learn how to balance my time.
What's been the coolest thing about your job so far?
L: The coolest thing has been working on our new FPGA family. It is very exciting to work on projects that will deliver energy efficient computer acceleration for apps from the edge to the cloud. Another cool thing was "acting" for a promotional video on the Acceleration from Edge to Cloud about Agilex technology, which is featured on the  Intel website.
N: The coolest thing is when I try to search for something online that I may not fully understand and I can't find anything on it because it doesn't exist yet! I am currently working with the team on the Intel Optane technology, which is a smart technology aimed to accelerate computers' responsiveness.