How to make the most of an outdoor workout
Fall is the perfect time to enjoy South Florida's weather while also getting in an excellent outdoor workout.
October 3, 2019 at 11:45am
---
By Brittany Baldwin
Miami's beautiful weather makes occasionally going outside to complete my workout a welcomed change of pace.
I recently was introduced to the FIU Nature Preserve, and it has quickly become one of my favorite places circuit training workouts.
For those seeking to escape the gym for a bit of fresh air, here are my essential elements to an effective outdoor workout:
Cardiovascular training
Your workout should begin with a cardiovascular exercise and dynamic stretching to increase your core body temperature and jump start your workout.
At the FIU Nature Preserve, I'll usually jog the trail for about 5-10 minutes to prepare my body for exercise. The main goal of the warm up portion of my regimen is to get my heart rate up and break a sweat if possible.  
During my workout, I also like to jog a lap between each set, in order to keep my heart rate up and maximize the intensity of my training.
Strength training
The strength portion of my outdoor workout is essential to maximizing my caloric output. Strength training allows you to build lean muscle mass, which ultimately boosts your metabolism and increases muscle tone.
At the nature preserve, I like to use the available outdoor equipment to complete my strength training. Pushups, dips and squats are some of my favorite exercises to perform outdoors. They challenge my muscular strength and can be completed with little to no equipment.
Core and stability training 
I like to wrap up my outdoor workout sessions with a few exercises to challenge my core strength and stability.
A strong core is essential to proper execution of most functional activities and exercises, so it must not be neglected.
Holding a variety of balance poses in thick grass, sand or gravel will challenge your core strength. My favorite core exercises are isometric holds like planks or v-sits on a bench or the grass.
Fun
While my main goal is to get the best workout possible, I still take the time to have fun and appreciate my surroundings.
During my outdoor workouts, I've found that Miami's beautiful weather and FIU's abundant scenery provide additional motivation for me to push through a challenging workout.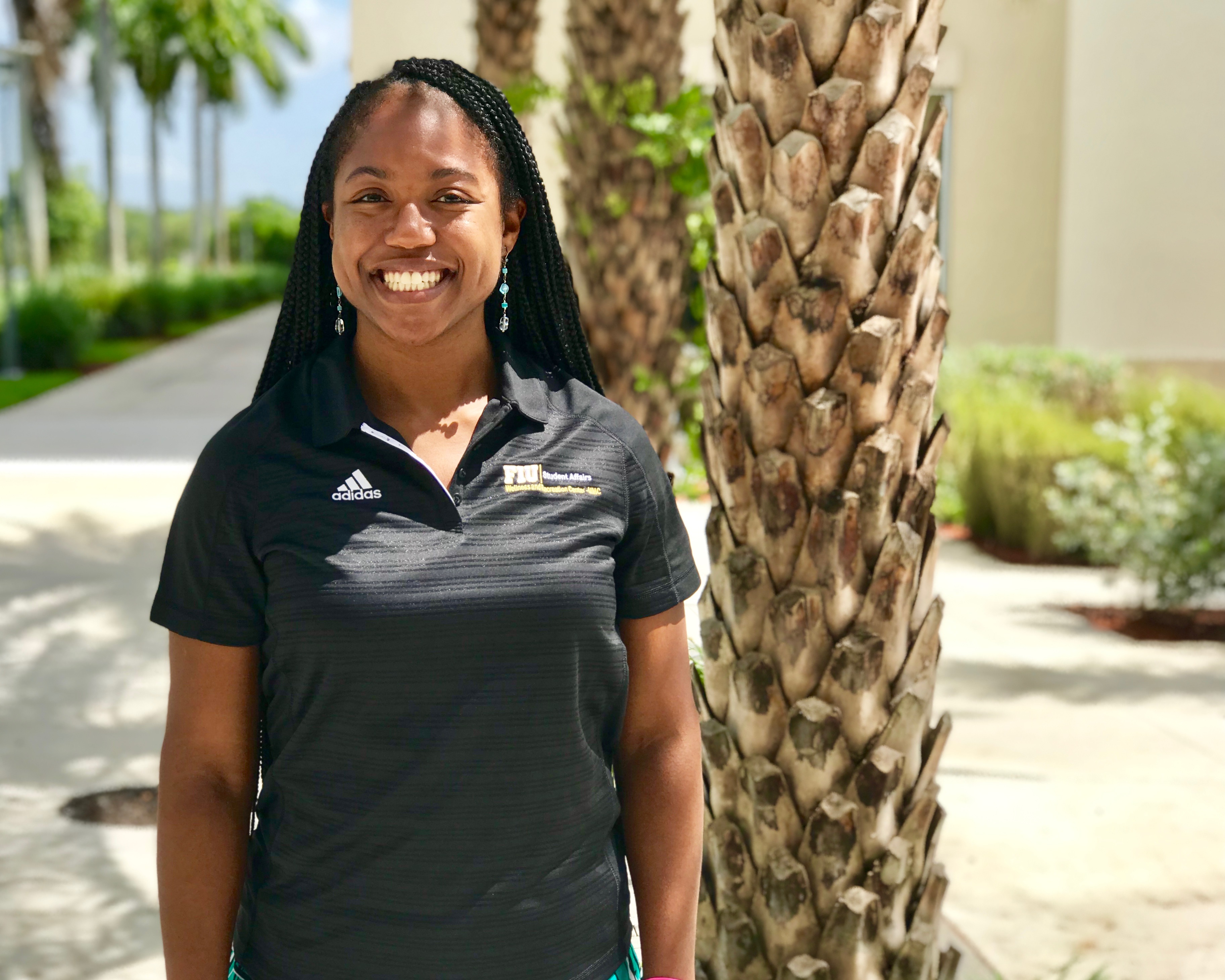 Brittany Baldwin is a certified personal trainer with a master's degree in recreation administration from the University of Nebraska at Omaha and a bachelor's degree in exercise science from Creighton University. She currently works as the assistant director of fitness at the FIU Wellness and Recreation Center at MMC. This article is part of an FIU News series featuring Baldwin's perspective on health and fitness.