iChange FIU: Bringing an online education full circle — for the pups
April 26, 2019 at 12:00am
---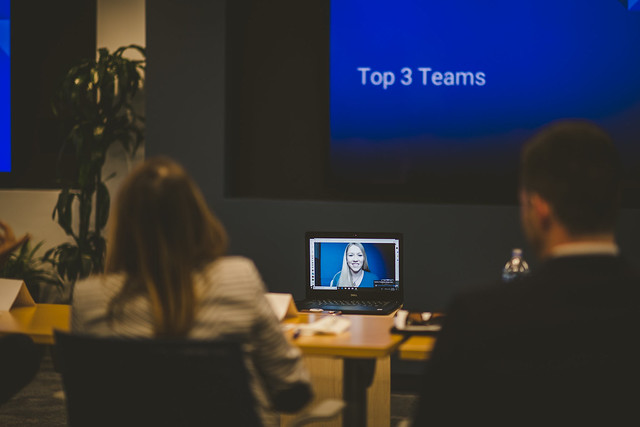 Angel Ribolla, a FIU Online senior studying psychology and entrepreneurship, took her college experience full-circle when she Skyped-in from nearly 1,000 miles away to pitch her passion project helping people train dogs via instructional web videos.
Ribolla and four other groups of student entrepreneurs culminated a full academic year of ideation, learning and experimentation at the GOJA-iChange FIU Social Innovation Challenge final pitch event March 27.
The event came as part of Changemaker Week: a university-wide initiative to engage students in social innovation and entrepreneurship offered by the Office of the Provost, the Center for Leadership and Service, the Honors College, the Office of Global Learning and StartUP FIU.
Students pitched innovative solutions to complex social issues in front of judges for the chance to win one of three prizes to support their project.
Working as a dog trainer for the past several years in Pensacola, Ribolla said she feels for the dogs who are given up by their owners, and felt she needed to do something to help. So, she took to the web — for her degree, and her business.
The Good Dog Project, which Ribolla has been developing since early 2017, will offer online dog training videos to shelters, rescues and people adopting dogs. She also wants to make "Dog Trainer in a Box" kits for new pet owners and trainers alike to have the tools and resources they need to work out behavioral issues with their furry friends.
"The problem is I can't work with every dog. There's too many," Ribolla said. "So I wanted to do something on a bigger scale to help."
Ribolla took home the second place, $2,000 prize for The Good Dog Project. She will start by using the funding to purchase equipment and film the videos.
As a fully online student now living in Mississippi, Ribolla was disappointed that she wouldn't be able to make it to workshops and pitch competitions. But she said Amanda McDole, assistant director of Changemaker initiatives from the Center of Leadership and Service, made sure that Ribolla wouldn't miss out on this opportunity for moving even farther away than Pensacola.
"I didn't think that I could do things like this, but Amanda and the team she works with helped me get the same things out of it everyone else did," Ribolla said. "I thought it would just be a good way to practice pitching, but in the midst of it I realized it wasn't practice. I pitched to investors and won!"
For students looking to start their own businesses in the act of solving a social issue, Ribolla says:
"Your business plan is everything. If you want to start a business, knock out that business plan. It arms you with the knowledge of why this could be successful."
---