International security experts discuss efforts to fight financial crime in Latin America
April 24, 2019 at 12:00am
---
Money laundering and financing of terrorist organizations continue to plague the region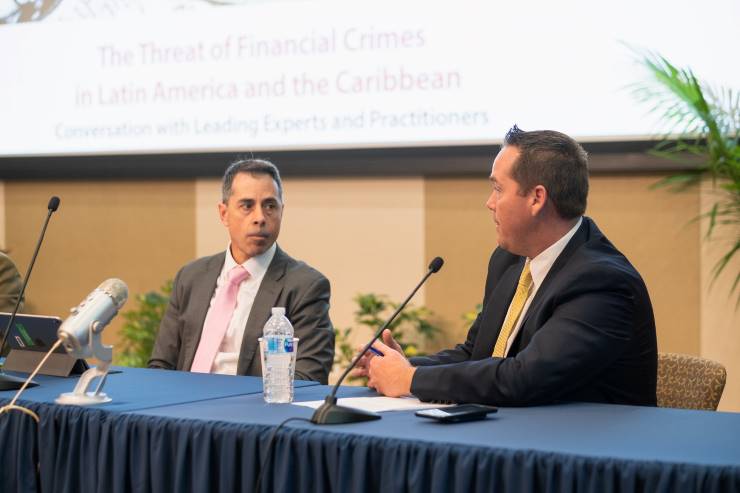 When Kenneth A. Blanco first visited FIU in 2017 it was to talk about his role in a massive anti-gang operation in Central America's Northern Triangle.
Blanco, a former Miami prosecutor, led a highly coordinated regional effort that resulted in the arrest of nearly 4,000 gang members in Central America and the United States.
It was all in a day's work for Blanco, then the acting assistant attorney general for the criminal division of the U.S. Department of Justice.
Now, as head of the financial crimes unit of the U.S. Department of the Treasury, Blanco is still fighting transnational crime – but this time he is following the money.
It's a trail that can lead law enforcement to drug traffickers, corrupt government officials, human traffickers – even international terrorists.
"Money crosses borders and it jumps jurisdictions and that's why it's critical that we follow the trail and connect the dots,'' said Blanco, director of the Financial Crimes Enforcement Network, commonly known as FinCEN, which was made a Treasury bureau under the U.S. Patriot Act in 2001. "Our work takes us all over the world and all over the world's financial sectors. It's a national security issue, and it is not easy.''
Blanco was recently in Miami to meet with the heads of 23 financial intelligence units from throughout the Americas to improve transnational efforts to fight money laundering, terrorist financing and other financial crimes.
Following their closed-door meetings at FIU, Blanco joined his counterparts from Argentina and Canada for a conversation on the issue with students and faculty. The event was a presentation of the Dorothea Green Lecture Series and co-sponsored by the Steven J. Green School of International & Public Affairs and the Jack D. Gordon Institute for Public Policy.
Students from the Green School's Master of Arts in Global Affairs program and the Gordon Institute's Intelligence Fellows program study many of the issues Blanco and his colleagues tackle, including cybersecurity and transnational organized crime.
"I suspect that one day some of our graduates will be sitting in rooms just like this working with individuals like you on these issues,'' said Shlomi Dinar, associate dean for graduate studies and innovation at the Green School and faculty director of the M.A. in Global Affairs program. "These are all serious transnational crimes that threaten to destabilize our global economy."
Keeping up with the technology used to commit financial fraud is a big part of his agency's focus, Blanco said.
"What keeps me up at night are all the virtual currencies and new forms of payment that are being used to finance illicit activity around the world,'' Blanco said. "Artificial intelligence, cybercrimes – we monitor all these things. Unfortunately, the technology behind this is not going away.''
"We will always have to be innovative because the criminals are always innovative,'' agreed Nada Semaan, director and CEO of the Financial Transaction and Reports Analysis Center of Canada (FINTRAC).
Although much of the work organizations like hers do is accomplished through intelligence – data monitoring and collection – the implications are decidedly human, Semaan said.
"When we are able to pull 15,000 fentanyl pills off the street, think of the lives that have been saved,'' she said. "Or when we make 77 arrests on more than 500 charges of human trafficking, we know there are hundreds of victims, many of them children."
Even so-called "white collar crimes" like money laundering and public corruption have a "profound effect on everyday people,'' Blanco added.
"At the end of the day, when wealth is stolen it kills our democratic institutions and deprives people of the necessary services they need to live – roads, food, education,'' he said. "Venezuela is a perfect example. You have a despot government stealing from its own people. We are relentless in the pursuit of these types of assets."