Join Arlene Chaplin at SOBEWFF® yoga event and support local education
February 18, 2019 at 12:00am
---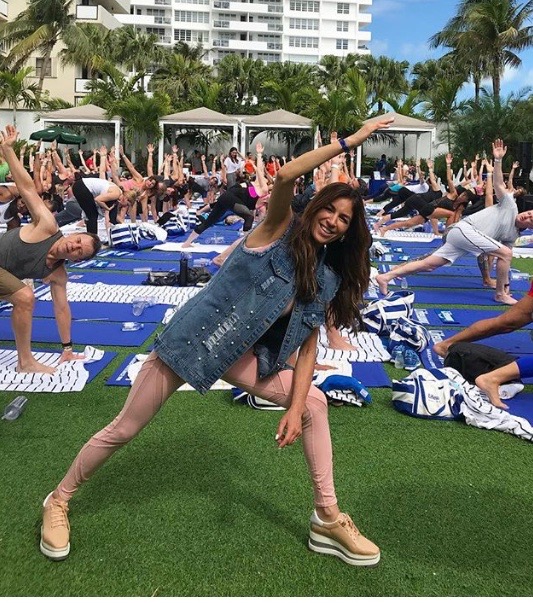 What's better for the soul than a relaxing yoga session, the Miami winter breeze and a peach purée cocktail? Perhaps it's knowing that when you come for the serenity, you support local education.
That's the idea behind  Buddhas and Bellinis, a Food Network & Cooking Channel South Beach Wine & Food Festival ( SOBEWFF®) event at the Loews Miami Beach Hotel on Feb. 23 and 24. The proceeds of the event (and the Festival) will benefit the  Chaplin School of Hospitality & Tourism Management.
Local mover and shaker Arlene Chaplin co-created the event eight years ago to fuse two of her passions: yoga and philanthropy.
"I think when you leave yoga, you have a full heart, which is a part of giving back," Chaplin said.
Chaplin is a committed supporter of yoga in Miami. Her events draw beginners and aficionados alike by providing healthy and cultural experiences. Nutritious snacks are served, while local high school art students display their works.
"Martha Stewart came to one of our events, just stopping by, and she said, 'This is so great. It's nice to eat great food while being conscious of your health,' Chaplin said.
Buddhas and Bellinis is in its eighth year at SOBEWFF®, the nation's destination for food and beverage connoisseurs. In February, the Festival will host thousands of attendees to eat and drink with world-renowned wine and spirits producers, chefs and culinary personalities at more than 100 events.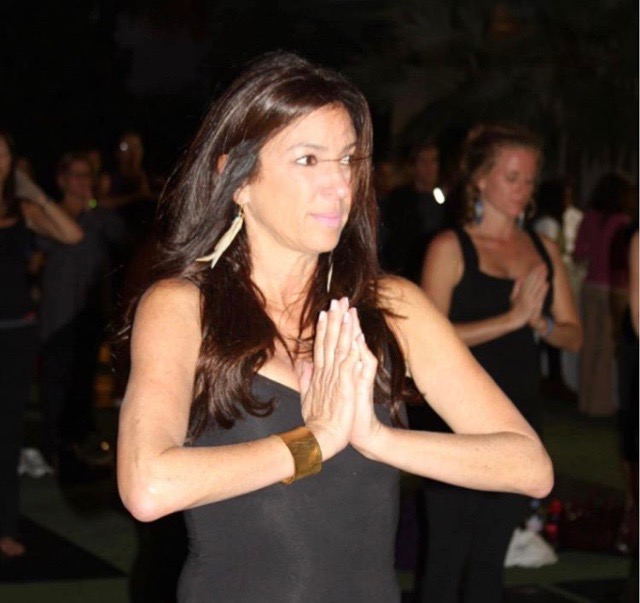 The Festival has raised more than $28 million for the Chaplin School (named after Arlene's husband Wayne, the CEO of Southern Glazer's Wine & Spirits and a long-time supporter of FIU).
Philanthropy runs deep in Arlene's family. Her father, Tibor Hollo, was a forerunner of developing downtown Miami. He sought to help the next generation of real estate professionals, and in 2012, he funded a $2.5 million endowment for FIU's  Hollo School of Real Estate.
Hollo encouraged Arlene to support culture in Miami, which she has done through SOBEWFF® and programs with the Miami City Ballet, Mount Sinai Medical Center and Peréz Art Museum.
"I think when you have children, you realize how important it is to not only set a good example for them, but also have them realize that giving back to the community with your time is more important or just as important as any financial commitment," said Chaplin, a mother of three.
To her, SOBEWFF® is a special way to give back to South Florida.
"The way that it combines the public and private enterprise, and the way it comes together for the betterment of our community, I think that has set an example for other partnerships in our community. I believe that helping support education is one of the greatest gifts we could give back to the community. It empowers young adults and provides a foundation on which they can succeed," Chaplin said.
She is particularly excited for this year's Festival because it will recognize the accomplishments of two trailblazing women. Chef and restaurateur Nancy Silverton and Ferrari-Carano Vineyards and Winery CEO Rhonda Carano will be honored at this year's  Tribute Dinner.
"This year is incredibly special," Chaplin said. "Honoring these two accomplished women in food and beverage is another way that we can pay tribute to those who serve as great mentors for students and are carving a path for future generations."