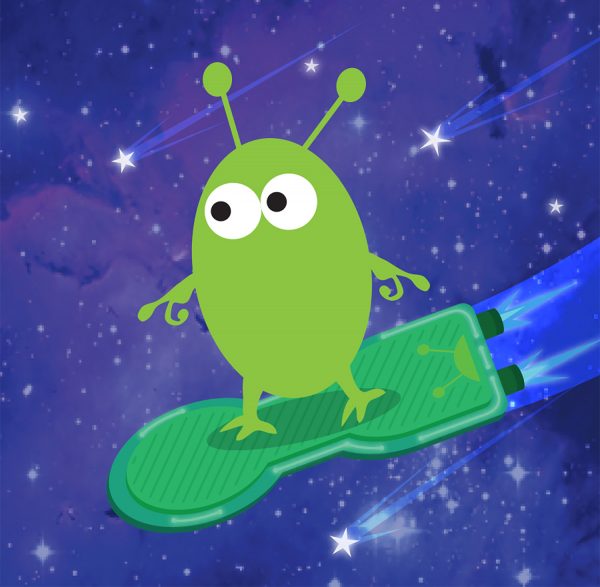 Date of birth: April 4
Zodiac Sign: Aries
Nationality: A galaxy far, far, away
Total Instagram followers: 4,000
Chances are you've seen or interacted with FIU's lovable green alien, Kiwi. But who exactly is the out of this world personality? We met up with Kiwi who telepathically shared with us insights about living on Earth and his recent milestone birthday bash.
Why did you decide to come to FIU?
College can make students feel like an alien—a feeling I'm way too familiar with! So, when I heard that FIU's Counseling and Psychological Services (CAPS) was looking for a spokesperson, I knew I was perfect for the job. I love connecting with students and sharing with them everything CAPS has to offer so that they can adjust to the Panther Galaxy.
What's your biggest pet peeve?
Definitely humans' misconceptions about mental health…and not finding parking!
What do you like doing in your spare time?
You can usually find me hanging out with Pickles the Pug, my best friend. He knows life can be ruffand we are each other's best support system. I also spend a lot of time caring for my new pet, Berry.
What's the most interesting thing you've read or seen this week?
I just learned that according to the Association for University and College Counseling Center Directors, college students are dealing with three major conditions: anxiety (48.2 percent), stress (39.1 percent), and depression (34.5 percent).
You recently celebrated your fifth birthday surrounded by students and friends. What is one message you would give to your countless fans?
You are not alone. Whether you're dealing with anxiety and depression, eating disorders, substance abuse, or sexual assault, CAPS and the Victim Empowerment Program are here to help. Skilled professionals are available and ready to assist you. Alternatively, their website also offers online self-help. Plus, services are free and always confidential.
One last question—what do you prefer, chocolate or vanilla birthday cake?
Publix
Counseling and Psychological Services: 
MMC SHC 270 / 305-348-2277(CAPS)
Hours of Operation
Monday – Friday: 8 AM – 5 PM
Same Day Consultation Hours
Monday – Thursday: 9 AM – 3:30 PM
BBC WUC 320 / 305-919-5305
Hours of Operation
Monday – Thursday: 8 AM – 5 PM
Friday: 8 AM – 3 PM
Same Day Consultation Hours Monday – Thursday: 8 AM – 3 PM
Friday: 8 AM – 2 PM
A 24-hour hotline is also available at 305-348-2277.
Counseling and Psychological Services (CAPS) offers mental health services and educational initiatives designed to improve emotional well-being and enhance academic skills development and success. All registered FIU students have access to consultations, crisis intervention, individual and couples' counseling, group counseling, comprehensive psychological and psychiatric assessment, as well as psychological and educational testing.
The Victim Empowerment Program (VEP) provides confidential assistance to FIU students, faculty, staff, and university visitors who have been victimized through threatened or actual violence and to support the healing process. VEP also seeks to enhance safety and promote healthy relationships by sponsoring awareness activities, prevention education, peer education and collaborating with university officials. Through clinical practice and research, the VEP aims to contribute to the body of knowledge and influence public policy regarding to issues related to victimization.