The mornings started early in Madagascar.
When the research plan for the day calls for trekking into a dense tropical jungle or exploring the waters off an exotic island, that's just what you do. You start early.
As the sun rose each morning, so did FIU anthropology major Madison Chamizo, FIU alumna Ariana Jonas and Florida Gulf Coast University environmental studies major Josie Rivero.
The three women are part of the first cohort of students to participate in the FIU College of Arts, Sciences & Education's IRES program. To learn first-hand about lemur, sea turtle and dolphin conservation they joined a mix of six undergraduate and graduate students who traveled from South Florida to Madagascar's Nosy Be island with funding provided by the National Science Foundation and the Batchelor Foundation.
Each day of their Nosy Be internship they woke up early for breakfast. Each day, they prepped equipment and packed equipment. Each day they set out for a new adventure. Each day, they did not quite know what to expect. But they all now know their futures lie in research and conservation.
The little, big island
Nosy Be, which means Big Island in Malagasy, is a relatively small island off the coast of Madagascar, a larger island separated from Africa by the Mozambique Channel.
It is home to sugar plantations. Rum. Spices including vanilla and black pepper. Oils used in perfume.
Its local population is growing and clearing more land for housing and farming. It has become increasingly popular with tourists who arrive by plane and by ship.
It's also the only place on Earth that's home to endangered Hawks' sportive lemurs and mouse lemurs. Endangered Indian Ocean Humpback Dolphins and Hawksbill turtles also call its waters home.
Threats to these animals are increasing. The team from FIU, led by primatologist Cristina Gomes and marine biologist Jeremy Kiszka, are trying to understand why some of these species are in decline and what can be done to help them.
While primarily focusing their research on land or on sea, students in the program had opportunities to cross train with either team. At the end of a long day of research, they all retreated to a joint base camp where they compared data.
On the land
Chamizo and Rivero joined Gomes, the assistant director of FIU's Tropical Conservation Institute, on treks through Nosy Be's Lokobe National Park. On Chamizo's first day in the park, in the island's extreme southeastern corner, they spotted their first black lemur.
It was a male that just sat in a tree.
The team stared at the lemur. The lemur stared back at them.
Then they took observations of the area where the lemur was sighted. The team noted their coordinates inside the park. They took measurements on the density of the tree canopy. They measured their distance from the animal and whether they were in a primary or secondary forest. They entered it all in a cell phone programmed with a survey that plots and catalogs the information.
With these details, they hope to glean insights on the local lemur population – how concentrated they are, where they're living and how threatened they are.
Daily, they went on hours-long treks through rugged terrain covering the distance of about 10 football fields. And since some lemurs are nocturnal, their jaunt through the jungle sometimes would happen at night.
"It was really cool because they have eye shine," Chamizo said. "Their eyes are like two lasers that just look back at you. Sometimes they look, sometimes they eat. They're not scared of us."
They saw other creatures in the forest, too.
Rivero walked through streams barefoot. She swallowed moths, had cockroaches crawl over her and stood calmly and silently as a tarantula ventured across her path. She didn't want to move or make a noise that could scare off the lemurs hovering overhead.
Her first lemur wasn't so stoic. It screeched in distress as a boa slithered up the tree next to it. Others, Rivero noticed, were. To satisfy their own sense of curiosity, they observed the people who observed them.
Learning about these animals first-hand, in their own environment a world away, helped Rivero solidify her career plans at age 20.
"I want to do field work," she said. "I've always wanted to do field work like that. This is what I want."
On the water
Ariana Jonas' journey was quite different. On the bow of a boat, her eyes were peeled on the bright blue waters of the Indian Ocean.
In some ways, it felt like familiar ground for Jonas, who previously studied dolphins in the Florida Everglades. This time, however, she was not weaving through rivers and around mangroves. She was in the open ocean far from home.
This team, led by Kiszka, was on the lookout for endangered Indian Ocean Humpback Dolphins and sea turtles. Like the team on land, they followed their own transects for about seven hours at a time. When dolphins came into view, they stopped. They noted their coordinates and measured the salinity and quality of the water. They noted the number of dolphins. They counted the calves. They took pictures. Pictures of dorsal fins. Pictures of pectoral fins. Pictures of tail fins. Pictures of scars. And pictures of markings.
By cataloging members of the dolphin pod so carefully, it is hoped they could use existing databases of marine mammals to identify individual dolphins. If there's already a record of a particular dolphin, that could yield clues to determine whether these animals live close to Nosy Be year-round or if they travel farther away during different seasons.
Researchers occasionally found the dolphins foraging for food or sleeping. Sometimes they would play by rubbing against each other, jumping out of the water or slapping their tails on the surface to communicate with each other.
It was puzzling to Jonas. She researched these dolphins before embarking on the trip and read the dolphins were very shy.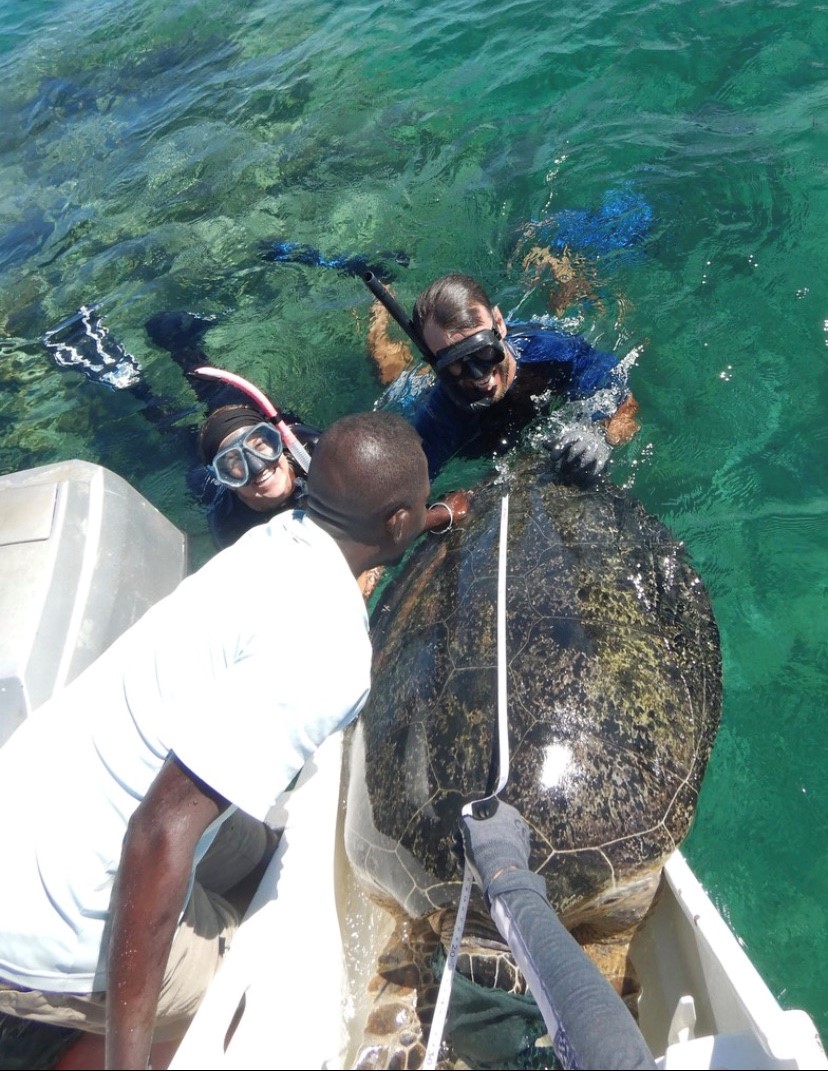 "We saw many examples of juveniles coming out and riding along the wake of our bow and saw some socializing with bottlenose dolphins," Jonas said. "It was interesting to see the whole range of behaviors people haven't witnessed before."
And when a turtle came into view, the team would dive in and pluck a hawksbill turtle from the water to attach a camera to its shell. The camera would come off a few hours later and its footage would reveal the turtle's comings and goings – where it went in search of food, what it ate, and whether it interacted with other turtles or marine species.
The research
Back home in South Florida, the team is now poring over the data. Already some points are becoming salient.
Nosy Be isn't immune to the pressures brought on by growth. Deforestation has claimed most of the natural forest on the island. With that, the earth becomes more acidic and difficult to farm. The climate becomes more desert-like. Rivers begin to disappear. Marine habitats are also facing degradation and damage caused by climate change.
Of the lemurs, there's reason to be hopeful.
"We saw more than what we expected, given this is a critically endangered species," Gomes said.
Of the humpback dolphins, the veil was lifted slightly over their furtive behavior.
"We have fishermen using dolphins to collect fish and we have dolphins using nets as walls to collect fish," Kiszka said. "Nosy Be and the surrounding areas are a critical habitat for these species."
More work is left to do. Gomes, Kiszka and this cohort of students are digesting the data and hope to publish their findings in peer-reviewed academic journals. In the spring, a new cohort will train with Gomes and Kiszka. In the summer, their days will begin early in Nosy Be.
---
Are you ready to pack your bags for Nosy Be?
FIU's Tropical Conservation Institute is accepting applications for the second cohort of the IRES program.
This one-year program includes one semester of pre-field training (Spring 2020, at FIU or remotely for non-FIU students), a paid 7-week internship of fieldwork in Nosy Be, Madagascar (Summer 2020), and one semester of post-field training (Fall 2020). Participants are required to take part in all three phases of the program.
Apply before Nov. 15, 2019 at: go.fiu.edu/ires.