Med student studies why some HIV patients don't stick to medication plan
February 26, 2019 at 12:00am
---
The World Health Organization's latest data estimates that worldwide more than 36 million people, including more than one million Americans, are living with HIV (human immunodeficiency virus). Thanks to antiretroviral therapy, ART, fewer people are progressing to AIDS. Antiretroviral drugs do not kill or cure the virus, but help keep it in check. In order to do that, adherence to antiretroviral treatments is critical. Medication needs to be taken daily and as prescribed, but for many people maintaining the drug therapy regimen is a challenge.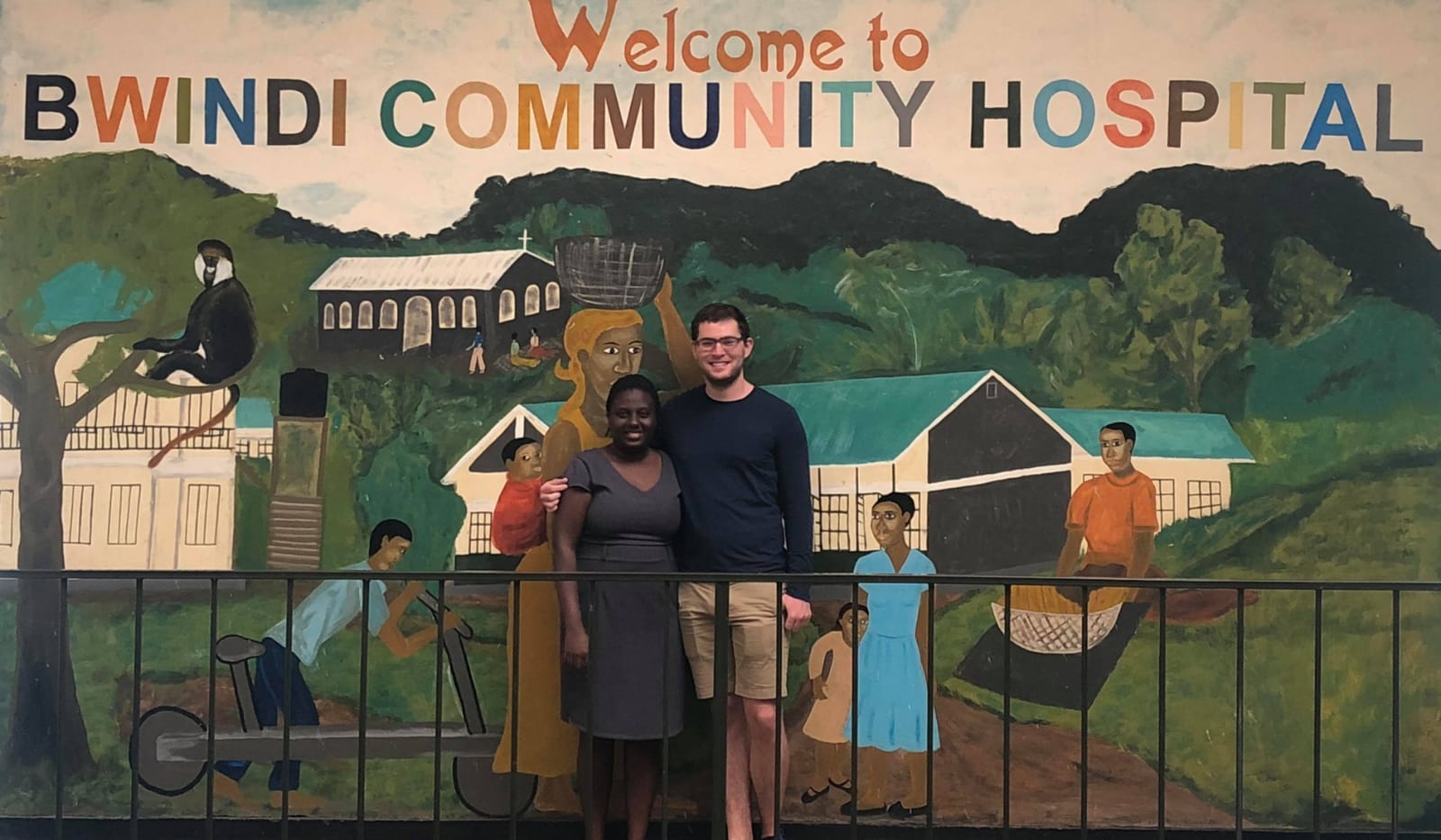 Scott Leary, a second-year medical student at Herbert Wertheim College of Medicine, spent part of last summer at a hospital in rural Uganda studying the factors that impact whether patients properly comply with taking their medications.
"We did a retrospective chart review of patients on ART who are seen at the hospital's HIV/AIDS clinic and looked at the reasons why some people still had viral levels above the ideal level," says Leary.
The study found numerous barriers to adherence, including lack of food, fear of taking medication on an empty stomach, stress, domestic abuse, and relying on others to obtain the medication from the hospital. He will be presenting the first results of his research project,"Identifying Barriers to HIV Management and Treatment in the Catchment Area of Bwindi Community Hospital," next month at the American Medical Student Association's Annual Convention in Washington, D. C.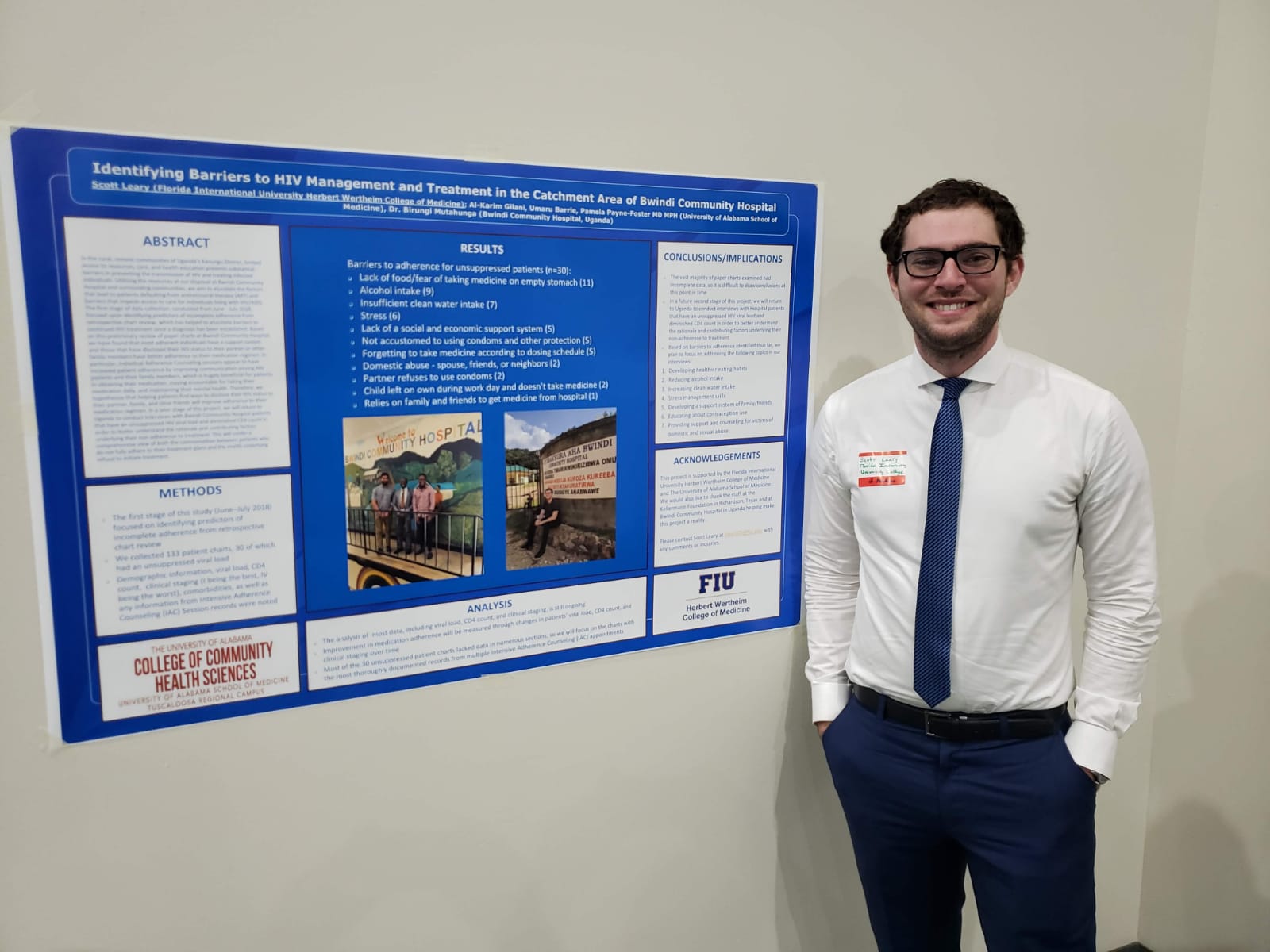 Studies suggest that in order for antiretroviral treatment to be successful, adherence needs to be higher than 90 to 95 percent, but the worldwide average is around 70 percent adherence. According to the Centers for Disease Control, initiating antiretroviral treatment early and properly following it "has been shown to improve health, suppress HIV viral load and reduce the risk of transmitting HIV to others."
Leary's interest in studying HIV began as an undergrad at the University of Alabama. In the past six years, he has worked at a research lab in Port St. Lucie, the National Institutes of Health, and at a hospital in Spain, on a Fulbright Graduate Research Grant.
"I've progressed from bench research to a more public health approach because I realized lab research wasn't really for me, and I also felt I could make a bigger impact on HIV prevention through the public health route," he says.
The last two years of medical school are the busiest. Students must juggle clinical rotations, board examinations and residency applications and interviews, in addition to school work; yet Leary hopes to find time to return to Bwindi Community Hospital during the next couple of years to conduct personal interviews with HIV patients. His goal is to be able to use the research findings to advocate for funding to educate patients and medical staff on how to improve adherence to HIV treatment — not just in Uganda, but across the world.
Leary's research project is supported by HWCOM and the Kellermann Foundation.