Sharing FIU with mom becomes a Panther family tradition
October 4, 2019 at 11:30am
---
When Florence and Keturah Hudson walked into FIU's Parent and Family Day in 2015, the mother-daughter duo didn't know what to expect.
Many of Keturah's friends went away for school and the incoming freshman was concerned that she might miss out on the full college experience.
Instead, quite the opposite happened. The communications major thrived at FIU, in-and-out of the classroom, and took full advantage of everything FIU had to offer. She became a resident assistant for FIU Housing, served as a Panther Camp facilitator, traveled abroad through alternative breaks and actively participated behind-the-scenes of Homecoming.  
"I got everything and more," said Keturah, "I've done a lot and met so many people through those experiences that have helped me grow into the person that I am today, which I'm very grateful for."
Although a lot has happened since Keturah and Florence first stepped foot at FIU, one thing has remained constant. Year-after-year, the daughter and mother have attended Parent and Family Day—a tradition they started five years ago.
Hosted by Orientation and Family Programs, Parent & Family Day welcomes parents and family members to FIU to experience and interact with members of the university community at Modesto A. Maidique Campus.
"By participating in the various opportunities provided with the program, family members are able to develop greater familiarity with campus, learn more about the university's history and vision for the future and even make connections with other proud FIU families," said Korrin Anderson, director of Orientation and Family Programs.
Organized activities for the day include the FIU Proud Parent & Family Brunch, optional campus tours, tailgate participation and attendance to a football game where parents and family members experience Panther pride first-hand with students.
"This is good to have for parents so that we can know what's going on and really get to know FIU.... Parents really need to take advantage of this. They really do, it makes a difference," said Florence.
Over the years, the Orientation and Family Programs staff have gotten to know the Hudsons.
"They're such a great example of how a family can come together to support each other, and they clearly bleed blue and gold," Anderson said.
And while Parent and Family Day 2019 was the last one for the Hudson family, it also marked the beginning for so many new Panthers including the Allen Family—Massachusetts natives currently living in Jacksonville, Florida.
"It's a great opportunity to tour some of the facilities. Plus, it's a fun way to spend the day with our son down here," said Chris Allen, whose son, Henry, is a freshman studying international relations in the Honors College.
While Henry's mother, Janet Allen, admits her greatest motivation for attending Parent Family Day was to see her son again, she adds, "We wanted to check out the school and meet other families."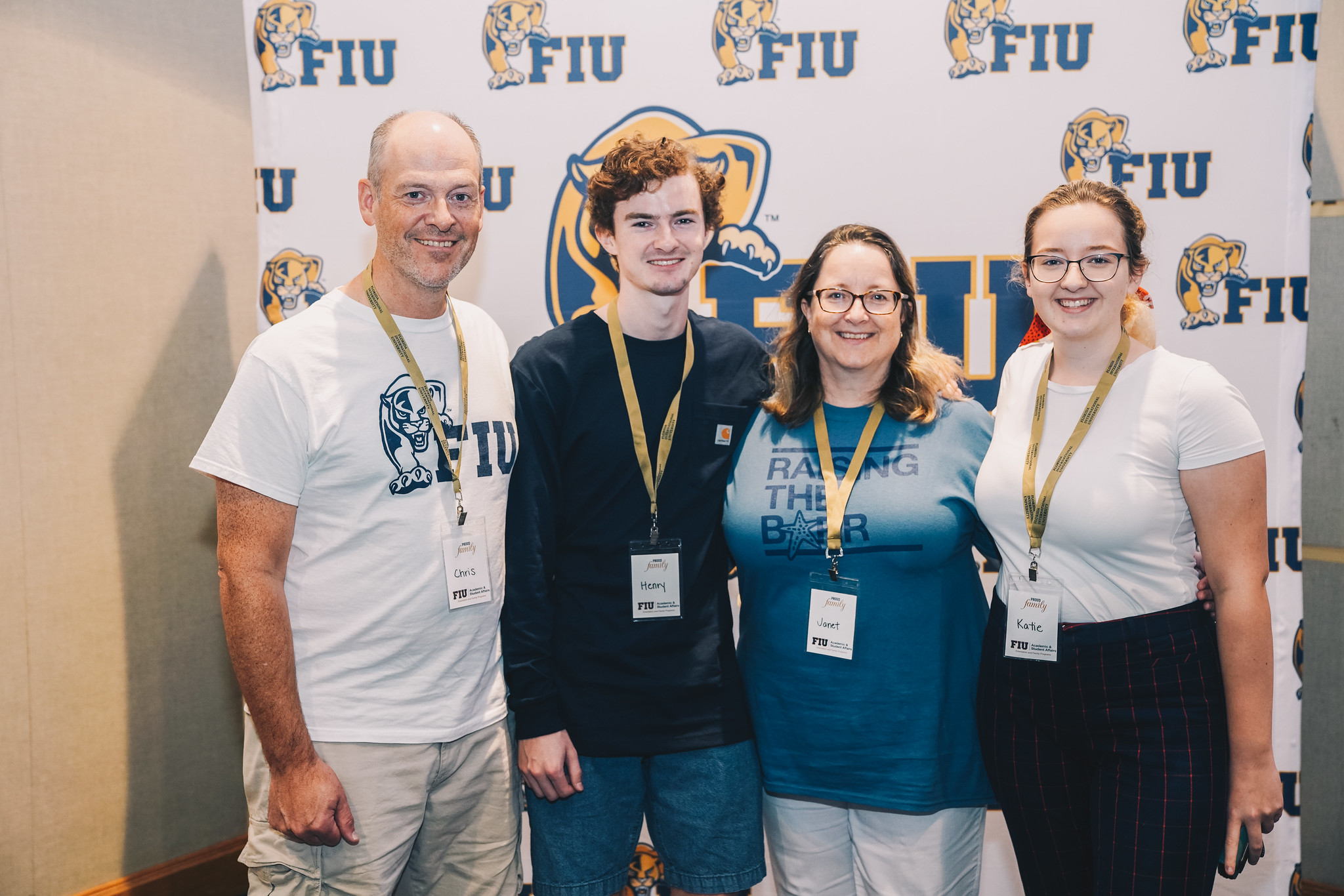 Chris Allen, Henry Allen (International Relations student), Janet Allen and Katie Allen (sister).
As for Florence, she will be cheering her daughter at the end of the semester as she walks across the stage to get her diploma. But she will certainly not be saying goodbye to FIU.
"My daughter had an amazing experience at FIU, and I had a great experience as a parent," said Florence. "Believe it or not, in November, I'm taking a class here! I'm proud of FIU. I brag on FIU. I'm FIU for life."\
---
Learn more about the Parent and Family Day and everything Orientation and Family Programs has to offer.
Click here to see more photos of the 2019 Parent Family Day.
To subscribe to the FIU Parent and Family Newsletter, click here.