Got my first job! As a propulsion engineer at Boeing
Juan Valencia '17 says his job offers nonstop learning opportunities and that relishes exploring his new state of California.
October 24, 2019 at 6:00am
---
Name: Juan Valencia
Hometown: Miami, Florida
Degree/Major: Mechanical Engineering
Where are you working? Title? The Boeing Company / Propulsion Engineer
How did you get your job? I was offered my position at the BEYA (Black Engineer of the Year Awards) Conference.
What was your greatest fear going into your first job and how did you face it or overcome it? My biggest fear was going into a position unprepared for the work. I had this idea that I would be expected to be able to jump into work right away. Upon actually arriving, I realized that there is a training phase as well as very helpful coworkers who made the transition very easy.
What surprised you the most about your first job? The crazy amount of work and information that goes on. I was shocked at the sheer amount of aviation knowledge my coworkers possessed. Having passed my one year mark, I am no longer surprised at how much we are able to learn and retain in our field of work.
What advice do you have for those beginning the job search process? Engineering conferences such as Great Minds in Stem (GMIS), Black Engineer of the Year Awards (BEYA), Society of Hispanic Professional Engineers (SHPE) and Society of Women Engineers (SWE), are by far the best way of getting a job, in my opinion. Expose yourself to speaking with recruiting managers and do your best to show passion (recruiters love this) for the company you want to work for.
What does a day on the job look like? As a propulsion design engineer, my work revolves around auxiliary power unit (APU) development. The APU is a small turbine engine installed on the tail end of the aircraft. Its purpose is to provide power to the aircraft while it is parked on the ground. The APU is also used to start one of the main engines on takeoff. Every day is another day of learning as I am given a task or part to design. Primarily as an office job, I spend most of my time on the computer working on computer-aided design (CAD) software. When not designing, I am having technical discussions with my team or in a meeting. The work is interesting and it drives me to want to find the best solution!
How does your job connect back to your coursework? This is one of those questions that is always brought up. As mechanical engineers, we are expected to learn all aspects of engineering. When we transition to our first job, we have a tendency to think that we are going to face textbook-like problems; this is not the case. Besides the CAD classes I took in college, most of my classes are hardly used. There are bits of some coursework that I have used but the biggest thing I took from FIU Engineering was the ability to extract information and use it to solve complex problems.
How was your transition from school to work? How do you balance your time? The transition is by far the best thing ever! Not having to go home and study has opened up much more time to explore California. Although a full-time job is time consuming, Boeing has an excellent work-life balance culture that never makes me dread coming to work. My weekends are mostly spent doing something new in California.
What's been the coolest thing about your job so far? By far, the work travel. My most memorable trip so far was getting sent up to Seattle for a business trip. I was able to see the factory and witness Boeing commercial aircrafts being put together on the factory floor. Boeing is really good at exposing its employees to different opportunities to help you grow as a professional.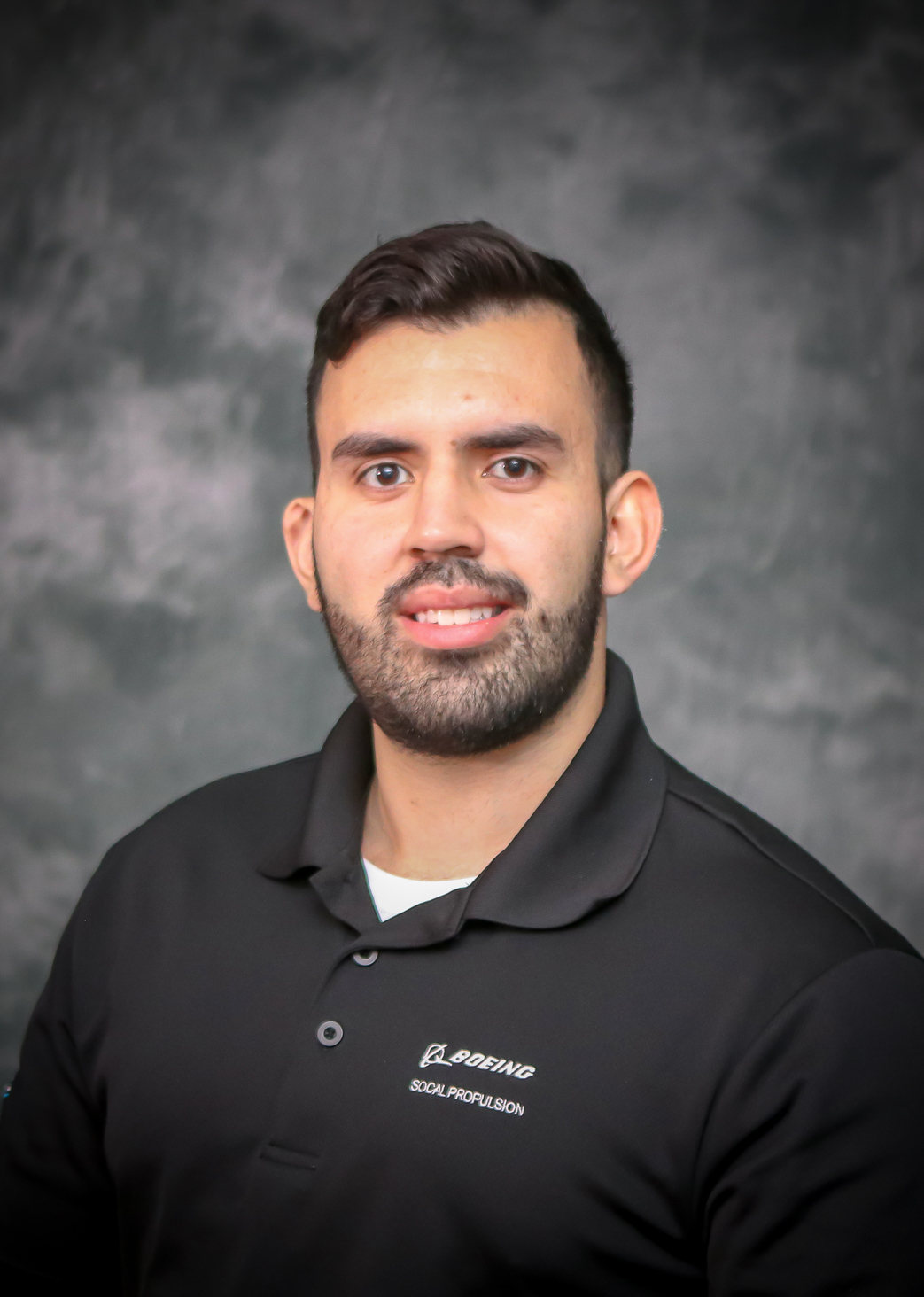 Juan Valencia working at Boeing as a Propulsion Engineer