Got my first job! Working at the World Bank in D.C.
April 18, 2019 at 12:00am
---
In this series, recent grads share their journey to landing that first professional job out of college. After years of studying and working toward a degree, these Panthers' hard work paid off. Now they're paying it forward by letting you know how they did it.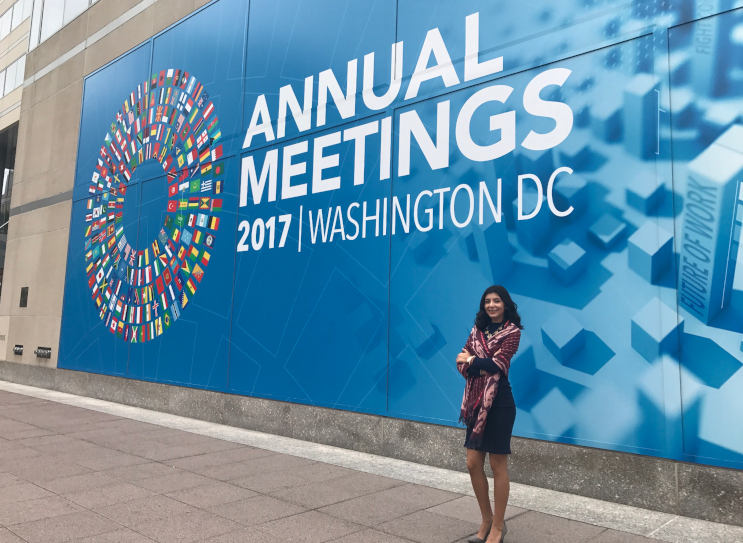 Name: Paula Mora '17
Hometown: Miami, FL and Bogota, Colombia
Degree/major: Bachelor's in international relations, minor in political science
Where are you working? I work at the World Bank as an IT Assistant.
How did you get your job? Throughout my time at FIU, I was very involved in extracurriculars – serving as president of the Colombian Student Union (PorColombia) and treasurer of UN Women. I also had the opportunity to intern in difference sectors, starting with the Colombian-American Chamber of Commerce in 2015, Global Ties Miami in 2016, the Miami-Dade County Mayor's Office in 2017 and finally the Port of Miami in 2017. These experiences helped pave the way to a successful journey post-graduation, as I was able to create connections and gain experience well beyond the classroom. Upon graduation and throughout my job search, my networks and my experience positioned me as a great candidate for my current role.
What was your greatest fear going into your first job and how did you face it or overcome it? I was quite intimidated by the sheer fact that I was joining the world's most important international development organization. I was the youngest staff member on my team and this was my first full-time job, so the fact that I had to prove myself worthy of this role was intimidating. However, I quickly learned that everyone here is always willing to help, to mentor and to guide younger professionals navigating the institution. I also learned that we must never underestimate ourselves, as with hard work and determination we can achieve anything we put our minds to.
What surprised you the most about your first job? The impact that the World Bank has made and continues to create throughout the developing world. As an international relations student, I had read about the work of the World Bank, but one thing is reading it and another is being in the midst of where it all takes place. Being surrounded by passionate people who want to make this world a better place has been my favorite discovery through this journey.
What advice do you have for those beginning the job search process? Internships, internships, internships! I cannot stress enough the importance of internships. The classroom provides excellent tools, but it is out there in the real world where you are able to actually get a feel of what each sector has to offer – internships allow you to take a "test drive" and decide for yourself where it is that you see yourself making an impact.
What does a day on the job look like? In my specific role I assist the IT Governance team in program delivery; this includes managing IT project approval processes, including project quality assurance, maintenance and approval of project workflows, and tracking and reporting on project status. In a few words, project management is at the top of the to-do list.
How does your job connect back to your coursework? Although I currently work in the information technology department, my studies in international relations provided me with the context of why the work of the World Bank matters at a global scale. Knowing that even as an assistant I can contribute to the mission of the World Bank has been the most rewarding aspect of my job.
How was your transition from school to work? How do you balance your time? Although I sometimes miss the 305, I have to admit that my transition was quite smooth. The excitement of a new city and my first job was a great motivator to make the most of my transition. After settling in, I soon noticed that I needed more than my full-time job (I was used to being a student, working part-time, being involved in extracurriculars and doing internships). And so, I decided I needed to get involved in the community and put my free time to good use – I started volunteering as a Spanish teacher, in food kitchens, planting trees and beautifying schools, and I also took on a role in an all-women founded tech startup!
What's been the coolest thing about your job so far? The coolest thing about working in the World Bank has been having the opportunity to participate in World Bank annual meetings – where leaders from all around the world and experts from various sectors meet to discuss the current state of the sustainable development goals, and how we can create a world free of poverty.