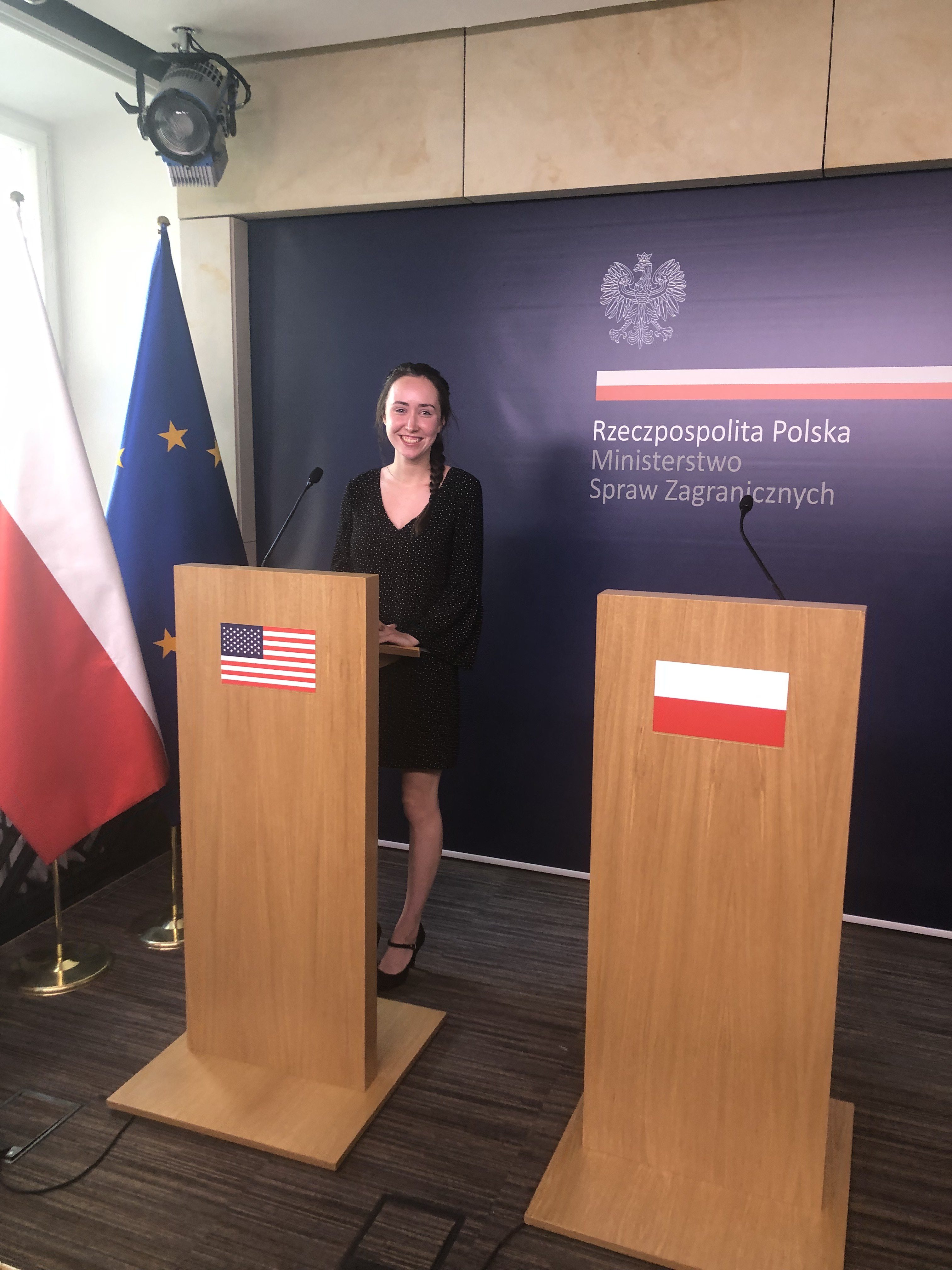 Name: Katerina Geisler
Hometown: Palisade, Colorado
What is your major? International relations and political science with certificates in public policy and global cyber policy
Where did you/are you interning? I was selected for the 2019 Presidential Internship in partnership with General Electric in Poland
What is your title? I was a policy intern learning about U.S.-Polish partnerships in relation to energy development and governmental relations
How did you get your internship? I applied to the program through a video submission, completed an interview and was selected by General Electric.
What are you doing there? It was an in-country internship where we met with Polish Ministries (such as the Minister of Finance, the Minister of Cultural Affairs, and the Minister of Technology and Development), we met with the U.S. Ambassador to Poland, we met with Parliament members such as the Speaker of the Senate, and met the President of Poland himself, President Duda. On top of this, we met with General Electric Officials at 2 GE plants in order to learn about their development in-country and goals for the future of energy in Poland.
What projects did you work on? A large focus of this internship was U.S.-Polish relations in regards to private sector energy development and the securitization of Poland. We were able to have working meetings with multiple officials to discuss future relations between the two countries and discuss opportunities for university connections.
How does your internship connect back to your coursework? My course work focuses in large portion on bilateral relations, international cyber development, along with strategic development between nations. My course worked connected entirely with the Polish governmental agencies, especially when discussing increased U.S. partnerships with Poland. I was also able to learn about private sector energy development which connected back to my cyber studies, as all critical infrastructures of a nation need to be secure. Being able to see General Electric's work on this matter and their development within Poland was incredibly interesting, as it was a real-life example of these partnerships and of modern-day issues being resolved. 
What is the coolest thing about your internship or that has happened during your internship?One of the most amazing parts of this internship was being able to have a guided tour through the concentration camp Auschwitz. We were able to see a large portion of history students learn about in their studies in real-life. Having the opportunity not just to see this critical site, but have a guided tour by a Polish citizen provided more context and connection to the area than could be imagined. It was truly eye-opening.
What have you enjoyed most about your experience? The portion I enjoyed most about this experience was General Electric's partnership with the Polish and Slavic Credit Union, as 10 addition U.S. students were chosen who were also Polish dual citizens. This allowed us to learn about the country from the perspective of Polish citizens, especially as it related to the language and the culture of the region. This provided for a much more interactive experience overall.
What have you learned about yourself? I learned a lot about where I see myself in the future, as I learned I have a big passion for strategic bilateral relations between countries. I was able to see and work first-hand in this realm, allowing me to better understand how governments interact and work together in order to accomplish shared goals.
What advice do you have for those beginning the internship process? My advice to those beginning an internship program would be to have an open mind and experience everything possible while you are there. You make the most of an internship, and by taking advantage of every opportunity and making it a personal goal to experience everything possible in the environment you are in, the amount of learning you will receive will be unparalleled. I would also recommend to make student connections while you work, as you will meet life time friends, future coworkers, and people who might even have opportunities for you in the future.
How has the position increased your professional confidence? This internship increased my professional confidence as I was able to better practice networking and learn how to best present myself to higher level officials.
How has the internship expanded your professional network? Besides the fact that I was able to interact with 19 other highly successful and motivated students, I was also able to network with both Polish Governmental Officials and General Electric Officials. This has expanded my network for future job opportunities and internship positions.