My internship at Tesla
A computer science major's positive experience has opened her eyes to a career she hadn't previously considered.
---
Name: Carolina Uribe-Gosselin
Hometown: Miami, FL
What is your major? 
I am majoring in computer science.
Where did you intern?
I worked for Tesla as the technical program manager for the Packaging Engineering Team. My job was located at the Tesla Gigafactory 1 in Reno, Nevada.
How did you get your internship?
I previously worked in Tesla retail so once I went to the Grace Hopper Conference in Houston, Texas, I went up to the Tesla booth to network with Tesla employees. I was able to talk about my experience in that role of working in Tesla retail and they connected me with two recruiters!
What advice do you have for those beginning the internship process?
The internship search process can be extremely stressful! I want everyone to know that they are not alone, that everyone around them wants to see them succeed. I think students are sometimes afraid to ask for help because they think they should "know this already" or something. Having a network of mentors is probably one of the best resources, because students can learn from them, ask questions, ask for feedback on resumes, pitches and applications.
Aside from this, GET INVOLVED ON CAMPUS! Since my freshman year, I've attended and participated in events with organizations. These organizations constantly bring in companies to FIU, they provide support for interview prep and they even host workshops on different topics.
What projects did you work on?
At Tesla, I was a technical program manager. I specifically managed packaging solutions for our energy products with the focus of reducing packaging costs, eliminating foam in Gigafactory 1 and improving warehouse efficiency.
How did your internship connect back to your coursework?
With this particular internship my work didn't necessarily connect back to my coursework. The only course I could think about is a technical writing class that I took a couple of semesters ago. That course helped when I had to write documentation.
Indirectly though, being in a technical degree helped me understand what it is like to be an engineer. This is crucial when working with engineers because to collaborate with them I have to understand the technical side of the projects.
What was the coolest thing that happened during your internship?
The coolest thing that happened to me during my internship was that I got to see Elon Musk, co-founder and CEO of Tesla!
What did you like most about your experience?
I absolutely loved everything about my experience at Tesla. My team was wonderful and they encouraged me to work on projects that I was passionate about. The work I did had a direct contribution to the company and the planet, which is so important to me.
What did you learn about yourself?
I spent the first two years of undergrad focused on software engineering, but I knew I wanted to spend the last two years on program management to understand which area I enjoy more. Through this internship I learned that I see myself as a program manager after graduation!  
How did the position increase your professional confidence?
There were a ton of meetings that I had to lead which is something I have never done before. Being placed in this position was uncomfortable at first, but over time it started to feel more natural.
How did you expand your professional network?
Throughout the internship I constantly connected with people on LinkedIn after I met them.
How did it help you prove yourself in the "real-world?" 
Since my role was essentially like a full-time role, I was able to (as I mentioned) contribute to the company and the planet!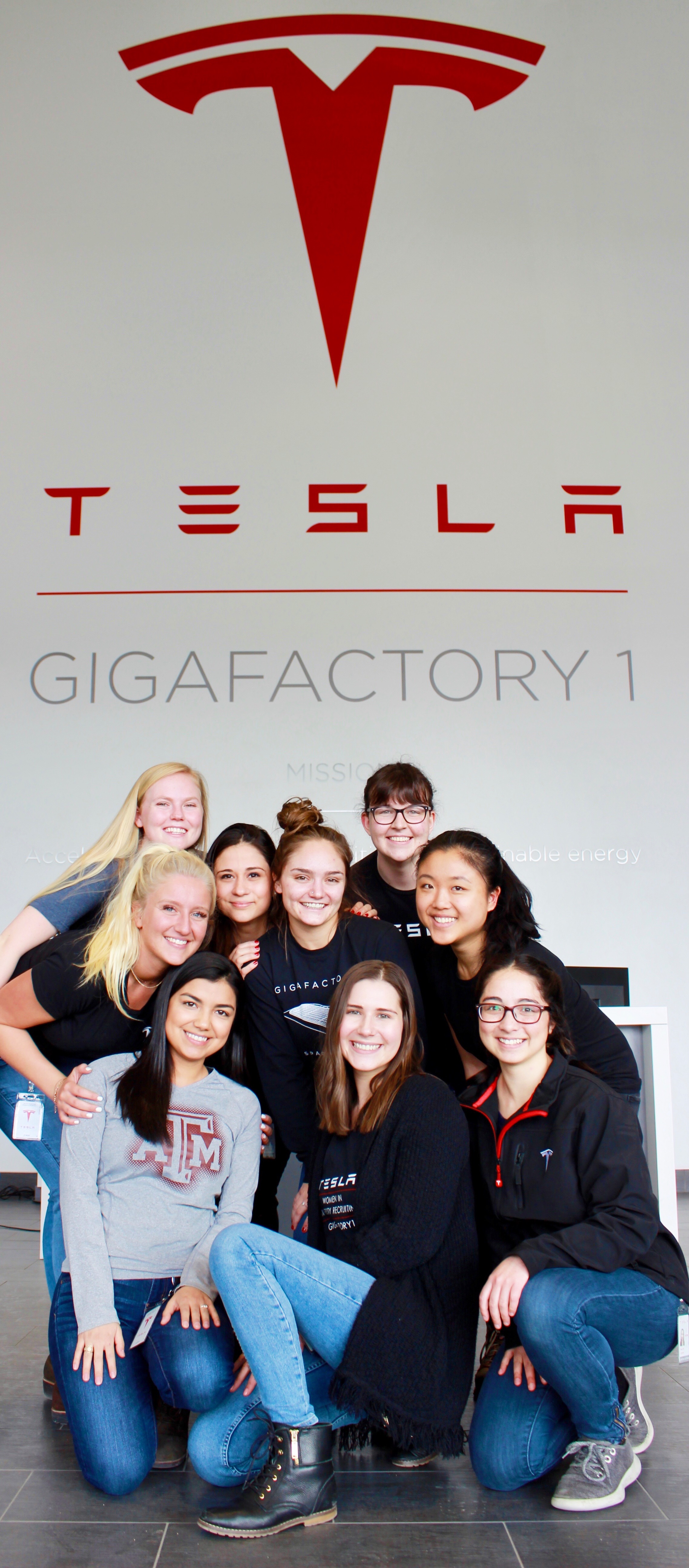 Carolina with her packaging engineering team at the Tesla Gigafactory 1 in Reno, Nevada