Name: Etinosa Oghogho
Hometown: Benin City, Edo State, Nigeria
Major? Ph.D in public health in the Department of Health Promotion and Disease Prevention at Robert Stempel College of Public Health and Social Work.
Where did you intern? What did you do there? I interned at the Department of Reproductive Health and Research Department (RHR) of the World Health Organization (WHO) Headquarters in Geneva. I conducted research on health systems strengthening to improve Sexual and Reproductive Health (SRH) outcomes among underserved populations in low-and middle-income countries.
How did you get your internship? I applied for the summer 2019 Duke Global Policy Fellowship Program in Geneva, hosted by Duke University. I was selected as a Global Health Fellow. The fellowship consists of an internship and a week-long intensive course. Albeit, it is the student's responsibility to apply for and secure an internship position, the program includes career guidance and support services to assist the student with finding an internship, and that was how I found mine at WHO. 
What advice do you have for those beginning the internship process? I would say be very determined and persistent. It takes a lot of time and effort to search and apply for several internship positions—coupled with the responsibilities of taking classes, projects and preparing for exams during the semester. But at the end, I believe it is worth it. So, keep at it! Also, because WHO is a very large organization and internships are competitive, I would say start the internship process early, considering the "time" factor and unforeseen challenges that could spring up from delays.
What projects did you work on? The RHR has four units and I was stationed in the Human Reproduction Team (HRX). At the HRX, I worked on projects focused on: multi-country family planning and strengthening access to SRH services. I attended and provided reports on SRH meetings with country regional advisors. In addition, I conducted a systematic literature review and assisted with working on a research protocol on contraception quality of care assessment. I helped with a project proposal for health system strengthening of SRH services. I also took some specialized courses offered by the WHO library to develop capacity building, that helped with completing my assigned tasks. The overall aim of my research work was to strengthen the access to SRH services in developing countries such as Brazil, Honduras, Nigeria and Tanzania. I undertook the above responsibilities under the supervision of my supervisor.
During the intensive course week, I had two major projects. One project was individual based and the other was team based. The team-based project was about outlining the ways in which a Geneva-based multilateral agency will drive forward the Global Action Plan (GAP) for Sustainable Development Goal 3 (SDG3), especially by providing global public goods (GPGs) for health.
My team explored the role of the UNAIDS in achieving SDG3 through the GAP, especially through supporting GPGs for health. At the end of the week, we presented our final analysis to the entire class.
The individual project was writing a brief policy memo on a topic of interest that aligns with what we were taught during the week. My policy brief was on child marriage in Nigeria and the implications of policy.
How did your internship connect back to your coursework?
Several classes I took, such as Principles in Maternal and Child Health with Dr. Beck-Sague, Advanced Research Methods with Dr. Devieux and Proposal Development with Dr. McCoy were indeed very helpful and applicable to my assigned projects. As I worked on my projects, I reflected on some of the things I learned from these courses, the knowledge acquired from these classes served as a solid foundation. I approached my projects with confidence, incorporating the skills and knowledge acquired into my research work. 
What was the coolest thing about your internship or that happened during your internship? Seeing the Director General, Dr. Tedros Adhanom Ghebreyesus, was the coolest moment of my internship experience. I saw him in the cafeteria when he was leaving. I took my empty tray of food and ran after him to introduce myself. He is such a humble, nice and friendly man who is truly interested in the growth and career advancement of interns. He took my phone to take a selfie as he knew I would like to take a picture with him, although someone later offered to take the photos. He also told other WHO staff members passing by that I "hijacked" him.... lol. I was thrilled by his sense of humor and humility. I informed him I was going to schedule an appointment, so I could discuss my internship experience and projects with him, which I did but the appointment was postponed to a later date after my internship program because the DG had to travel. The DG is a very busy man whose story inspires me a lot, so I am glad that I was bold enough to approach him when I did, and I have pictures as proof... haha!
What did you like most about your experience? I like that I was in a place that I have always dreamed of working —the WHO. Although, it could be seen as just an internship, I still did not take the opportunity to intern at the WHO for granted. Overall, just being at the WHO HQ was a likeable experience for me. I like that I was in the institution that was considered the number one organization for Global Health. It felt good to be involved in projects that helped to reduce health disparities among underserved populations especially in the area of Maternal and Child Health (MCH) and SRH. I also like that the WHO is a highly diverse environment that represents the different continents in the world. It feels good to see that highly equipped professionals from all over the world are using their skills and expertise to provide health for all. I am truly thankful for such a great experience.
What did you learn about yourself? The WHO is a very huge organization and there is the tendency to want to connect to everyone, which can be overwhelming. I learned that I could be strategic with my connections and networking. I also learned that I could work on multiple projects at the same time—on major projects and minor projects that come up along the way. I was able to prioritize, which helped me complete my projects effectively and in a timely manner. I also learned that I am very proud of my background. I have always represented my country of origin, Nigeria; but this time around, I was very proud of my cultural identity.  
How did the position increase your professional confidence? Based on the wealth of knowledge I have been exposed to, I came out of the program with more confidence to conquer more complex tasks and to be able to contribute meaningfully to my community. I also desire to gain some field experience and work on more country level projects before returning back HQ in the future. I am hopeful I will return back to the WHO someday, I really loved it there. I felt like if I could successfully work at the WHO and deliver within the short time I had, I would be able to work anywhere in the world, while I learn the culture and environment of the office. 
How did you expand your professional network? Working at the WHO provided the opportunity to connect with great minds. I connected with guest lecturers during the intensive week course, and I connected with other professionals whenever I attended meetings. I followed up with them via LinkedIn, emails, during lunch or coffee hour to discuss current projects and career plans.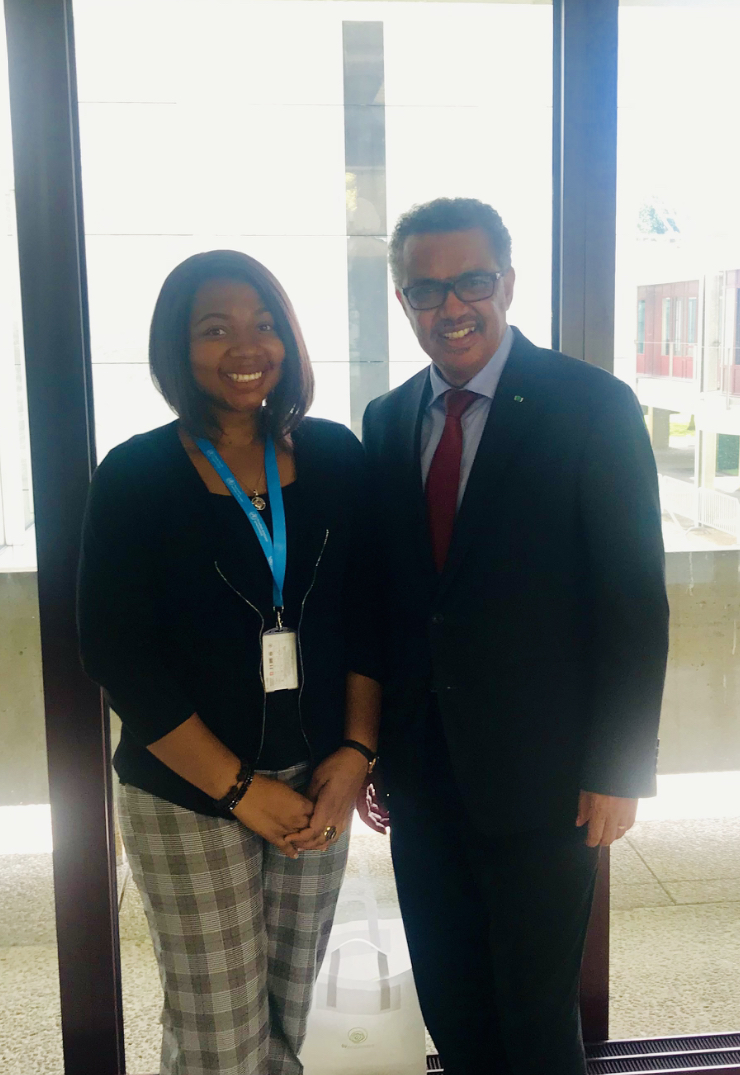 Etinosa Oghogho with WHO Director General Dr. Tedros Adhanom Ghebreyesus