Name: Sofia Guerra
Major: Art History
Where did you intern? I interned at the Deering Estate in the Power House Studio with FIU Honors Professor John Bailly, in preparation of his solo art exhibition at the LnS Gallery. Bailly is an artist-in-residence fellow at the Deering Estate and represented by LnS Gallery, owned by Luisa Lignarolo and Sergio Cernuda. I was able to interact with them, as well as Jennifer Tisthammer, the director of the Deering Estate and Melissa Diaz, its cultural arts curator.
What did you do there? I curated a collection of more than 1,200 works on paper by Bailly to showcase his artistic process and emphasize the culmination of the three large paintings in the show. In between, I helped Bailly do field research for his paintings throughout the Deering Estate. He is a visual artist who makes large scale oil paintings and is currently creating art in a studio on the shores of Biscayne Bay. Through his experiences hiking and kayaking in the jungle and sea, he develops imagery unique to Miami. For this poject, his inspiration comes from Florida's vast natural diversity, but much of it also comes from sights seen during study abroad in Europe. It was interesting and fun to help him find remote landscapes to inspire him.
How did you get your internship? I worked with Bailly as a student for more than a year before I started working with him as a teaching assistant. I studied abroad in Spain with him in the Summer of 2019, when I was then offered the opportunity to be the program assistant for FIU Honors College study abroad for Summer 2020. After working with Bailly at length, he offered me the opportunity to curate his flat files (long drawers made to store drawings) at the Deering Estate. Melissa Diaz then suggested I become a registered volunteer with Miami Dade, which enabled me to spend the necessary long hours in the studio to complete the curatorial task.
What projects did you work on?  My point of focus for this internship was curating the prints and drawings in the flat files, which would later grow to become "Process" and presented in the Project Room at LnS Gallery. "Process" acts as a foundational room to give viewers access to Bailly's mind when going through the years long process of producing large scale paintings, as seen in his Roses of Fibonacci exhibition. I sifted through the massive body of work Bailly has produced over the last 25 years. I eliminated some, organized, and overall attempted to make sense of the extent of his pieces. In spending so many hours at the studio I also helped Bailly with preparatory chalk marks on some of the canvases that would later end up in the show, as conquistador portraits, and maquettes of the three large paintings.
What was the coolest thing that happened during your internship? One of the coolest, funniest moments happened when Bailly, U.S. Poet Laureate Richard Blanco, and I were running around LnS Gallery looking for a recording studio. Blanco had written a poem inspired by the three large oil paintings, and we needed to record him for the audio-catalogue. Bailly and Blanco egged each other on with humorous test strips, and our giggles helped us realize how poor the acoustics were. We ended up in the storage room, between a freestanding sculpture and dozens of varying canvases organized like files in a cabinet. I was a sit-in podium for Blanco, holding the poem so he could read freely and use his hands to animate his words. It was a silly, but cherishable and fun moment.
What did you like most about your experience? Having open access to a small piece of untouched Miami was definitely one of the best parts of this entire experience. Bailly's field research typically consists of clambering mangroves, hikes in the native Florida pinelands and hanging out on the bay with the ibises. The best lunch spot is a few hundred yards away and comes with the company of manatees. These immersive experiences manifested themselves in his works, as one can find the mangroves of the bay rooted in his flat files and paintings. It was fascinating to watch it all take place.
What did you learn about yourself?  I learned that my work ethic will take me a long way when driven by passion. Handling and curating works of art falls within the vein of work I want to do after graduation. Having this opportunity to explore what that meant enabled me to step up to the plate, engage and learn from my experience.
How did you expand your professional network? The Power House studio is prime real estate at Deering. All who work there essentially cross its path. Jennifer Tisthammer regularly pops into the studio, both to check up on Bailly as well as share new hiking routes for research. The studio is neighbor to Melissa Diaz's office. At LnS Luisa Lignarolo and Sergio Cernuda provided a different context; it was fascinating to see the contrast between the making of art and its ultimate presentation. Working between the Deering Estate and LnS Gallery included many long nights, a lot of transportation and a lot of coffee, all of which were enjoyed by the company of those I met through this process.
How does your internship connect back to your Honors College coursework? The real world is multifaceted and calls for well-rounded people and interdisciplinary thinking. FIU's Honors College aims to foster both and is accomplishing this objective. While working with Bailly at the Deering Estate, I realized how many moving parts are actually required for my prospective career path. For the curation process and field research, I needed my artistic eye and intellect. During the night of the opening at LnS Gallery, I relied on personal skills, sociability and business [savvy]. It is never a one-shot path, where one's major is the exhaustive answer to a career goal. Rather one has to grow, foster and understand what it takes to create the life we want to, and chose to live.
How did it help you prove yourself in the "real world"? This was my first taste at the 'real world,' and while it was a bit intimidating as I was gaining my bearings, it has me excited for the future. Curating "Process," and having an opportunity to play a part in the internship experience allowed me to find out what would be expected of me as a curator, and I was able to practice in a real world situation, in Miami with all of its interwoven politics of art.
What advice do you have for those beginning the internship process? Take every opportunity that presents itself because each one is unique and no true second chances occur. However, every internship holds power in its uniqueness and one opportunity can lead to many others. Intimidation should never be a factor of deterrence. During this process, it's important to understand that experiences are rarely scripted, and one must be open to adapting to situations. Did I ever imagine that while interning for an artist that I would end up kayaking to a deserted island, exploring archaeological sites in a tropical forest, or recording a poem in a storage room with the U.S. Poet Laureate? No. The unexpected nature of this internship is precisely what made this experience so unique and important to me. I saw my experience as a chance to learn and dip my toes into what I want to use my education to create for my future.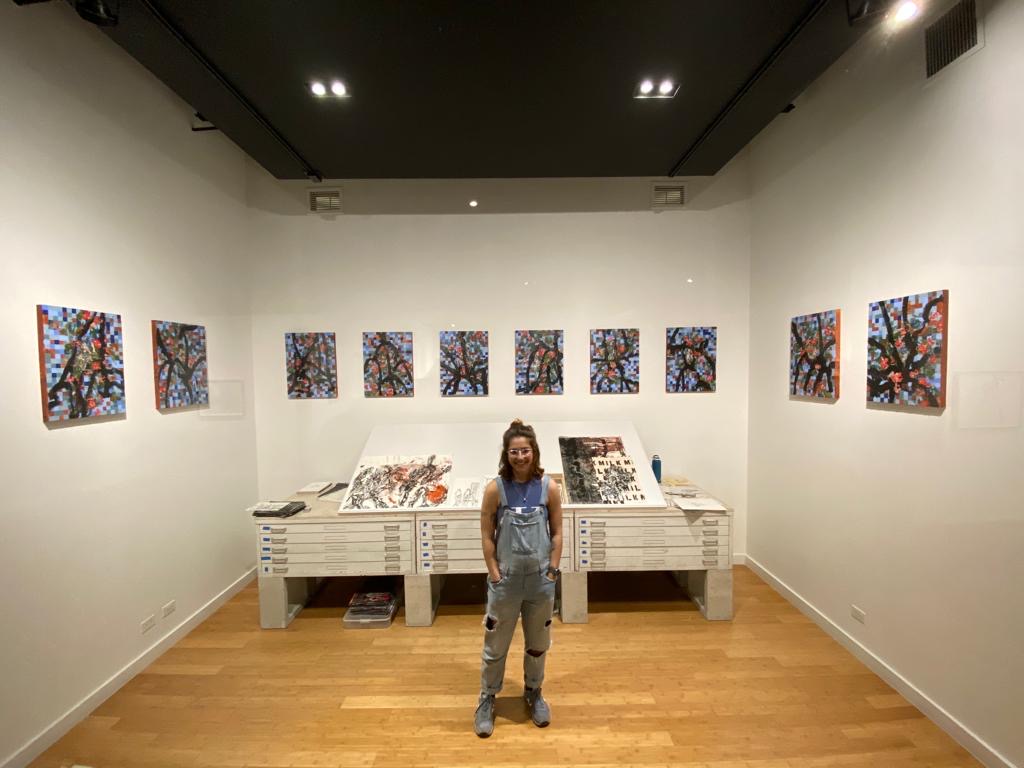 Honors College student and Project Room curator Sofia Guerra setting up in preparation for "The Roses of Fibonacci," a solo exhibition by John William Bailly.