Name: Joel Greenup
Hometown: Miami, Florida
What is your major? Master's in Public Health.
Where did you intern? What did you do there? Ford Motor Company's City Solutions, which works with cities around the world to conceptualize and implement new ways of getting locals and visitors where they want to go, whether via dynamic shuttles, autonomous vehicles, ride hailing services, bike sharing or all of the above.
As an intern, I managed qualitative data for two cities, Austin and Detroit, while providing an accessibility lens to mobility barriers. Additionally, as a public health student, I was able to introduce a public health perspective to the mobility space when contributing to discussions around solutions. Lastly, I had the opportunityto explore the research design in place and altering aspects of it for increased efficiency.
How did you get your internship? I pitched myself to a team member of City Solutions, Alexa Borromeo, after a conference call for feedback on a community working session I had attended in October of 2018. Shortly afterward, I formally pitched myself to Aniela Kuzon, founder and global lead, which began a three-month process of creating a position for me to intern for them over the summer.
What advice do you have for those beginning the internship process? Taking a shot in the dark can pay off. You won't know until you try.
What projects did you work on? In short, I blended qualitative and quantitative data sets into meaningful consumer stories to highlight accessibility barriers for City:One Challenge in Austin, TX.
What was the coolest thing about your internship or that happened during your internship? The fact that pitching myself to the team worked.
What did you like most about your experience? The sense of independence I developed and the amount of autonomy I had when working on projects.
What did you learn about yourself? I learned about the type of research I do and don't enjoy, the need to develop more patience and how to deal with conflict in a professional environment.
How did the position increase your professional confidence? I developed a sense of what value I can add to a team and how my skillset and ability to adapt could be of great benefit.
How did you expand your professional network? Everyone on the team provided me with connections to other members of Ford in different departments and various organizations for potential job opportunities. They set me up for the most amount of success possible, in or out of Ford.
How did it help you prove yourself in the "real-world?" For once, I felt valued and respected. As someone who's wheelchair dependent, I've always had to earn and work for the respect of others. From the start, everyone at Ford treated me with the respect I've been working my entire life to earn from others. I had earned my spot there and I spent the summer proving myself.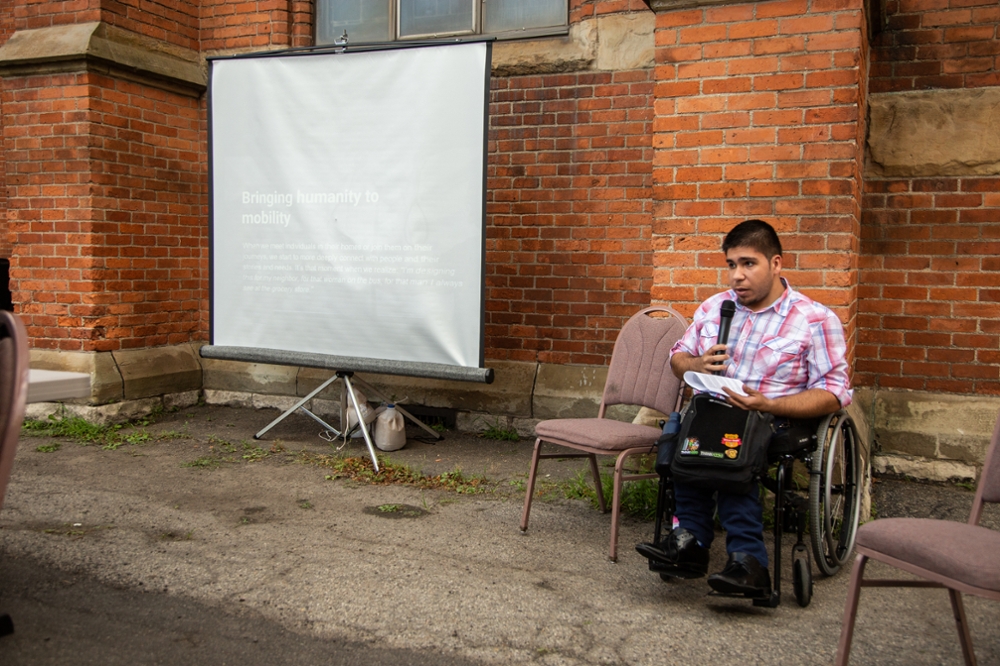 Joel Greenup doing a live translation from English to Spanish at a community working session for the City of Detroit