By Alexia Del Valle

FIU in DC's Talent Lab paved new ground this week as 26 student interns launched their semester in Washington, D.C., with a one-of-a-kind leadership training; FIU and Georgetown University launched a new certificate program, and President Mark B. Rosenberg led a national dialogue on science education.
Largest fall cohort of interns kick-off their semester at historic Mount Vernon
The Fall 2019 Talent Lab cohort began their internship experience last week by participating in the Leadership Academy at George Washington's Mount Vernon. Students spent the day interacting with leadership faculty on strategies and management approaches and how to apply them to their internships.
"The visit to Mount Vernon was truly memorable," said Rehan Ally, a senior digital media communications major interning at The Wilson Center."I learned so much about how innovative George Washington was in his decision making. I learned how important it is [for leaders] to assess all sides of a situation and do what's best for the greater good."
The Talent Lab in Washington, D.C., is FIU's student platform for academic and career success in the nation's capital. After hosting 40 students this past summer, 26 students are spending the fall semester interning in D.C.—the largest fall cohort since FIU in DC opened in 2016.
The Talent Lab is focused on supporting students interning for a semester, participating in a days-long advocacy or career fly-in, or launching their career in D.C. Students participating in the semester cohort program benefit from direct access to elected officials, policymakers, alumni mentors and professional development programming that addresses current national and global challenges.
The orientation at Mount Vernon concluded with Alexander Morales '19, who recently graduated with a bachelor's in international relations and who is interning at the Heritage Foundation, and Valentina Acosta, a senior majoring in international relations interning at APCO Worldwide, selected to help lay a wreath in front of President Washington's tomb.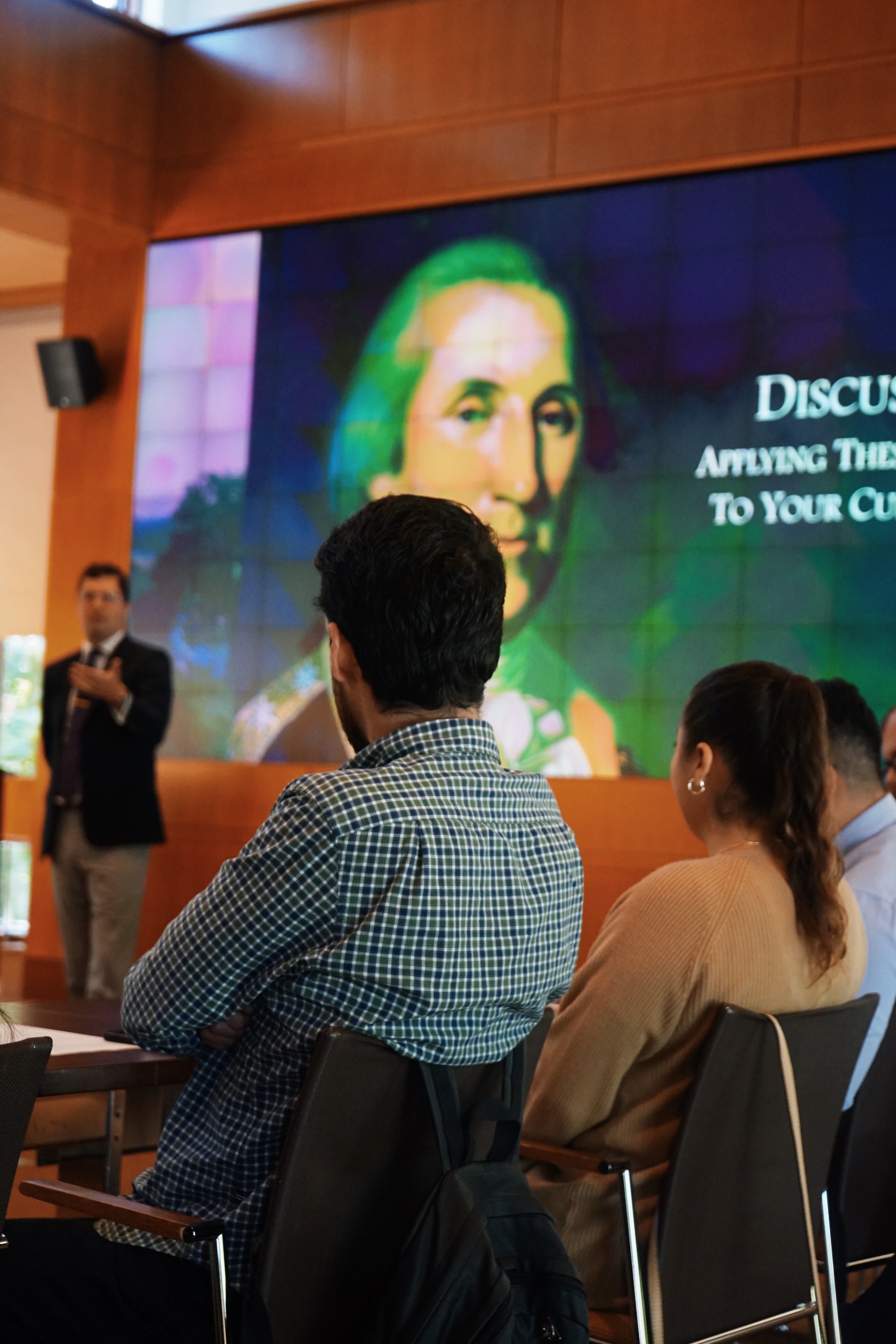 "It was a surreal experience that I feel provided me a deeper understanding of Washington's spirituality and connection with the world during a pivotal moment in American history," Acosta said.
During their first week, students also had the opportunity to attend the Congressional Hispanic Caucus Institute's and the Congressional Black Caucus Foundation's Annual Legislative Conferences where they heard from some of the presidential candidates, including Minnesota Senator Amy Klobuchar, New Jersey Senator Cory Booker and South Bend, Indiana Mayor Pete Buttigieg.
Other internship placements this fall include the offices of Congressman Mario Diaz-Balart (FL-25), Congresswoman Debbie Murcasel Powell (FL-26), Congresswoman Donna Shalala (FL-27), The U.S. Chamber of Commerce, the Heritage Foundation, NASA, the NIH, the Library of Congress, The Washington Center and the Jordanian Embassy. 
If you are interested in learning more about FIU in DC, visit The Talent Lab. 
FIU and Georgetown University collaborate to launch Business and Public Policy Partnership
Earlier this month, FIU's College of Business and Georgetown University's McDonough School of Business collaborated to launch a joint International Business and Public Policy Program.
The new program provided 20 corporate and public policy executives the tools needed to navigate the impact and influence of U.S. governmental policies, programs and regulations.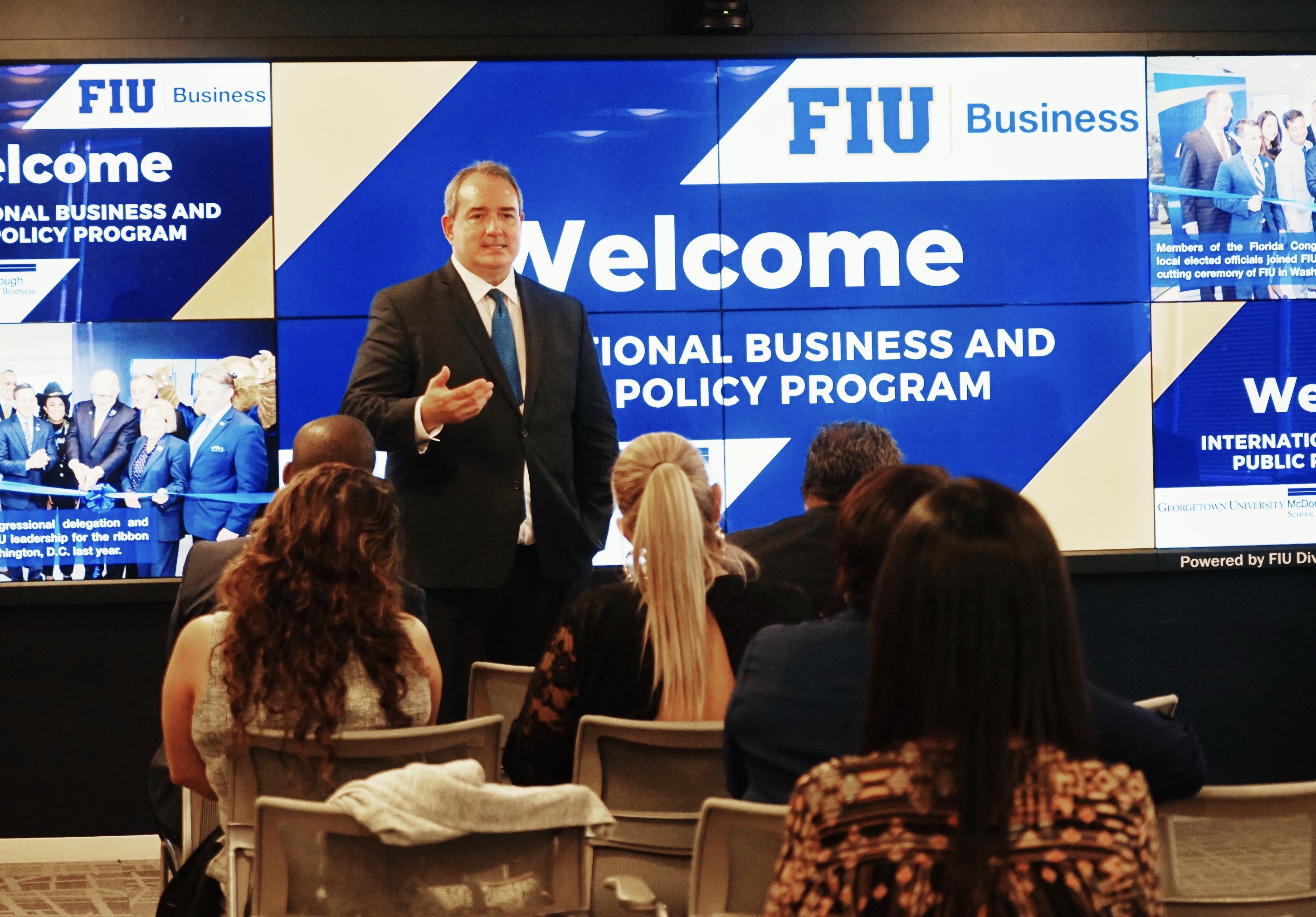 Gustavo Arnavat, former Executive Director of the Interamerican Development Bank speaks with FIU-Georgetown Certificate participants
"This was an excellent program. It [took] us on a journey of knowledge, [professionals] experiences and [the] implications of international business and public policy [needed] to compete globally," said Elisa Cobas-Flores with the Blinks Institute.                   
Led by FIU professor Jerry Haar, the five-day program began in Miami with corporate leaders from UPS and Visa and concluded with a residency in Washington. While in the capital, the group visited with key leaders such as alumnus Eliot Pedrosa, the U.S. Executive Director at the Interamerican Development Bank.
A networking reception at FIU in DC provided the chance for students to engage with D.C.-based professionals, university alumni and partners, including special guests alumna Miami-Dade Board of County Commissioners Chairwoman Audrey Edmonson; alumnus Commissioner Jean Monestime; and Miami Gardens Mayor Oliver G. Gilbert.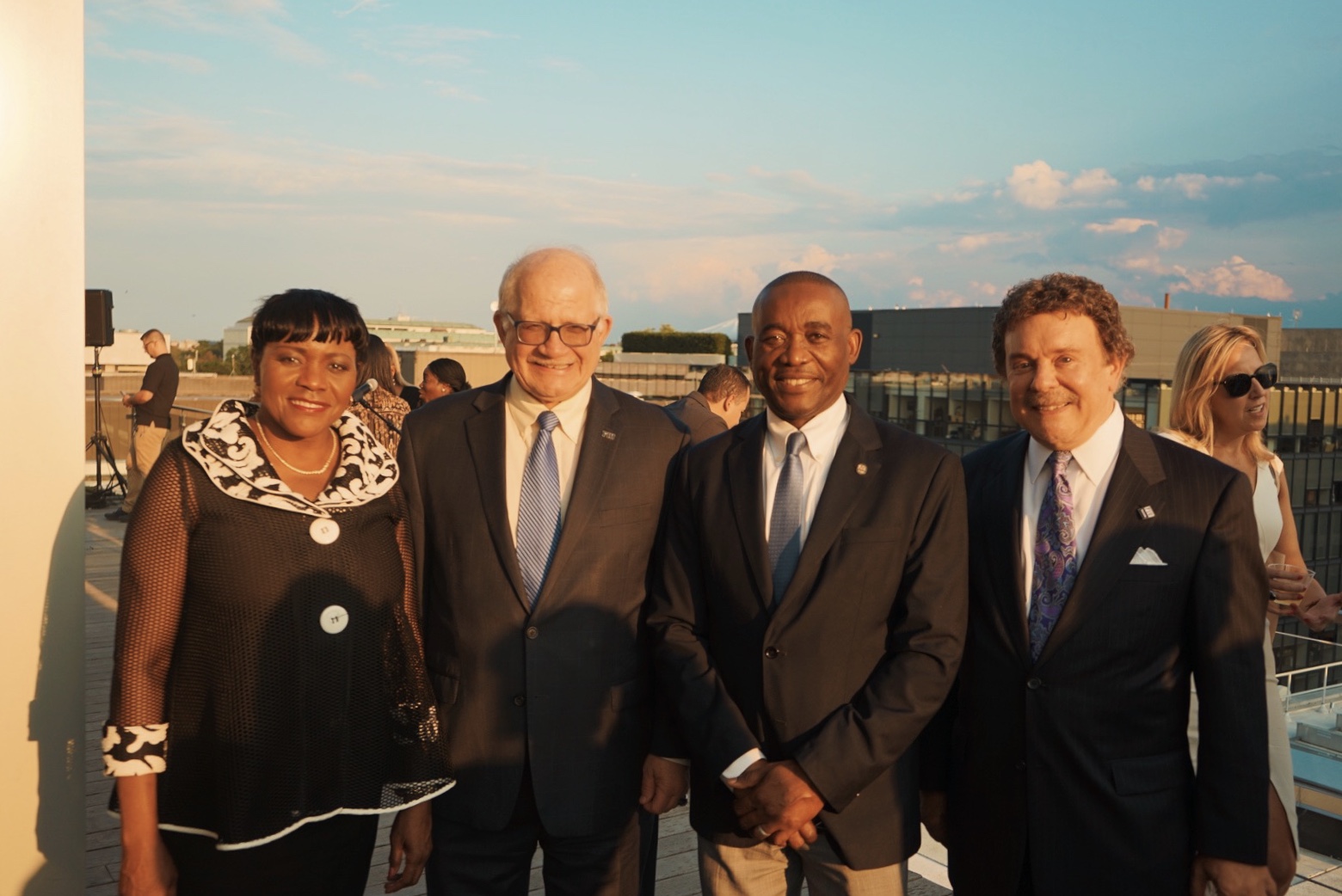 Miami-Dade Board of County Commissioners Chairwoman Audrey Edmonson, Commissioner Jean Monestime, President Mark B. Rosenberg and Professor Jerry Haar
This is another example of how FIU is forging links across the Americas through education and research aimed at better understanding and addressing the most urgent problems confronting the region. 
President Rosenberg visits the White House and leads workshop for STEM education 
This past week, Rosenberg led a two-day workshop at the National Academy of Sciences focused on undergraduate STEM education. During his visit, he also met with senior advisers at the White House Office of Science Technology Policy and the National Security Council on relevant priorities of STEM Education and Latin America and the Caribbean.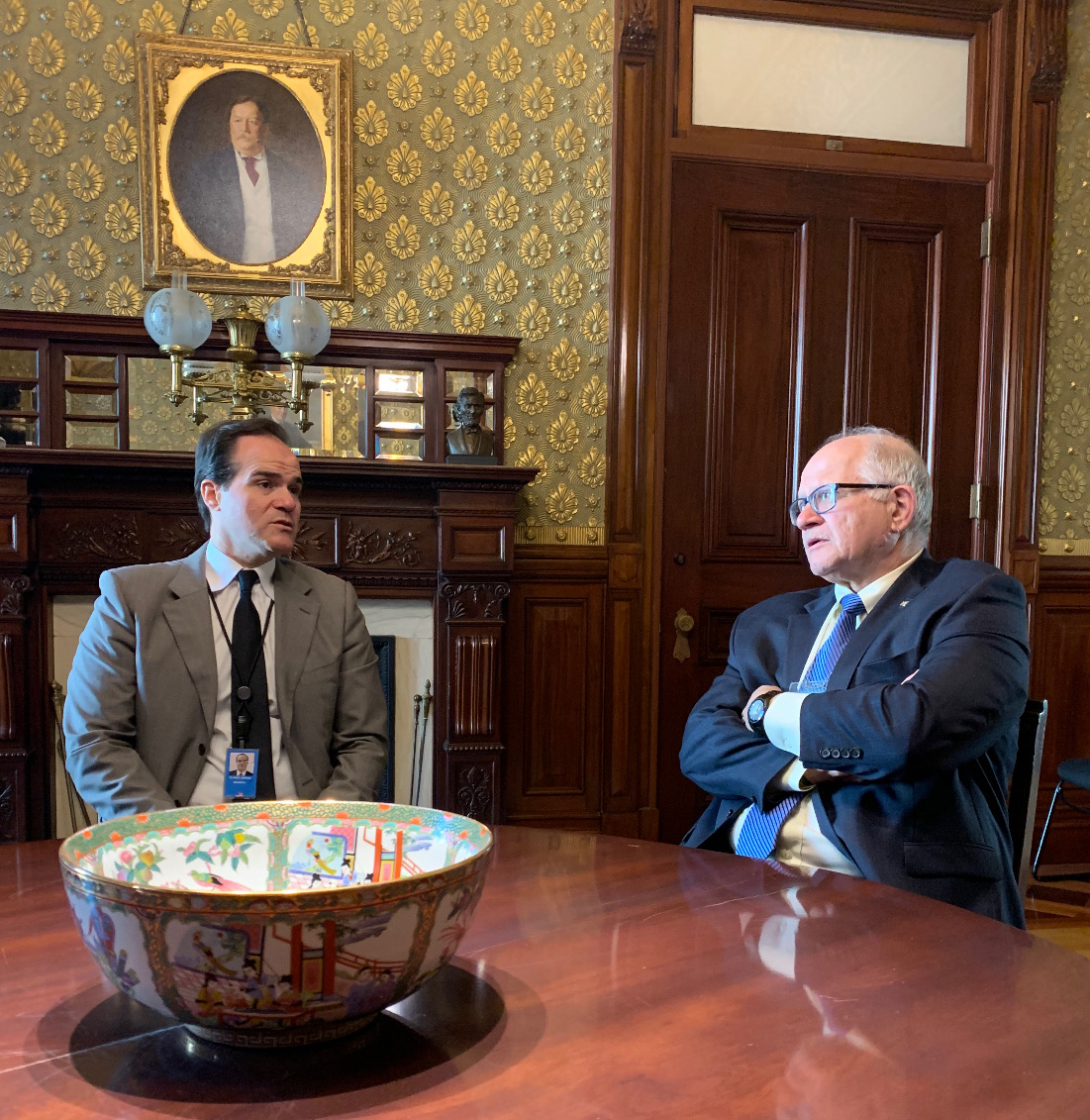 President Rosenberg meets with National Security Adviser Mauricio Claver-Carone at the Executive Office Building
"We are focused on cutting edge issues around improving STEM education for our students and STEM teaching for our faculty," said Rosenberg.  
FIU's STEM Transformation Institute is the largest producer of STEM degrees for Hispanics in the U.S. They continue to advance research at a nationwide level through evidence-based practices in hopes to increase the number of future STEM professionals. 
Also last week, the senate took up the Department of Defense Appropriations bill which includes several measures of importance to FIU research and engagement. 
Panthers spotted in D.C.:
Ines Triay, executive director of the Applied Research Center, visiting the Department of Energy for the Anniversary Celebrations of the Environmental Management Division.