Online student awarded Global Learning Medallion, Peace Corps Prep certificate
---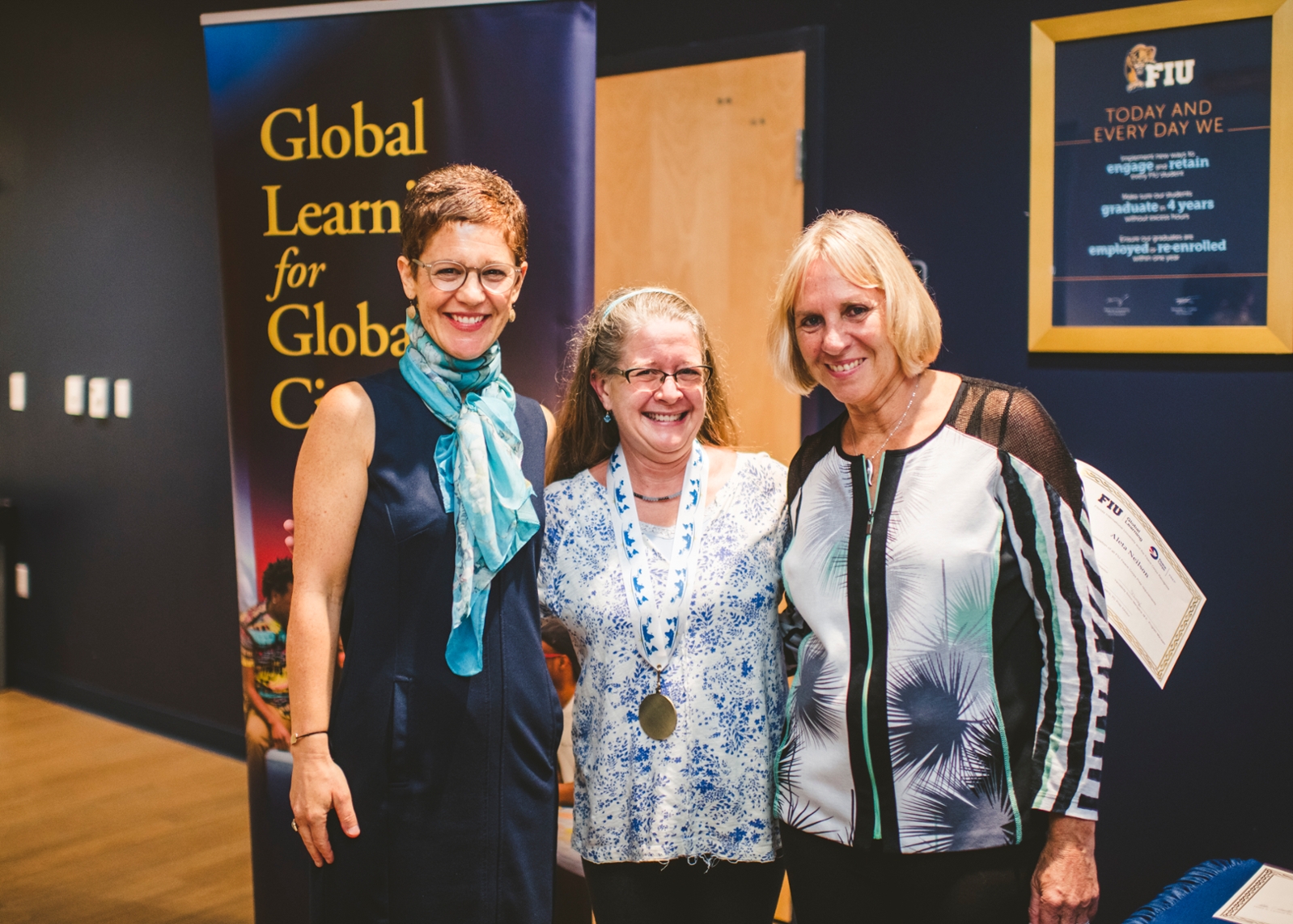 Aleta Neilson is someone who cares deeply about others. Even though she has experienced a number of personal challenges, including homelessness, Neilson remains hopeful for her future and the world around her. She has funneled her energy into student engagement, research projects and leadership roles. And her determination has paid off.
This April, Neilson — who attended FIU online — graduated with a double major in anthropology and sociology and a minor in psychology. She also received the Global and Sociocultural Studies Worlds Ahead Graduates Award for "exemplary work." Although she received multiple accolades during her last semester at FIU, she says her  Global Learning Medallion (GLM) and  Peace Corps Prep (PCP) certificate are her most rewarding accomplishments at FIU.
Neilson shared with  FIU News her experience as an online student who managed to embed herself fully into the FIU fabric.
What led you to want to become involved in the Global Learning Medallion and the Peace Corps Prep programs?
I love the wonderful global learning and diversity inclusive values of FIU. The very values that inspired me to come here also drew me into the desire to get even deeper into global learning. The student-friendly and productive GLM online board (set up in Canvas just as my other online courses) became almost like a second family — with a diversity of students sharing personal introductions, discussing global issues and building enthusiasm and positivity for each other. It was here in this positive atmosphere that another caring student reading my posts suggested I would be a great kind and caring candidate for the Peace Corps Prep program!
What would you say to other online students who are considering the GLM and PCP programs?
One of the wonderful things about online classes and global learning programs, which allow proper online communication and interaction between faculty and students like FIU does, is that you first get to know people for who they are inside, their unique personalities and minds, instead of by superficial appearances. This translates well to appreciating that we are all so much more than we can sum up at first glance and shatters many stereotypes about those who may outwardly look different from us.
Were there any highlights from your time in these programs?
My favorite component of the GLM and PCP programs was the ability to do original research projects as capstones with a faculty mentor. This was particularly exciting and enriching for me. Dr. Katherine Lineberger [of the  Steven J. Green School of International & Public Affairs] was a magnificent mentor for me, and I was even able to make an ongoing capstone project that will live on,  Global Dolphin Defense.
What qualities do you think a Worlds Ahead graduate has and do they relate to the global learning?
Being Worlds Ahead is more than being globally competitive, it's about discovering how to put our compassion into awareness, sharing solutions and actions in such ways that allow for caring about each other, caring about other living beings and our planet, too. Being Worlds Ahead in global learning is about connecting, looking deeper, thinking dialectically, consensus building, going further, going forward, ever striving to share, learn and grow.
How do you plan to apply your global learning education moving forward?
I plan on further developing my Global Dolphin Defense; publishing my paper, "Addressing Barriers to Higher Education for Impoverished and Homeless Students;" and applying for the 2019 Cox-State Department Diplomacy Fellowship. I also plan on finishing my master's degree and saving some money to go on a Peace Corps mission. I'm getting offers from many universities right now, but I am definitely hoping to continue with FIU for my graduate school in the Fall, and I am extremely interested in FIU's master's degree in Global Strategic Communications with a graduate certificate in Conflict Resolution and Consensus Building.
I will always be trying to learn and grow — and use my global learning education to try to do any good I can in this fascinating world we live in.
---
Online students interested in getting involved with global learning, can visit the  Global Learning website or contact Yenisleidy Simon, OGLI Program Manager, at ysimonme@fiu.edu.
-Yenisleidy Simon contributed to this story