Thomas Guerra '15, '18 has had a relationship with addiction since his undergraduate days at FIU.
While completing his master's degree in mental health counseling, Guerra sought on-campus help to recover from an alcohol addiction, only to be referred to an off-campus institution. It was the lack of recovery options within Guerra's immediate community that birthed Panthers for Recovery.
Panthers for Recovery is a student support organization devoted to helping its members recover from addiction. Created in 2017, the organization offers its members the opportunities to attend 12-step programs and workshops led by guest speakers as well as find support within a network of other students.
Panthers for Recovery (P4R) also functions as a support system for the family and friends of its members through its ally program. P4R has received support from the FIU community and the Ignite campaign for the necessary resources that it affords to recovering Panthers.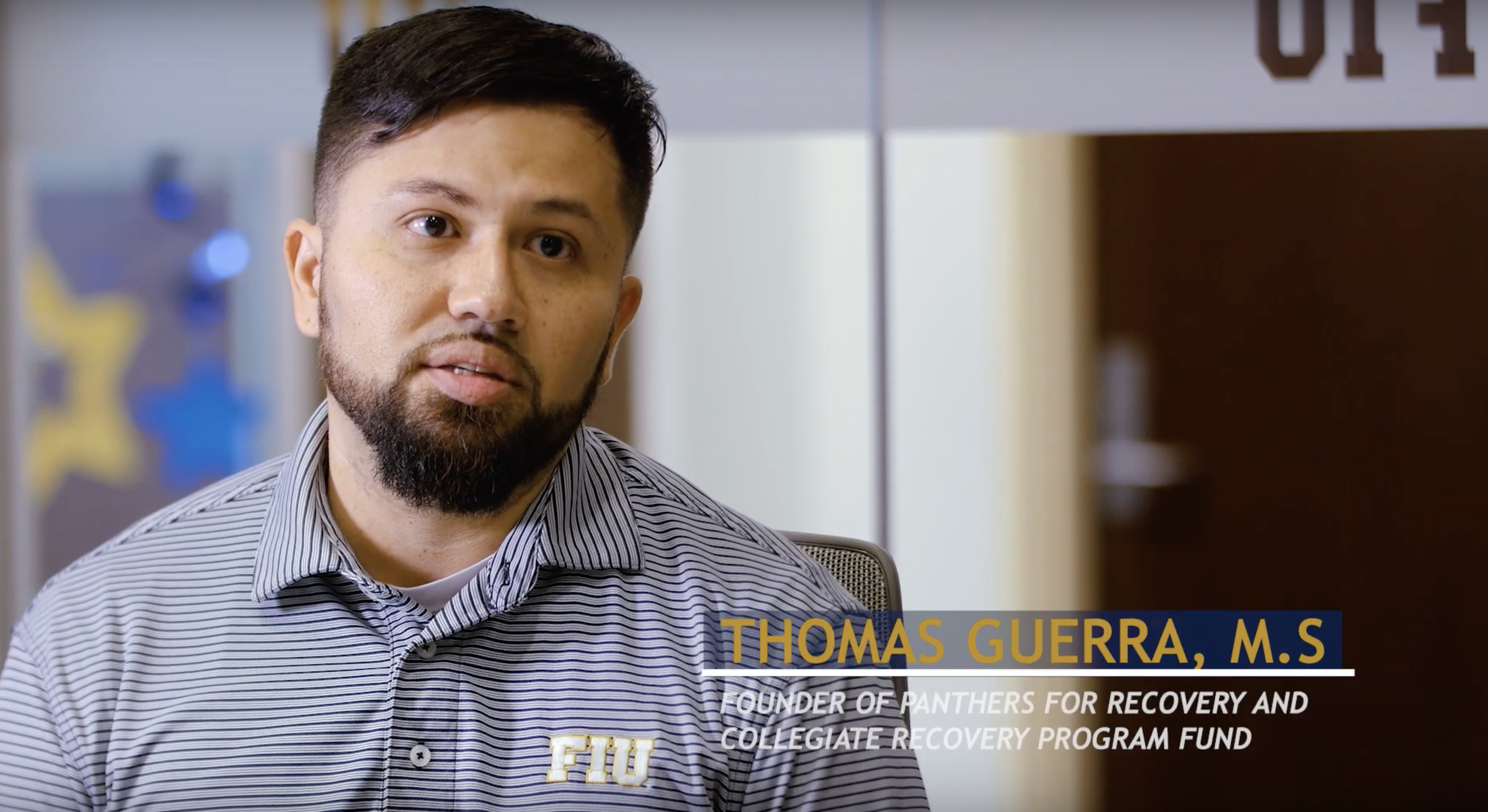 Guerra's passion for helping others facing the same struggles that he once did has become his life's work. He is now a therapist at a local drug and alcohol addiction treatment center. In observance of National Recovery Month this September, Guerra shares his advice for people struggling with overcoming addiction:
1. Recognize your triggers. Understanding when and why you feel most compelled to engage in your addiction will help you to begin overcoming it.
2. Find support within your immediate community. Join support groups and reach out to understanding friends to keep you motivated on your recovery journey. "Don't try to do it alone," Guerra says. "It will be hard. Reach out for help and build your support network."
3. Formulate a game plan. Create a plan for how you will react in triggering situations and train yourself to decide how you will react. Guerra adds, "A lot of triggers are avoidable, but not all. Decide what you will do when you are in that situation to be the best you."
4. Implement replacements. Add positive alternatives to your routine to replace your addiction. Whether it be exercise, reading or volunteering, find healthy alternatives to implement into your new-found free time.
"If your drug is drinking, carry your own sober drink to social functions," Guerra says. "That way you won't feel pressured to drink like everyone else. It's about learning to implement little changes that will help your journey greatly."
5. Maintain your strategy. Stick to your game plan. Decide to keep on track with your plan. Maintain the support of friends. And stick to your alternatives.
Guerra's goal for P4R is to have it established as a Collegiate Recovery Program, which opens up more access to funding. That way, P4R can have its own designated office space, full-time employees and better resources for its members.
To help the group implement new initiatives, visit their Ignite campaign. For more information, visit the website or email tguer010@fiu.edu.