Poetry by prisoners: writing to remember, writing to forget
English faculty and others in the community have taught and supported inmates through the Exchange for Change writing program.
The works here are by prison inmates who participated in writing courses offered through the nonprofit Exchange for Change, of which FIU English faculty are a part. Read essays and more at the program's web site.
Letter to My Mother
By Juan Esquivel
I am sorry, for the
Times I made you cry when 
I was hungry and you 
Could not feed me. For all
Those times I came back home
Empty handed when you
Had sent me to beg for
Eggs and potatoes, I 
Tried. For causing you to 
Get beaten by your new 
Husband after he found
Out that you gave me a 
Small bag of Cheetos from 
The variety pack, 
Which were only for his 
Kids. For getting mad at 
Your sister Melva when 
She only bought Christmas 
Presents for your other 
Kids. For embarrassing 
You when I walked to school 
In socks after my shoes
Had reached the end of their 
Journey and my teacher
Took me shopping for new 
Shoes and clothing. 
I am sorry, for the times I 
Could not find enough dead 
Mesquite branches by 
The Rio Grande River
To make enough embers
To keep you warm on those 
Cold Texas days and nights.
I am sorry, for all 
Those times I took you for 
Granted and I did not 
Treasure you. For breaking
Your heart when I thought I 
Was dying of AIDA; you 
Were right, it was the crack 
Cocaine which made me lose
All that weight. I truly 
Am sorry, for causing 
You to faint in front of 
My sons Juan Junior and 
Rogelio after the 
Family told you that 
I had been sentenced to 
Life in prison. For not
Being there for you when 
You were diagnosed with 
Cancer and still had to 
Take care of my sons by 
Yourself. I am sorry, 
For not holding you as 
You were passing away 
Fourteen years ago on 
That cold Minnesota 
Morning. Dear mother, I 
Am sorry that I can't 
Visit you. I will die 
Alone in this prison. 
Quarter Choices
by Eduardo 'Echo' Martinez
not everyone was crazy in the mid '80s
when cheap metal coined washers
where fake quarter slugs
being force fed into newspaper vending machines
squatting on corners, plazas and Winn-Dixies
all across the magic city
before spell binding night lights turned voodoo
and tattoos weren't fashion statements
just an unemployed ex-felons taboo
when one slug earned the Herald's trust
before options were coffins
and school desks became bulletproof vests
choices, take one paper
or the whole stack off the rack
beating the Ave at a traffic light
trap selling, the paper for 50 cents to folks
commuting on their way to work
that was back then
when the paper could be a window washer's squeegee
and junkies found God before preachers did
and Miami Gardens was still Carol City
and people still respected sun-burned veterans
on the boulevard with spare change written cardboard signs
when everyday people had sympathy to spare
like a tire in the trunk
but those were good years
when you rolled your car window down manually
like a workout
phones got answered with hello's not finger tip taps
you know, there was roughly 27,500 locked up in '84
fried egg hit the frying pan propaganda
I was five and still alive
now I'm 97,000 strong behind a cell door
nobody really ran from the police back then
they use to scream freeze before they squeezed
before bullets became atheist
and having an accent didn't make you alien
or a drug dealer with a Jesus piece
seems as if the last five letters of community
skipped town with its head down
only thing loyal was the Herald
quarter flip decisions, grip an issue or the stack
this city has always been a hustle
it's just lost its magic
and forgotten how to forgive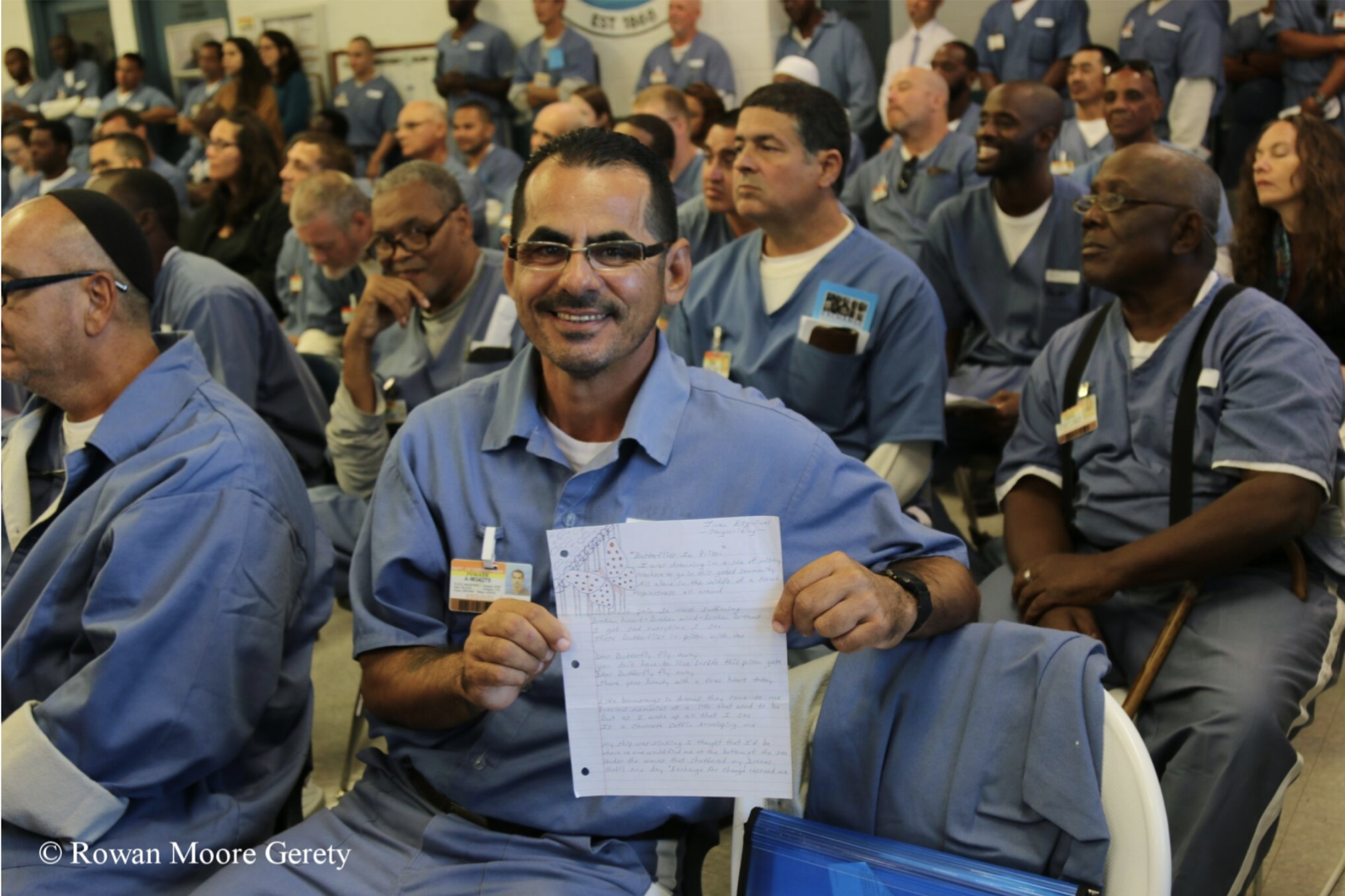 Joined by fellow-inmates who participated in the Exchange for Change prison writing program, Juan Esquivel attends an end-of-semester celebration during which he read aloud his poetry.