Policymakers unveil report on next steps in Venezuela crisis
---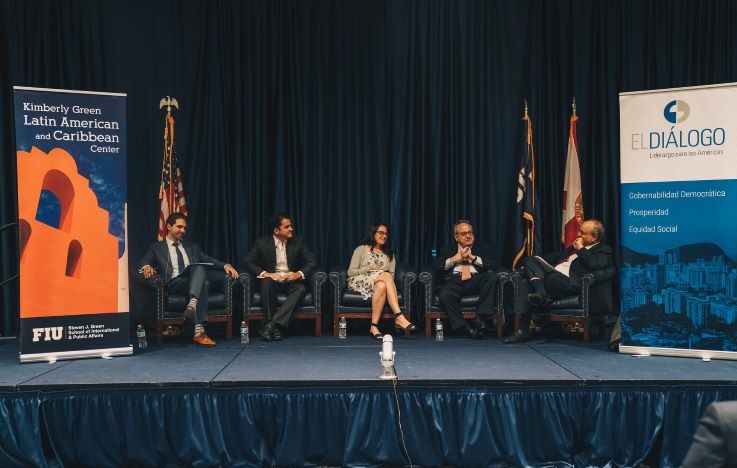 As the crisis in Venezuela continues to dominate headlines, a team of prominent policy experts from the region recently came to FIU to unveil a new report on what they say might happen next – and what course of action by the United States and others could help bring about peace.
The report – prepared by the Venezuela Working Group of the Inter-American Dialogue, a leading foreign policy think tank that focuses on the Western Hemisphere – concludes that peaceful, democratic transition in Venezuela is possible – but far from guaranteed.
"In a nutshell, the democratic transition which is urgently needed is possible but not inevitable," said Michael Camilleri, director of the Peter D. Bell Rule of Law Program at the IAD and author of the report. "There are massive vacuums of state authority combined with criminal activity. It's an extremely toxic brew. The trajectory is clear: this is a deepening humanitarian crisis."
Camilleri traveled to Miami from Washington, D.C., with IAD President Michael Shifter to present the Venezuela report and discuss its findings with students at an event hosted by the Kimberly Green Latin American and Caribbean Center.
LACC Director Frank Mora, who worked with Camilleri when Mora was the U.S. deputy assistant secretary of defense for the Western Hemisphere under President Obama, moderated the discussion.
"They approached us because they wanted to do an event in Miami,'' Mora explained, noting both the proximity to Latin America and the Caribbean, as well as the large Venezuelan population that lives in South Florida. "Many of these groups like to bring their findings to Miami."
Launching the Venezuela report in Miami and in partnership with FIU represented "a tremendous opportunity to advance our mission and engage new stakeholders," added Camilleri.
"South Florida is a crossroads for Latin America-focused policymakers, academics and media, and home to important diaspora communities from Venezuela and elsewhere in the region," he said. "In this context, FIU and LACC stand out as a unique convening ground and as a center for consistently excellent, policy-relevant scholarship."
Venezuela is facing the most acute governance crisis in the Americas in at least a generation.
Juan Guaidó's assumption of the interim presidency offered the nation some hope for restoration of democracy and a possible end to the crisis. However, Nicolás Maduro's regime remains entrenched and top military officials have remained loyal to him.
The IAD report notes three critical factors it says are necessary for a political transition to occur: a united democratic opposition; a coalition that is flexible and able to adapt quickly to the changing balance of power; and an opposition movement that remains engaged.
The report also suggests three plausible scenarios under which a political transition could take place:
A "clean" democratic transition in which Venezuelan armed forces respond to growing economic and political pressure to switch their loyalties from the Maduro regime to interim president Juan Guaidó.
An extended standoff between Maduro and Guaidó with the potential for increased violence and chaos.
A "dictator swap" by one non-democratic actor against another, where regime insiders or the military push Maduro aside but hold power for themselves rather than transfer it to Guaidó in accordance with the constitution. This scenario could result in greater repression and an even more uncertain democratic outlook.
Less likely but also possible are three other "outlier" scenarios: foreign military intervention; an internal conflict between competing military factions; or a non-democratic coup by extreme segments of Maduro's far-right opposition, which could jeopardize the international support needed to overcome the nation's political and socioeconomic crises.
For students, Mora said events like these "bring the think tank world" to the university and give students a rare opportunity to interact with and ask questions of high-level policymakers who are experts in foreign policy and international relations.
"It exposes them to the work and people that work at D.C. think tanks,'' he said. "The purpose of (the IAD's) work is to influence policymakers. The report presented (at FIU) will be sure to have some influence on policy discussion within different agencies of the U.S. government."
It's the second time in the past several months that a major international organization has chosen to present new information on Latin America and the Caribbean at FIU.
In February, "Acts of Violence in Nicaragua,'' a report commissioned by the Inter-American Commission on Human Rights and banned by the government of Daniel Ortega, was also unveiled at a LACC event. Both the Americas director of Amnesty International and the former attorney general of Guatemala, now a human rights attorney, participated in that event, which was moderated by FIU professor and former Costa Rican President Luis Guillermo Solís.
Adam Ratzlaff, a doctoral student in international relations, said these kinds of activities make FIU and LACC stand out.
"Hosting events with scholars and policymakers on issues of importance to the region allows students to gain a deeper understanding of an array of topics … and develop the professional connections that may help students determine what they want to do following graduation,'' he said.
"Not only does FIU have an abundance of in-house expertise on these issues, but its location in Miami and the events that the university hosts allow students to learn from some of the top minds in the field."