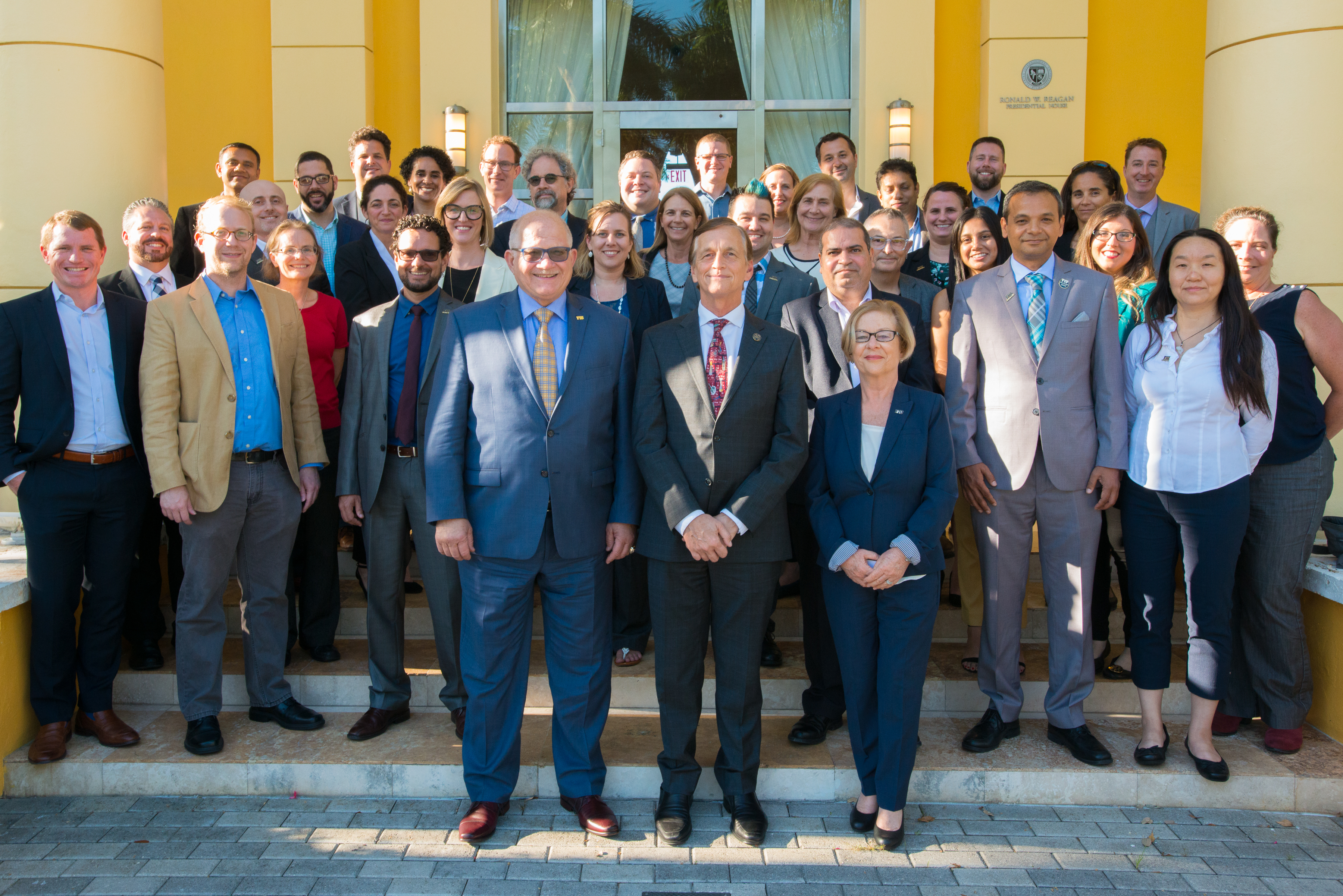 Being a professor can require thick skin. Before a faculty member publishes research, receives a grant or sees their research come alive in the classroom, they often go through a rigorous process of data collection and analysis, literature reviews, interviews and detailed, sometimes painful, peer reviews from their colleagues. Praise for a job well done goes a long way.
The annual Top Scholar Awards reception was held at the  Ronald W. Reagan Presidential Houselast month where President Mark B. Rosenberg and Provost Kenneth G. Furton recognized and celebrated 36 faculty members who over the past year had significant achievements in research and teaching.
"Tonight, we recognized the important and impactful work of teaching. Our top scholars are dedicated to collaboration, compromise and innovative, forward-thinking research and scholarship. We are grateful for their groundbreaking work and everything they do to help our students be successful," President Mark B. Rosenberg said.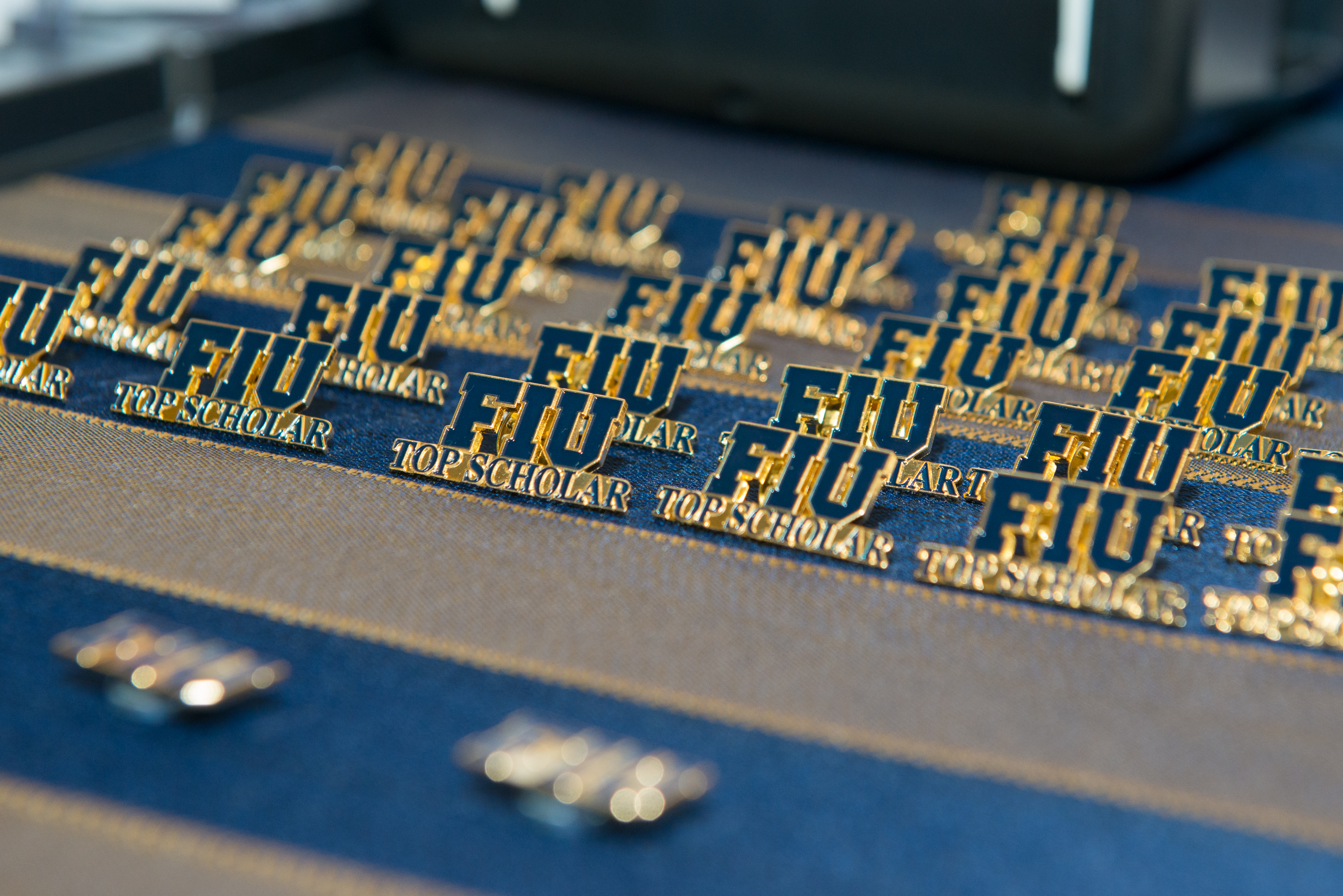 The awardees have made significant contributions locally, nationally and internationally. Their work is impactful and life changing. University professors are detecting early signs and predictors of childhood obesity and ADHD, establishing partnerships with community organizations to provide students hands-on training with people with disabilities and collaborating on a grant that will help produce the next generation of geoscientists.
Psychology professor Anthony Dick, who conducts neuroimaging research on children to understand brain development, enjoyed mingling with some of the university's brightest minds.
"The people who are being honored for these Top Scholar awards can probably be at any university doing the kind of work that they're doing. It's great to know that at FIU, you have this type of talent," Dick said.
Chemistry professor Yi Xiao echoed Dick's sentiment. She recently patented a series of new tests that can quickly and accurately confirm the presence of cocaine.
"I think of all of them as humble and hard working. You can feel the positive energy there," Xiao said.
The following faculty members were recognized as Top Scholar Award recipients:
Aaron Mattfeld – College of Arts, Sciences & Education
Agatha Caraballo – Steven J. Green School of International and Public Affairs
Anthony Dick – College of Arts, Sciences & Education
Arif Sarwat – College of Engineering and Computing
Besiki Luka Kutateladze – Steven J. Green School of International & Public Affairs
Bianca Premo – Steven J. Green School of International & Public Affairs
Dana McMakin – College of Arts, Sciences & Education
Dean Whitman – College of Arts, Sciences & Education
Edgar Ramos Vieira – Nicole Wertheim College of Nursing and Health Sciences
Eric Peterson – College of Communication, Architecture + the Arts
Erika Coles – College of Arts, Sciences & Education
Francisco Fernandez-Lima – College of Arts, Sciences & Education
Hoshang Unwalla – Herbert Wertheim College of Medicine
James Burns – College of Arts, Sciences & Education
Jamie Theobald – College of Arts, Sciences & Education
Jennifer Rehage – College of Arts, Sciences & Education
Jeremy Pettit – College of Arts, Sciences & Education
Jessica Adler – Steven J. Green School of International & Public Affairs
Jonathan Comer – College of Arts, Sciences & Education
Justin Carmel – College of Arts, Sciences & Education
Kathy Quadokus-Fisher – College of Arts, Sciences & Education
Katie Hart – College of Arts, Sciences & Education
Laurel Collins – College of Arts, Sciences & Education
Mary Jo Trepka – Robert Stempel College of Public Health and Social Work
Nathaniel Cadle – College of Arts, Sciences & Education
Pallab Mozumder – College of Arts, Sciences & Education
Paulo Graziano – College of Arts, Sciences & Education
Prem Chapagain – College of Arts, Sciences & Education
Rene Price – College of Arts, Sciences & Education
Ryan Meldrum – Steven J. Green School of International and Public Affairs
Steve Charman – College of Arts, Sciences & Education
Sonia Underwood – College of Arts, Sciences & Education
Tania Perez-Santiago – College of Arts, Sciences & Education
Timothy Allen – College of Arts, Sciences & Education
Victoria Burns – College of Arts, Sciences & Education
Yi Xiao – College of Arts, Sciences & Education