President Trump demands end to oppression in Venezuela
February 19, 2019 at 12:00am
---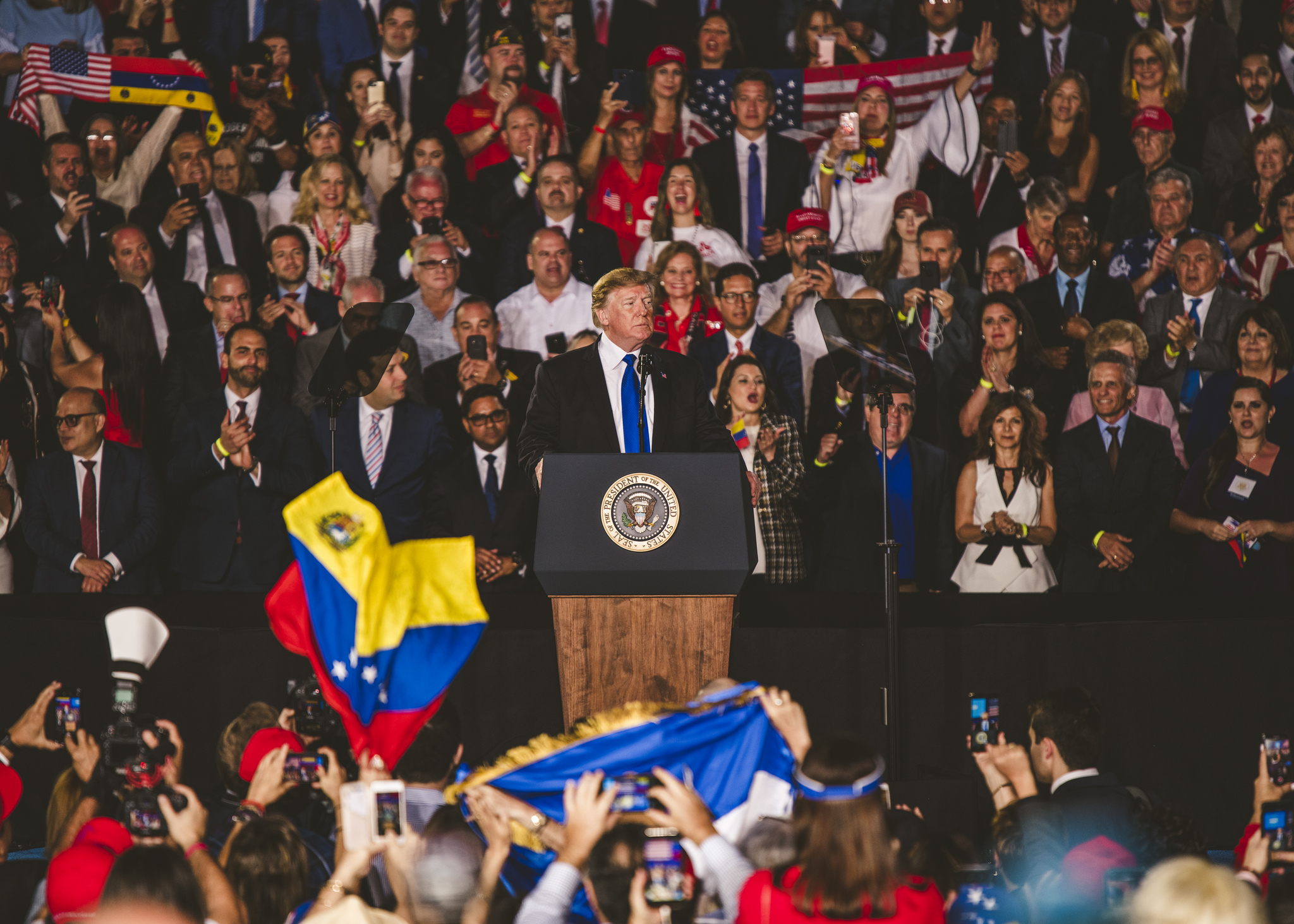 "Today I have a message for every official who is helping to keep Maduro in place… You can choose to accept President Guaido's generous offer of amnesty: to live your life in peace with your families and your countrymen. President Guaido does not seek retribution against you, and neither do we. But you must not follow Maduro's orders to block humanitarian aid, and you must not threaten any form of violence against peaceful protestors, opposition leaders, leaders of the National Assembly or President Guaido and his family," Trump said.
Under Maduro's socialist government, Venezuela and its people have sunk into a desperate position. Inflation has soared, the infant mortality rate has risen dramatically and millions of people have fled the country.
The United States and a host of other Western powers recognized Guaido as Venezuela's legitimate president earlier this month, however, Maduro remains in control of the country's military and other state institutions. With that power, he is blocking U.S. aid to Venezuela.
"Two days ago, the first Air Force C17—that's a big, beautiful plane—landed in Colombia loaded with crucial assistance, including thousands of nutrition kits for little Venezuelan children. Unfortunately, dictator Maduro has blocked this assistance from entering the country," Trump said.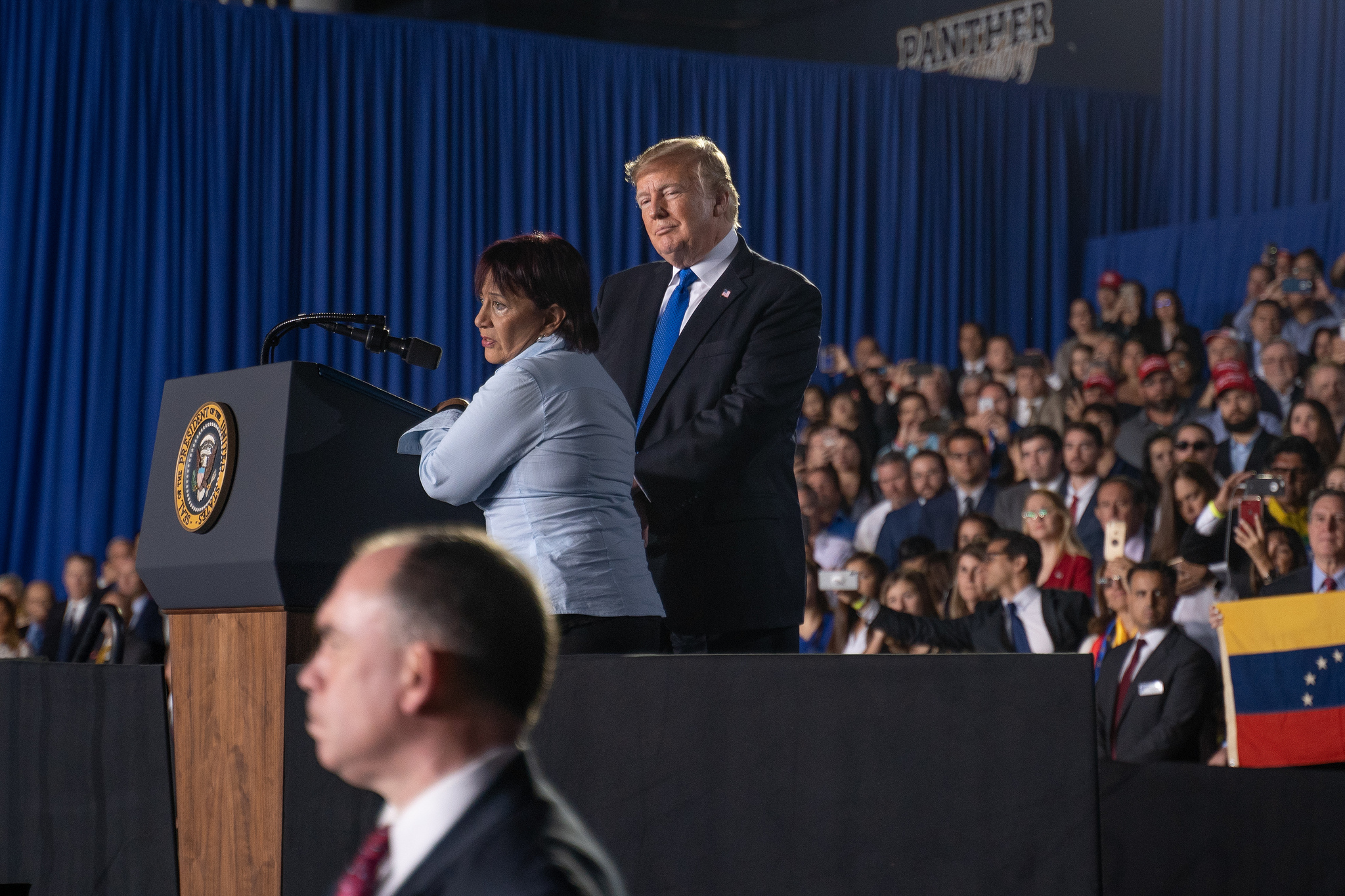 Starvation is widespread in Venezuela. Dr. Rafael Gottenger, vice president of the Venezuelan American Medical Association, explained how dire the situation has become during a panel discussion at FIU Feb. 15.
"My father and mother are Holocaust survivors. I remember the stories of my father. When he was rescued by Americans, he weighed 70 pounds. I have pictures of children [from Venezuela], and they look like Holocaust children," Gottenger said.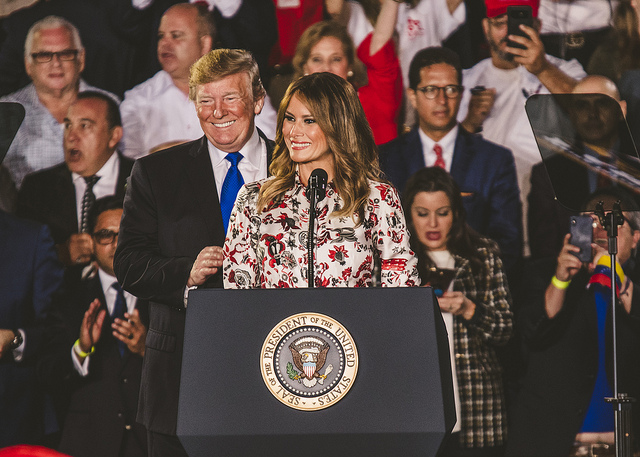 For professor Brian Foncesa, an expert on foreign policy at the  Steven J. Green School of International and Public Affairs, one of Trump's statements on Monday was particularly noteworthy. The president said that he seeks a peaceful transition of power in Venezuela, but "all options are open."
"The way many people are reading that is that the U.S. military remains a possibility in affecting change in Venezuela. And that's a very controversial statement that has a lot of people on both sides either doubling down or fighting against it," Foncesa said.
For those who have been most hurt by Maduro's regime, the president's promise to help the people of Venezuela was met with enthusiasm. The president's remarks received frequent applause, standing ovations and chants of, "USA! USA!"
Father and son Jose Pita and Ricardo Pita Macedo left Venezuela 11 years ago as times were getting tough. The younger man called the President's speech "an unequivocal message of support and, in the strongest terms, [told us] that we can count on the United States  to come through and have our back at these times."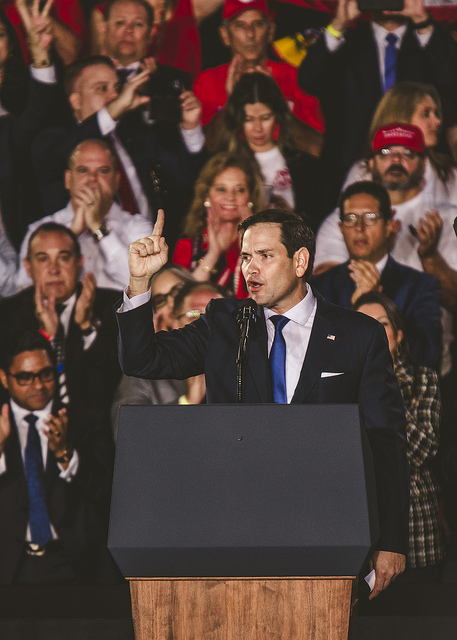 The two men added their voices to the chorus that welcomed the president.
"It's an unmissable opportunity, really, to be part of what we see as a movement of support, a mobilization of American political strength in favor of and in benefit of human rights in Venezuela," Pita Macedo said. "It's a privilege to be part of it in our own way. We don't get to do much away from home, but we can show our support here, so we think that's very special."
Gustavo Sánchez Andara also liked the message delivered in Trump's speech. He was a political prisoner in Venezuela for five months under Maduro's tenure and has been living in the United States since last June as an asylum seeker. He used to work as a politician in opposition to Maduro's government.
"This country gave me the opportunity to seek asylum as a political prisoner until my country regains its freedom," Andara said. "I support him not just for all he is doing for my country, but also I accept his politics as a Latin and an immigrant, and we have to defend the sovereignty of each country."
Trump's comments about combating socialism in Nicaragua and Cuba, too, were also met with loud cheers.
"The days of socialism and communism are numbered, not only in Venezuela, but in Nicaragua and Cuba as well," Trump said.
U.S. Senators Rick Scott and Marco Rubio as well as Florida Gov. Ron DeSantis spoke to the enthusiastic crowd before Trump took the stage, echoing their support of the president's position on Venezuela.
"To the Venezuelan community in the United States and Florida, you have allies in Congress," Scott said.
The audience chanted "Libertad! Libertad! Libertad!" as the senator wrapped up his speech. Rubio took the podium next.
"So you just chanted 'Libertad,' which means 'liberty'. Liberty is so easy to lose and so hard to regain," Rubio said.
Not everyone at FIU was in favor of Trump's visit. Robert Crohan, an international relations student, protested the event.
"I am protesting his fear-mongering," Crohan said. "He seems to equate everything left of him as socialism. It seems like that's why he really came today."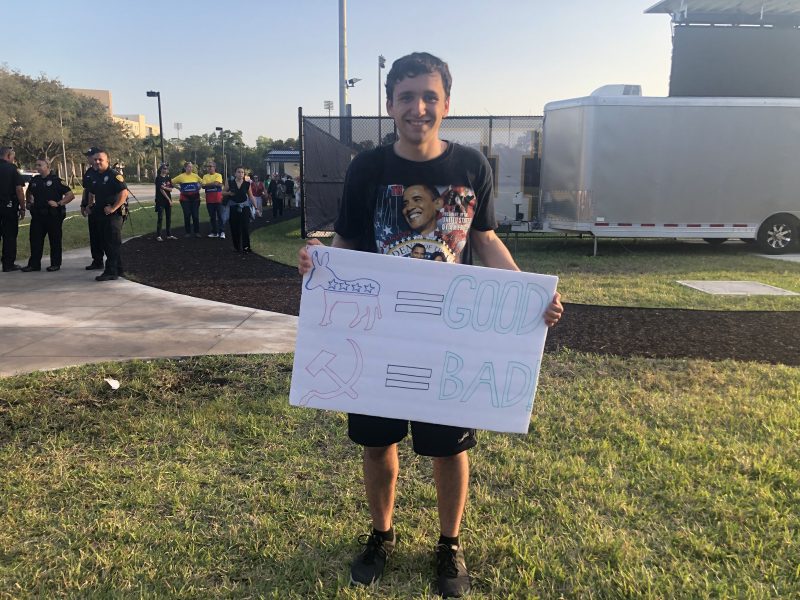 Although Crohan thought that Trump was exploiting the event to bash socialism, he did say it was good that the president showed his support for Venezuela and its people.
"Even though I really don't like Trump, it is nice that he came here and talked about this issue. I just think he did it for the wrong reasons," Crohan said.
Sophomore Oliver Bronstein added that Trump's charged comments historically about immigrants justified a protest.
"He's made so many negative comments about immigrants. We're Florida International University, we have a lot of students from other countries. His presence here is disrespectful," Bronstein said.
Carlos Hernandez Colucci, a freshman who grew up in South Florida and identifies as Venezuelan, insisted that hearing the president's discussion was more important than protesting his presence.
"He's helping put down the Maduro regime. What [the protestors] don't understand is that the Venezuelan people are suffering," Colucci said. "Trump's administration is helping to go against it. People are screaming, 'It's about oil!' It might be about oil later on, but right now it's about the Venezuelan people."
FIU is the largest Hispanic-serving university in the nation. Currently, 1,925 FIU students identify as Venezuelan.
"The good thing is that [President Trump] is clearly on the side of democracy and helping to end a corrupt, tyrannical regime in Latin America. As someone who works on Latin America, I am all for that," said university President Mark B. Rosenberg.
President Trump is the third sitting U.S. President to visit or address an FIU audience. President Barack Obama visited the university in 2015 for a town hall meeting, and President George H.W. Bush delivered a  commencement address to FIU graduates in 1992.
For more on Trump's visit, check out these  pictures captured by our FIU photographers.