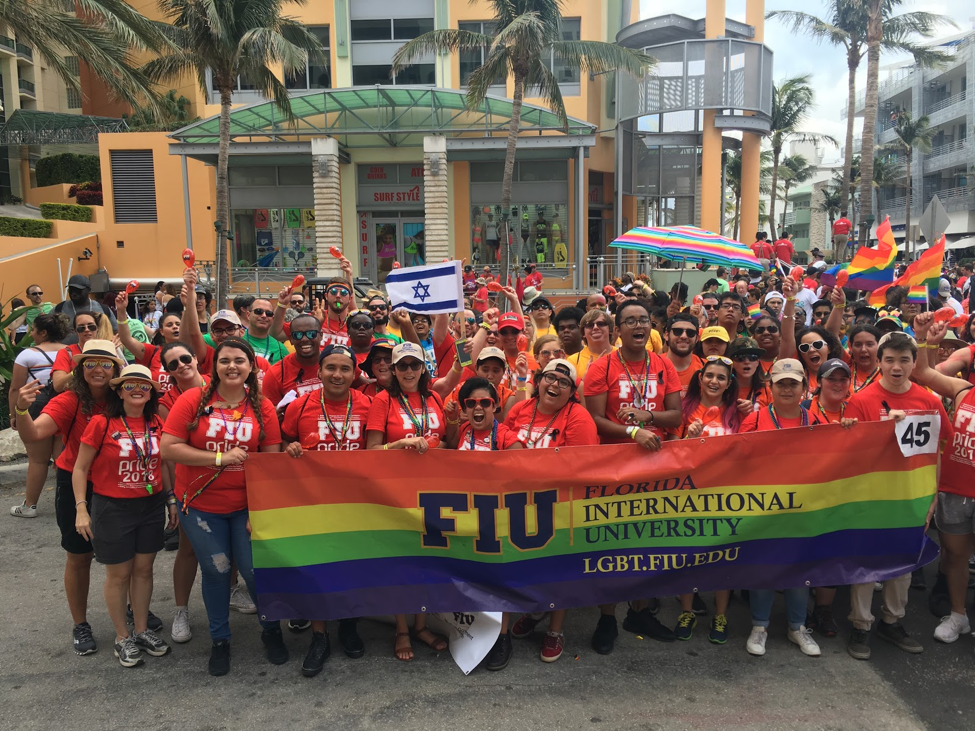 As part of an op-ed series, FIU News shares the expertise and diverse perspectives of members of the university community. This piece has been submitted to FIU News by a contributor who wishes to remain anonymous.
Pride, at its core, is a month of no apologies. A time to be yourself without a care in the world. Whether you're gay, bi, lesbian, trans, ace or any other part of the queer spectrum, Pride Month celebrates our differences and the uniqueness within all of us. As a queer non-binary person, I find it difficult to be unapologetically myself. Whether it's because I'm too nervous to correct a stranger on my pronouns or because of feelings of dysphoria, being confident in who I am every single day is tough. But there's something about being surrounded by rainbow flags and seeing people smiling and drag queens strutting down the street that screams acceptance.
My first ever Pride Parade was in Miami Beach in 2017. I had been dying to go for years, and I was finally able to convince my parents to let me go. I was decked out in purple, blue and pink (the colors of the bi flag) and so ready to have fun. I didn't think I would get emotional whatsoever because I had been around LGBTQ+ people for most of my life, but then it hit me. As the bisexual flags came into view and people cheered, I saw an older woman holding up a sign that said, "no fear in being queer." I started to cry. I was truly overwhelmed with the amount of love I felt from the community and how liberated I felt to be in a space where it didn't matter who I liked or who I was. I felt welcomed. It was truly one of the greatest days of my life.
However, Pride isn't only about having fun. It's a time of remembrance for those who have been victims of hate. Every person whose life has been taken through hate crimes or suicide must be remembered. Those who have fought with AIDS and who have paved the way for our generation must be remembered. Marsha P. Johnson, Harvey Milk, Bayard Rustin, Barbra Gittings, Jeanne Manford and every other individual who spent their life advocating for the rights of the LGBTQ+ community. Pride Month allows us to be inspired by all of these amazing people and to use our voices to help our community and stand for our beliefs. Pride helps us shine brighter than we ever thought we could. Pride is a sanctuary. Pride is awareness. But most of all, Pride is who we are.
---
To celebrate the LGBT community in April, the Honors College will be hosting a Rainbow Pride Series this semester with LGBT-related events and meetings. The college's HEARTS (Honors Education in the Arts) Connecting Cultures club is exploring gender and sexuality in their biweekly meetings. In addition, the club will be hosting an event called SPECTRUM in collaboration with the Frost Art Museum that will tour the exhibit "To Survive on this Shore," which displays transgender and gender non-conforming individuals in a beautiful way. It will be followed by a fabulous drag show and a drag panel, where visitors can ask the queens about their life in drag. The HEARTS program is also sponsoring the Reflect Concert to celebrate the queer community and bring awareness toward the issue of sexual assault in the LGBT community.
All of the following events are open to anyone and everyone:
SPECTRUM – April 2  from 3 to 6 p.m.
Miami Beach Pride Parade—April 7 from 11:30 a.m. to 2 p.m.
Social Justice Summit—April 10 from 9 a.m. to 5 p.m.
Reflect Concert – April 12  from 8 p.m. to midnight
Over the Rainbow: LGBT Right and Asylum Talk – April 16 from 3:30 to 4:45 p.m.