Record number of students gain policymaking experience in Congress this fall
October 8, 2019 at 12:00am
---
By Alexia Del Valle
Early in her FIU career, Dessiree Gonzalez, a political science and international relations major, became excited about politics and set her sights on Capitol Hill. This Fall, Gonzalez is one of seven FIU students and alumni who work at five congressional offices—a new record for FIU.
Gonzalez and her peers are complementing their classroom experience and gaining hands-on experience in policymaking and constituent services as well as helping research and craft proposals, ranging from prescription drug pricing reform to affordable college tuition.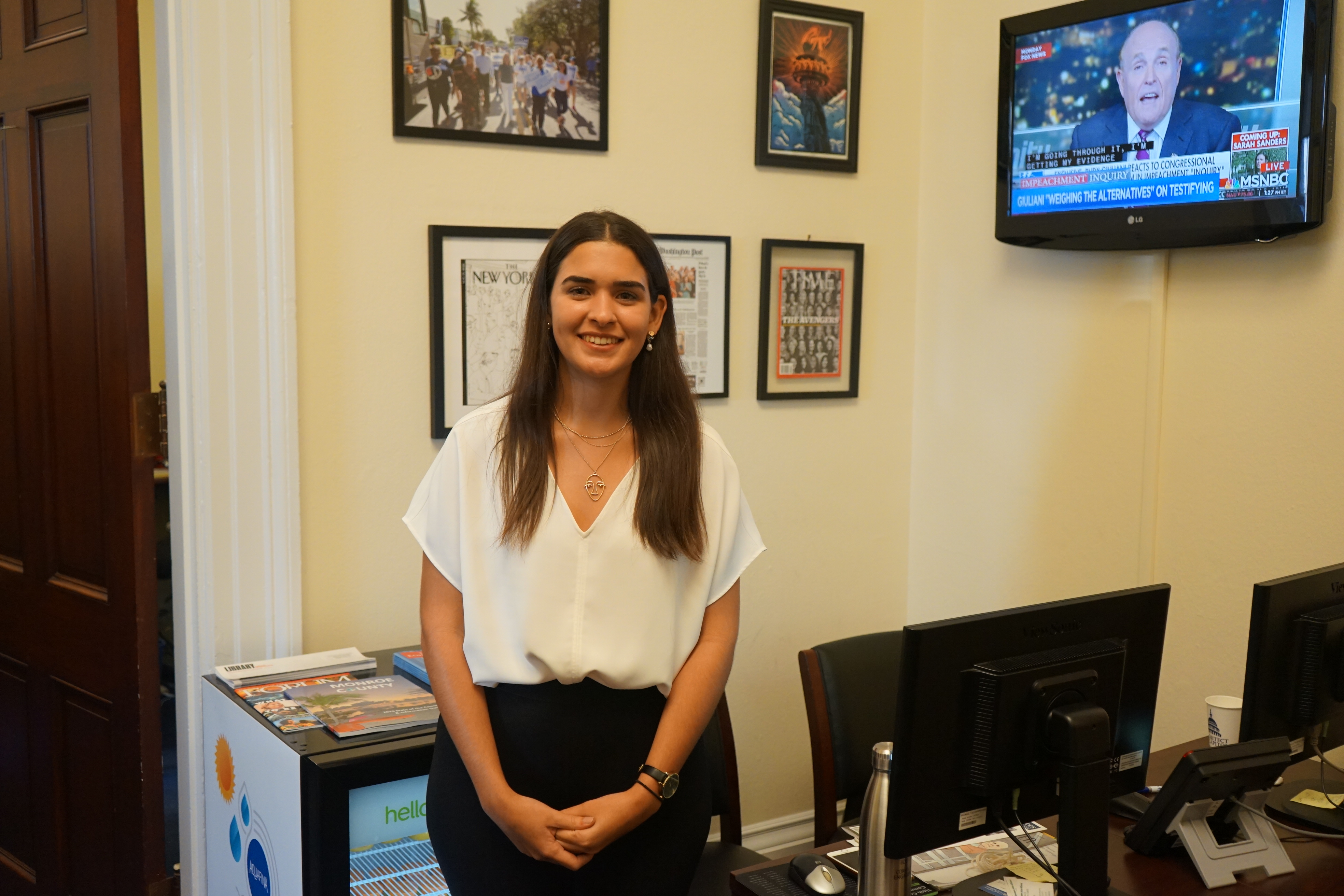 Gonzalez is interning for Congresswoman Debbie Murcarsel-Powell in D.C.                    
"I was lucky to work with the congresswoman that represents my home district. I know the people she's representing. They're my family, my community members," said Gonzalez, now a junior in the Steven J. Green School of International and Public Affairs.  
In the last few years, FIU has expanded student and alumni participation to more than 12 congressional offices outside the state of Florida. This semester alone, students are interning for members of Congress Mario Diaz-Balart, Debbie Mucarsel-Powell, Donna Shalala and Debbie Wasserman Schultz, all of South Florida, as well as Lou Correa of California. One intern, marketing major Jhon Carlos Barrera, is at the Library of Congress. 
"Our FIU interns are eager to learn and so passionate about the work they are doing for their communities back home,"said Congresswoman Shalala. "They're supporting my team in very important ways. And as a believer in rich educational experiences, I am glad that they are complementing their academics with once-in-a-lifetime experiences on the Hill." Shalala currently employs two FIU interns.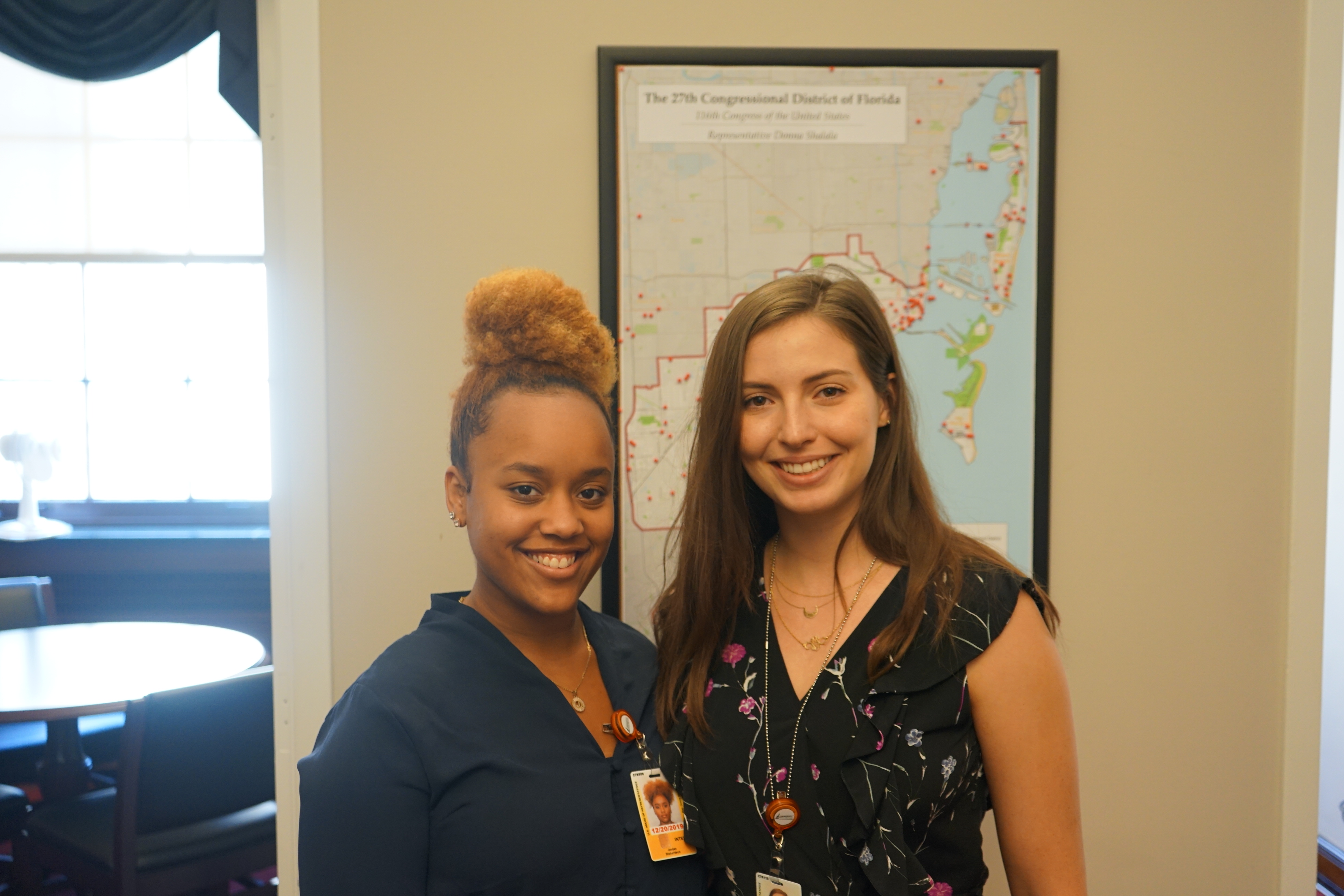 FIU in DC is putting greater priority on placing students in congressional offices, not only for the unique hands-on experiences but also to leverage new congressional funding for paid internships in Washington, D.C. Last September, the House of Representatives appropriated $13 million to fund congressional internships, creating thousands of paid opportunities for young adults regardless of their socio-economic status.   
Panthers interning this semester with Congress include:
Juan Castro Jordan '19, (Political Science) Green School and Honors College—Office of Mario Diaz Balart- J 
Dessiree Gonzalez (International Relations and Political Science) Green School and Honors College—Office of Debbie Murcarsel-Powell 
Mariaeugenia Gurdian (International Relations and Political Science) Green School and Honors College—Office of Lou Correa  
Carolina Ramos '18 (International Relations), Green School—Office of Congresswoman Donna Shalala 
Jordan Richardson (Public Administration), Green School—Office of Congresswoman Donna Shalala 
Andres Delatorre (Psychology), College of Arts, Sciences & Educations and Honors College—Office of Debbie Wasserman-Schultz 
Jhon Barrera '19 (Marketing) College of Business—Library of Congress 
Jordan Richardson, majoring in public administration, is currently taking an online class on policymaking. She said her internship in Shalala's office has given her an advantage in her class.  
"I've taken quizzes and don't even need to look at the book because I know the answers from experiencing it, " Richardson said.  
Carolina Ramos, who is also interning in Shalala's office, works on LGBTQ issues within communities of color and affordable college for students across the country. Ealier this semester, she had the opportunity to help write the first draft of a speech for the congresswoman.  
"To feel like I helped in any minor way was amazing," Ramos said.  
FIU in DC also works with students on future career goals and landing internships that will benefit their academic success. Twenty-seven students are spending the fall semester interning throughout D.C. in various agencies and organizations—the largest fall cohort since FIU in DC opened in 2016. 
For more information on obtaining an internship in a congressional office, contact Eric Feldman, associate director of Student Success and Academic Programs, at ericf@fiu.edu or 202-558-3481.  
---
FIU in Washington, D.C., is an integrated advocacy approach aimed at increasing FIU's national reputation and federal support for FIU's preeminent and emerging preeminent programs, faculty and students. The FIU in DC team  collaborates with academic units to provide learning experiences and support the placement of students and alumni in internships and permanent employment.