Senior design experience leads grad to be named 'rockstar' engineer
November 1, 2019 at 11:45am
---
In order to graduate from the College of Engineering & Computing, seniors design innovative projects to create practical solutions for industry problems through a course called Senior Design Project. For her project, Rachelle Tobkes, now a computer science alumna, developed a web application for listing and renting office spaces.
The idea for the app, called HyperDesk, came from a Miami-based digital and interactive agency. It was one of the suggested projects offered through the Senior Design course. Tobkes wanted to convert the idea into a reality.  
As Tobkes stood by her teammate and poster board at the Senior Design Showcase, presenting HyperDesk to attendees, Chris Fleck, vice president and technical fellow of Citrix Systems, a multinational software company providing workspace and cloud computing technologies, approached Tobkes to learn about the project. The company was working on a related concept.
"As a judge for the Senior Design Showcase, I was immediately impressed with Rachelle when I met her," Fleck said. Upon Tobkes' graduation, she received an offer to join the Citrix team as an intern.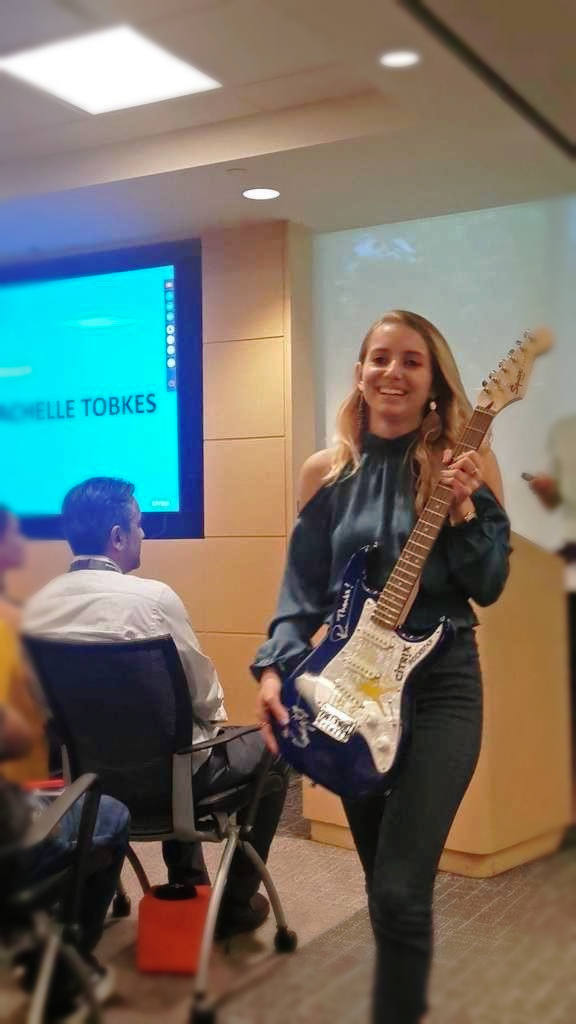 Three months into her internship, Tobkes was offered a full-time software engineering position. Three years later, Tobkes was voted "Rockstar Engineer," out of more than 2,000 engineers at Citrix. Her journey at Citrix all started because of the senior design experience. She's giving back by mentoring a senior design team this fall term.   
Tobkes joined the Emerging Solutions Innovation team at the start of her internship, working on an app for occupancy tracking called OpenSpace. The primary role of the team is to prototype solutions or features and demo them to Citrix's employees and customers for feedback. The end goal is to get solutions or features on the roadmap to be implemented into a product.
Moving up from intern to software engineer, Tobkes played a significant role in prototyping the company's main product, Citrix Workspace. The technology can enhance employee productivity in organizations that use a plethora of apps and software programs by having all apps and files in one location. There's a single sign-on, a universal search feature and a secure cyber environment.
"I would have to say my biggest accomplishment at Citrix was prototyping a feature that was integrated into an existing product," Tobkes said. "My team and I showed the Workspace App prototype to VPs and next thing we knew the app was being announced at Citrix Synergy, an annual conference where the company talks about their latest innovations. 
"The app is now used around the world, making me feel like I've made a difference."
For helping shape the future of work, Tobkes received the "Rockstar Engineer" award earlier this year. Every quarter, Citrix's senior leadership votes on an employee who has significantly contributed toward the company. Instead of receiving a plaque or trophy, Tobkes received an electric guitar – in the spirit of Rock 'n Roll -  signed by the CEO and senior vice president of engineering.
"Rachelle was selected as our global Rockstar Engineer based on her innovation, deliverables and collaboration," said Fleck. "She is always accepting new challenges, learning new skills and her results have been impactful." Fleck sits on the School of Computing and Information Sciences' (SCIS) Industry Advisory Board.
Citrix is actively engaged with FIU to recruit interns and new hires. Salman Bhatti, senior director of cloud engineering for Citrix, is also an adjunct professor for SCIS. He teaches cloud computing and software engineering. In addition to teaching, Bhatti provides career guidance to students.
Through his participation with students, Bhatti suggested to Tobkes to contribute in the Senior Design Showcase by mentoring a senior design group. Tobkes and Bhatti came up with Biometric Identification, a two-factor authentication, desktop application which uses facial recognition to verify a user's identity. The idea was given to associate professor from SCIS, Masoud Sadjadi and two senior design students, Frederick Husson and Andy Garcia, who agreed to make the idea come to life, just like Tobkes had three years prior with HyperDesk.
"Every two weeks, the group does sprint demos. As the team's project manager, I provide them with suggestions on what feature can be improved," said Tobkes. "I'm looking forward to seeing their final product at the showcase. They might meet their future boss, just like I did three years ago at the event. You never know."
This fall's College of Engineering & Computing Senior Design Showcase takes place Dec.6. Nearly 500 senior students will be presenting their projects to peers, industry leaders and faculty members.
As a young girl who thought of becoming a clothing designer, Tobkes designed cellphone cases at the age of 12 and would sell them for $10 to her friends and family. When time got closer to apply to college, Tobkes decided to pursue a degree in computer science, just like her mom did. Clothes and computers may not be the same thing, but Tobkes finds a similarity in them – design and creativity.
"In software engineering, you still get to design, architect and build an application," said Tobkes. "Plus, it's an advantage to be a woman in this field." Tobkes graduated from high school with her associate's degree by taking college courses throughout high school. She went on to FIU where she completed her bachelor's degree in computer science.
At FIU, Tobkes was a research assistant for the College of Engineering & Computing's Research Experience for Undergraduates (REU). She worked on an Android application for indoor Wi-Fi localization and managed the privacy aspects of it. A paper on this research was published in IEEE Xplore.
Currently, Tobkes is considering pursuing a master's degree in the field. Get to know more about Tobkes in the video below, produced by Citrix: