SOBEWFF® is right around the corner, save on select events
February 20, 2019 at 10:23am
---
It's happening.
After much waiting, the 18th annual Food Network & Cooking Channel South Beach Wine & Food Festival will be taking place this Wednesday, Feb. 20, until Sunday, Feb 24. More than 100-plus events will be spread across South Florida at venues like the Loews Miami Beach Hotel and Fontainebleau Miami Beach.
Here are some Festival highlights from years past.  
1997-2001
Before it became SOBEWFF®,  the Festival was known as the Florida Extravaganza, the one-day event taking place at Biscayne Bay Campus.
A star-studded occasion from the very beginning, stars like singer Julio Iglesias and actor George Hamilton attended its first installment.

2002-2006
In 2002, the one-day tasting event was reimagined through the vision of Lee Brian Schrager — founder and director of SOBEWFF ® who, at the time, was director of special events and media relations at Southern Wine & Spirits of America. And so, the South Beach Wine & Food Festival ® was born, relocating to South Beach and expanding into a multi-day culinary spectacle.

2007-2017
After entering a partnership with Food Network, 2007's Festival was the first under its new name. Since then, celebrity chefs like, Rachael Ray, Guy Fieri and Anne Burrell have become a staple attraction.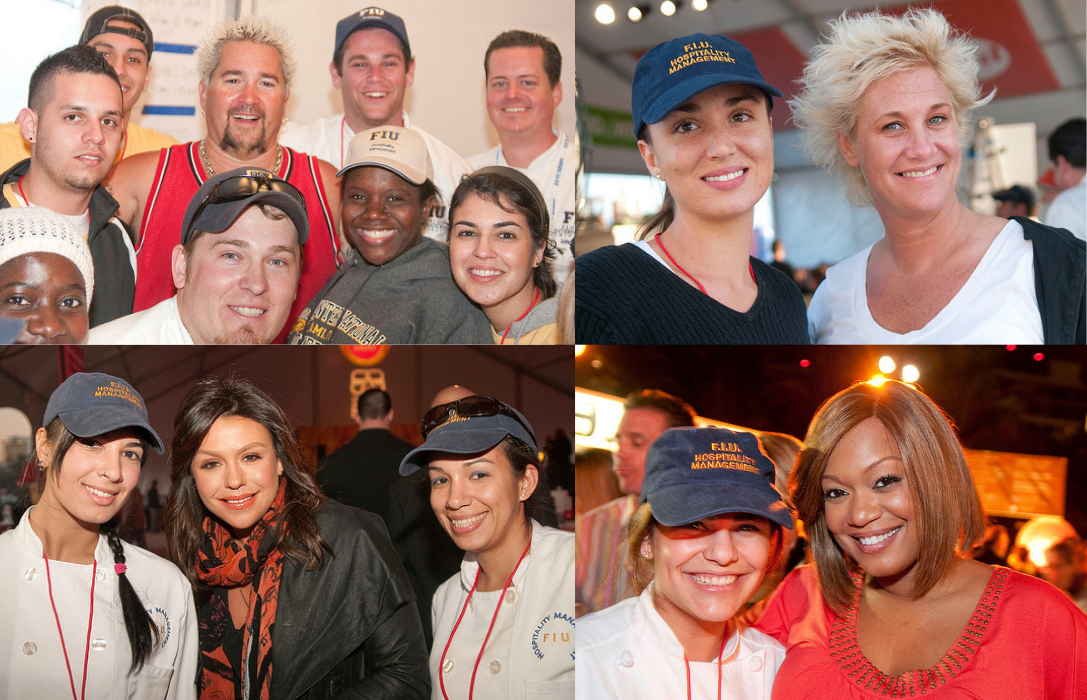 2018 and today
This year's Festival comprises the most events yet, with more than 110 scheduled  during its five-day run. Over the years, students have played a huge role in the success of its various events, volunteering their time and gaining professional experience while at the festival.
Speaking at the 2018 Festival, celebrity chefs Bobby Flay and Giada De Laurentiis expressed their gratitude for the nearly 1,200 FIU students who volunteer at the festival each year.
"When we're trying to feed hundreds, if not thousands of people, the students at FIU — they're lifesavers for us," said Flay.
"FIU students and alumni make this all happen," added De Laurentiis.
This week, the anticipated and biggest yet 2019 Food Network & Cooking Channel South Beach Wine & Food Festival  will finally take off.  And there is still time to save on the purchase of tickets.
Members of the FIU community can save 20 percent on the following select events with the promo codes FIUSTAFF19  and FIUALUMNI19 :
SOBEWFF® benefits the Chaplin School of Hospitality & Tourism Management and the Southern Wine & Spirits Beverage Management Center. To date, the Festival has raised more than $28 million for the school.
To buy tickets for other events, click here.