Students build code, connections at Florida's largest hackathon event
October 1, 2019 at 11:00pm
---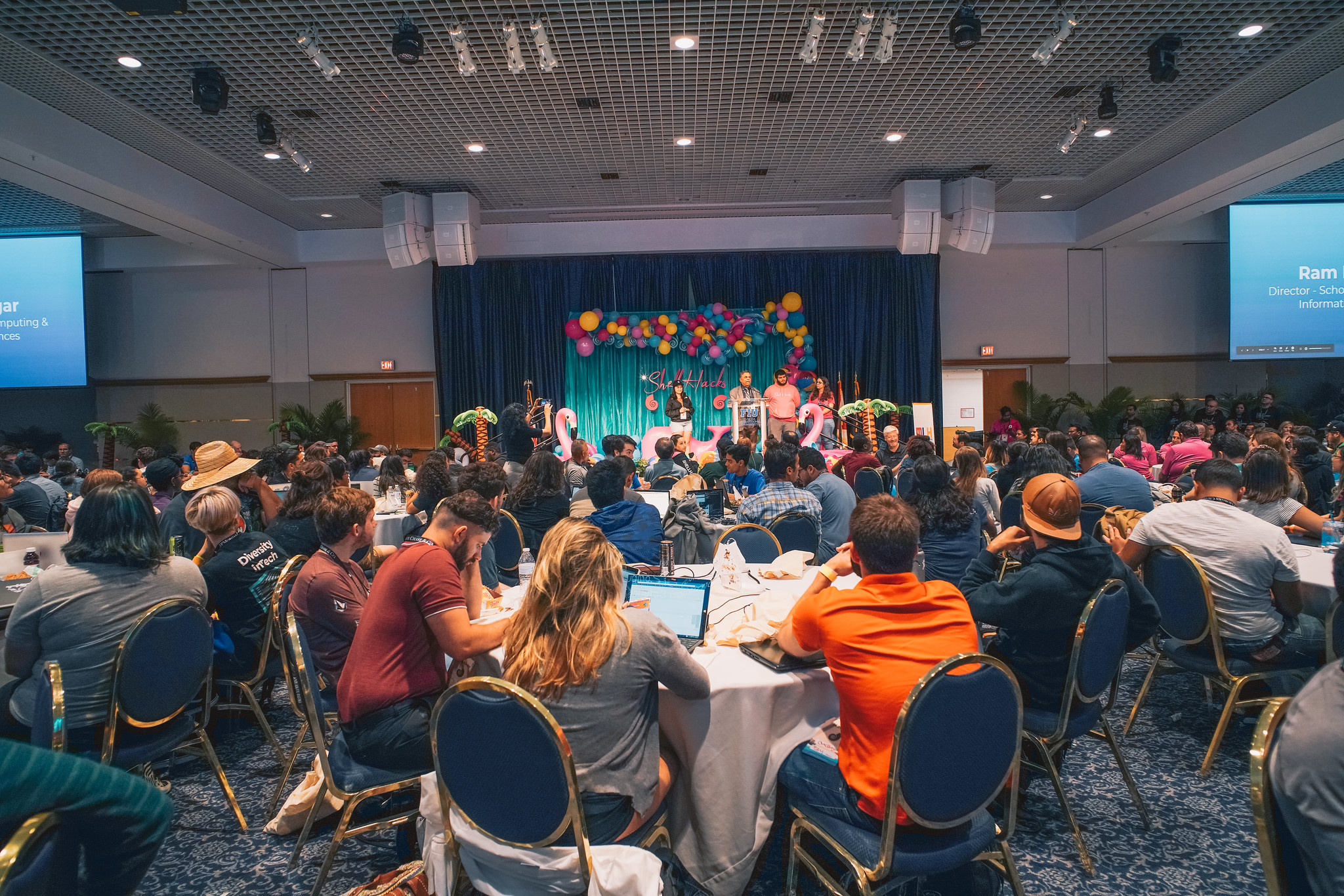 Thirty-six hours of no sleep, plenty of coffee and a will to do good, that's the idea behind ShellHacks, the largest hackathon in Florida held at FIU's Graham Center.
The hackathon, a sprint-like event where participants build code, develop apps and design websites, welcomed more than 800 students from across the nation to create innovative projects for social good, learn the latest technologies in engineering and connect with industry mentors from top-tech companies.
Despite the sleepless nights, students weren't just exposed to ideas and inventions. They engaged with people of shared passions by joining team-building activities thanks to the event's organizer, FIU's chapter of Upsilon Pi Epsilon (UPE).
"This event makes a difference in the lives of our students," said FIU President Mark B. Rosenberg, who met with students at ShellHacks. "It's a learning, social, networking and empowering event. I'm all for it."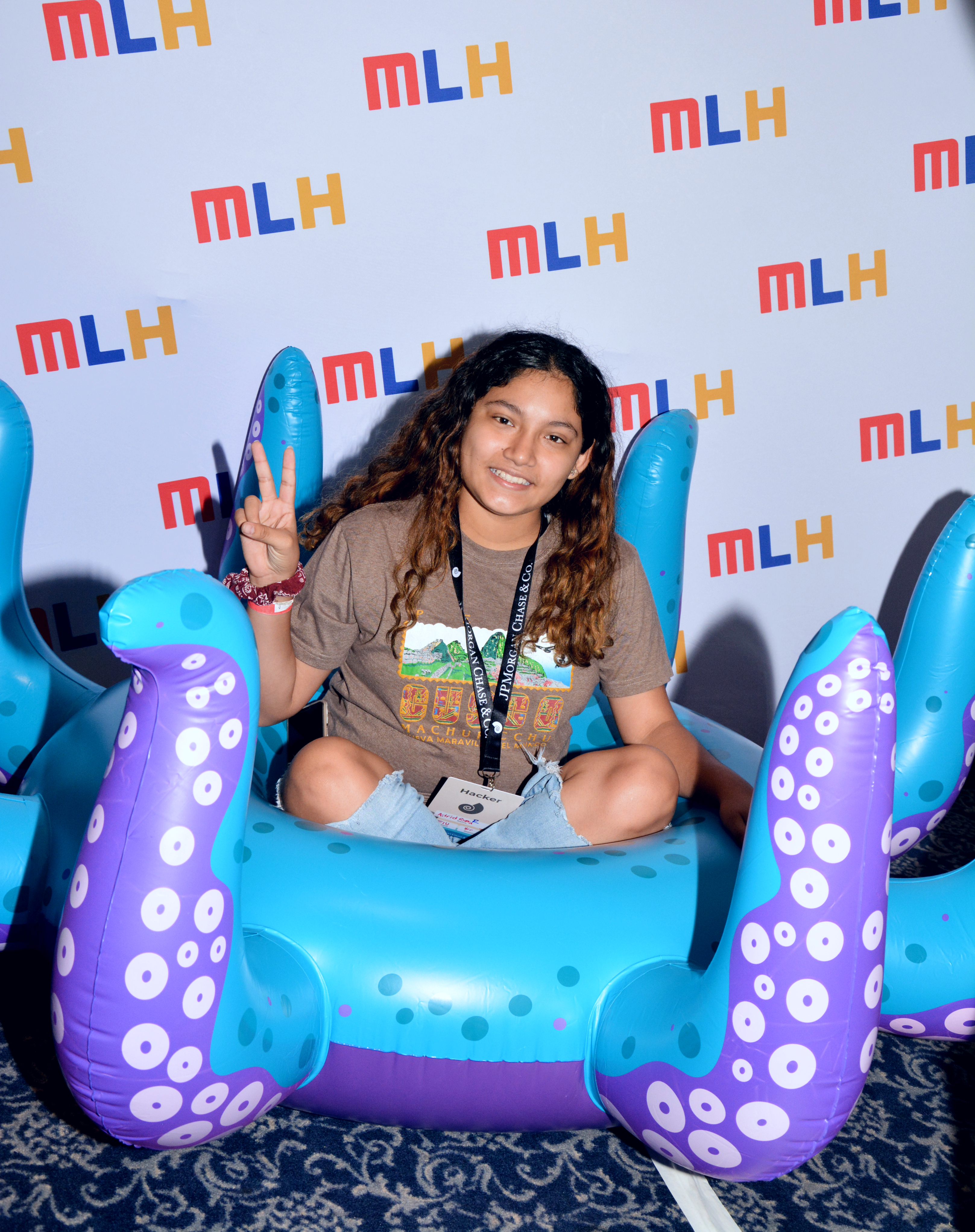 This was the second year that Astrid Rivera, an information technology major and UPE member, attended ShellHacks. Following the mission of doing social good, Rivera and her teammates developed a web application to bring more awareness to volunteering opportunities in Miami-Dade County. Impact was a key driver in coming up with their idea.
"At ShellHacks, you can either work independently or in a team. I worked with a team of three people and the great thing about that was taking full advantage of the key strengths we each possess," said Rivera. "One team member is very experienced with the back-end of a website. The other teammate knows Python, a software language, which is crucial in connecting the back-end to the front-end of a website. I worked on the front-end, meaning my role was to design the website and how the customer should interact with it."
When asked what she hoped to get out of ShellHacks, Rivera responded, "I want to be able to develop a better sense of connecting with our web user and designing how they want to engage with a web app."
This skillset is something Shanna Sit, a computer science major, has been improving on since she started attending ShellHacks three years ago. This time around, Sit led a user design, experience and interface workshop to share her knowledge with other website aficionados. During her 30-minute workshop, Sit discussed user interface and how to set up websites. She stressed the importance of strategically placing elements on a website to guide the user and make the web experience a pleasant one.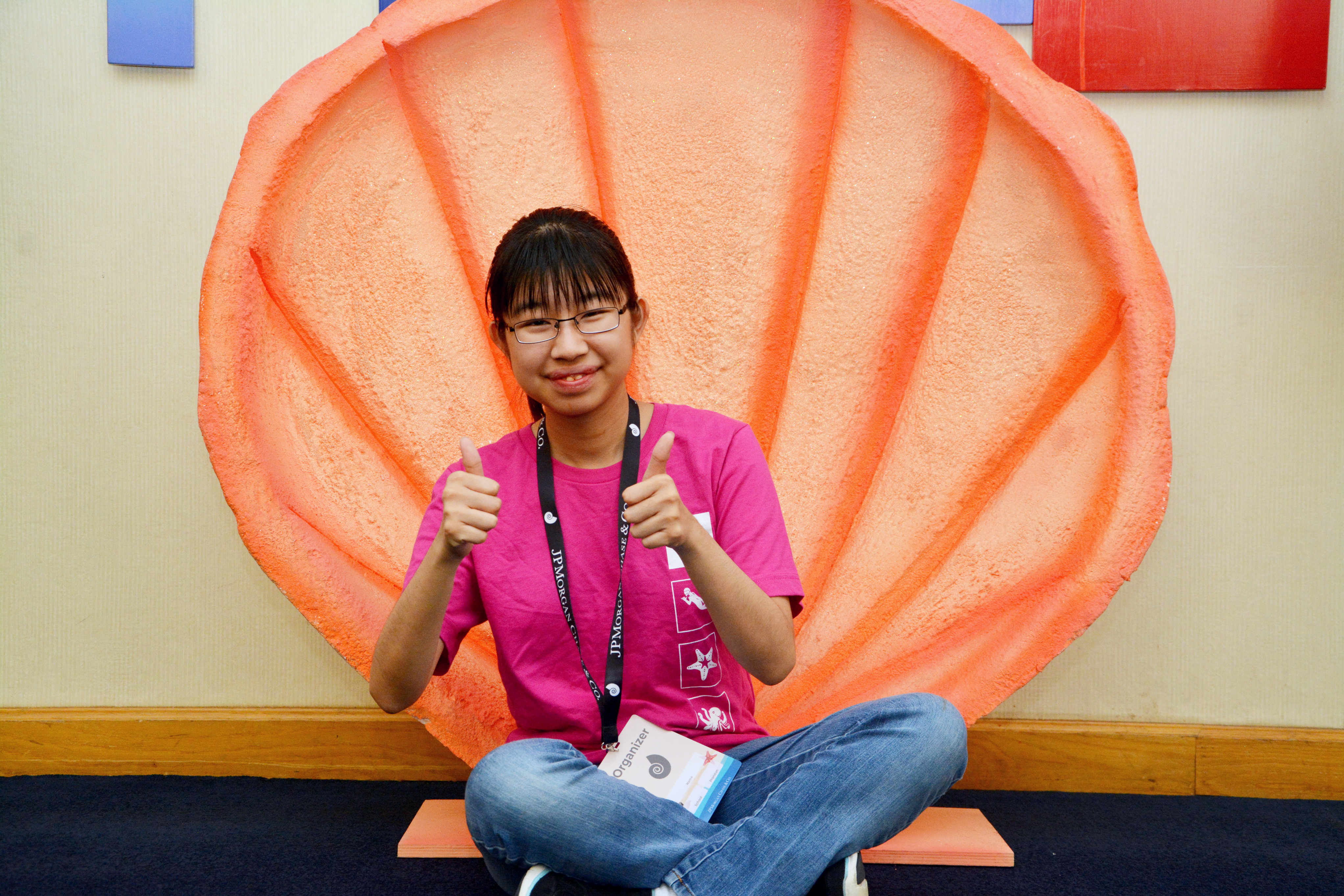 "Design involves an element of psychology," Sit said. "You need to ask yourself, 'What do you want the user to see first?' If it's a big sale, you wouldn't place it in the corner of your website. You'd put it in a giant banner at the very top to catch the user's attention."
Sit mainly created the workshop to encourage students to not feel discouraged if they aren't necessarily creative.
"You don't have to be artistic to know how to design. The key design is the user and, ultimately, art design can be taught." 
At ShellHacks, Sit also served as the marketing lead, ensuring all creative deliverables, like posters and flyers, followed UPE's brand guidelines. Moreover, Sit participated in the hackathon by teaming up with a friend to build an application for tabletop gaming. Game development was one of six learning tracks offered at ShellHacks. The other tracks students were encouraged to do projects in were front-end, back-end, hardware, data science and IT/cybersecurity.
"My favorite thing about ShellHacks is seeing old familiar faces, students who graduated and left Florida to pursue full-time careers," said Sit. "When they come back with their companies and visit us, well it's just heartwarming to see them again." Sit also thanks ShellHacks for being the reason she landed an internship last year at JPMorgan Chase, who was this year's event co-host.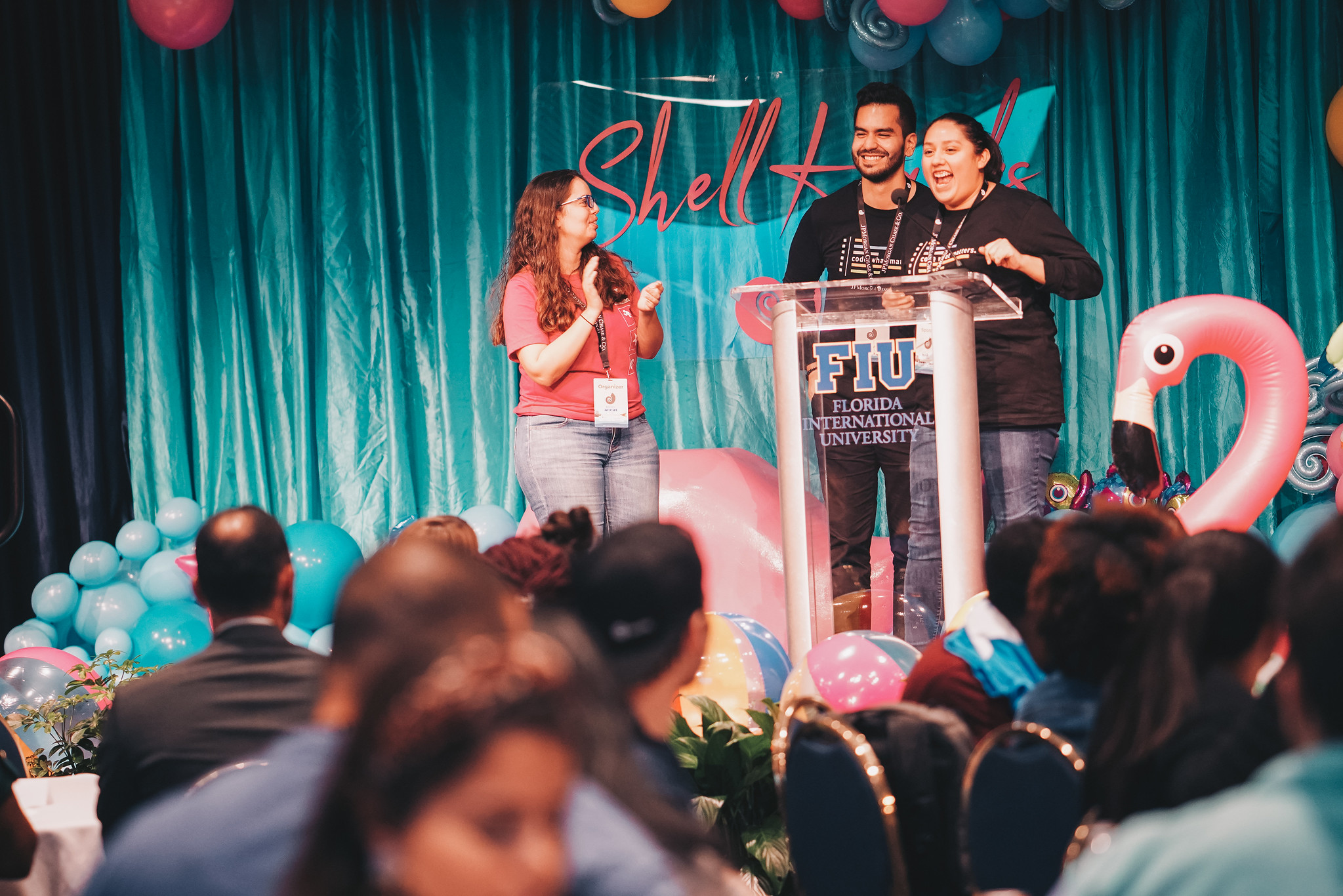 Anna Gomez, a program manager with JPMorgan Chase's Tech for Social Good team, learned about ShellHacks when one of the firm's Software Engineering Program interns—Cesar Villa Garcia, who established the FIU chapter of UPE—informed her about the event.
"We thought this would be a great opportunity to connect with students and talk to them about the company's software engineer program and commitment to social good," Gomez said. "We're always looking for students who not only have an impressive technical background, but also can work in an agile environment, are eager to learn, have a business mindset and add value to JPMorgan Chase's diverse and inclusive culture."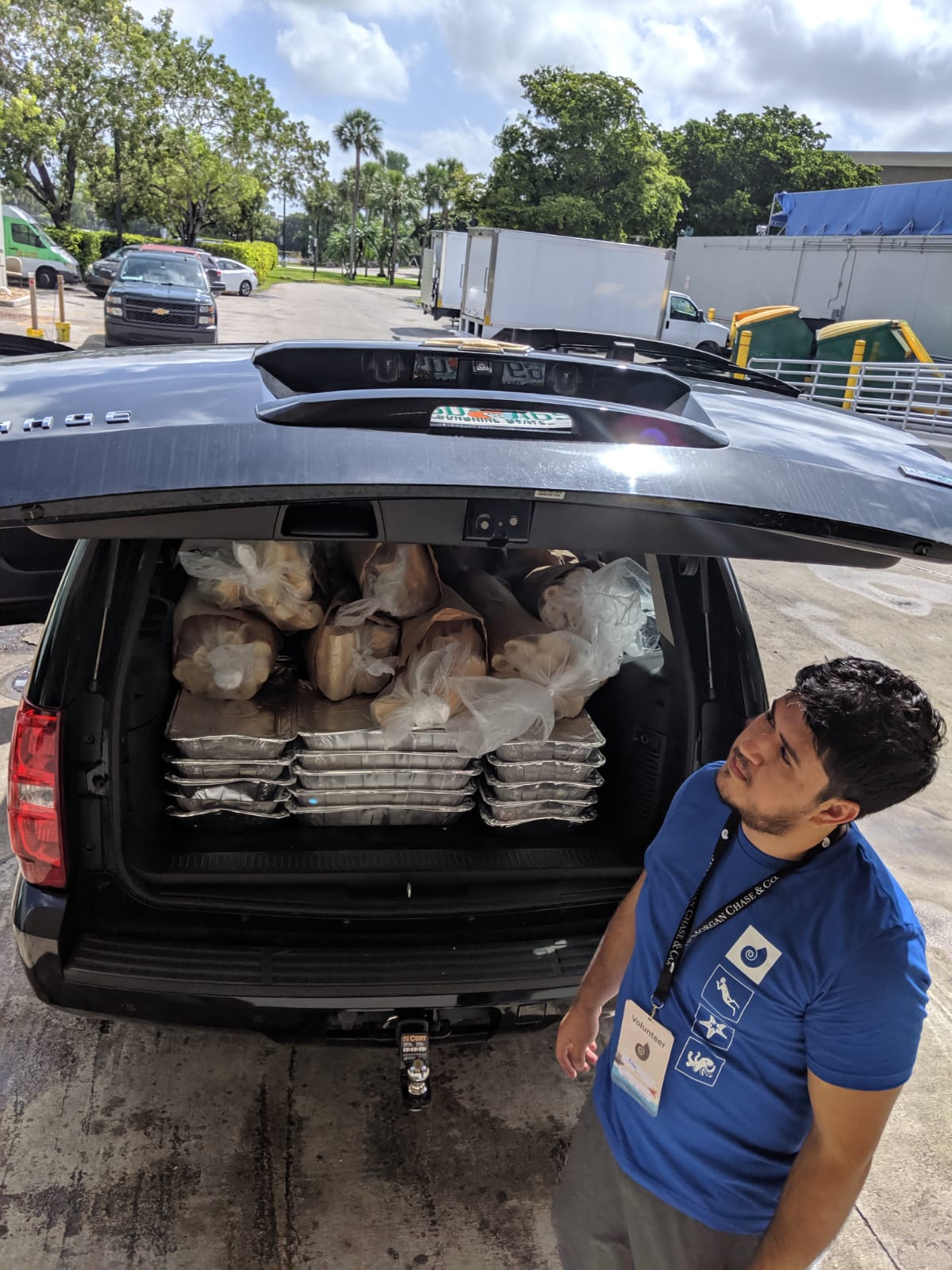 JPMorgan Chase offers a 10-week internship program and a two-year full-time development program. The company hires approximately 10 to 15 FIU graduates per year.
In the spirit of social good, the organizers of ShellHacks donated leftover food to Miami Rescue Mission, a non-profit organization to help feed hungry and homeless communities.
In addition to FIU students, primarily from the College of Engineering & Computing, ShellHacks hosted students from the University of South Florida, University of Central Florida, Florida State University, Georgia Tech and Miami-Dade College. The hackathon also had the support of more than 50 industry sponsors, including tech giants Google, Microsoft and Facebook. Many companies participated in ShellHacks for the very first time to recruit. Among the companies were Twitter, Nike and Lyft.