Writing program gives prisoners a creative escape
English faculty offer those behind bars a chance to rise above it all.
Twenty-something Richard Yates recites his original poem in front of about 200 people on folding chairs in a cramped but brightly lit space. Murals of the Statue of Liberty, the flag raising at Iwo Jima and the first moon walk cover the walls. Dressed in a blue jumpsuit, clean-shaven and beaming, Yates begins "Simba" with a reminiscence of his childhood love for the zoo, one that eventually turns sour.
"My heart broke for the big cat alone in the cage," he says in a line leading up to a poignant coda: "After years of living in a cage, a lion no longer believes he's a lion, and a man no longer believes he's a man."
Yates accepts a shower of applause. Soon after, Mario Palma follows with his own poema, in Spanish, and Jonathan Arce brings up the rear with verse that references committing murder at age 14.
About three-quarters of those in the room are serving time for felony crimes. The others are university professors
 and local instructors, graduate students and members of the community
 at large who have come to Dade Correctional Institution to show support for a population of drug and violent offenders working to better themselves. Everyone has gathered for a three-hour "graduation" at which inmates take 
the mic, a celebration that marks the semester's end but involves no degrees.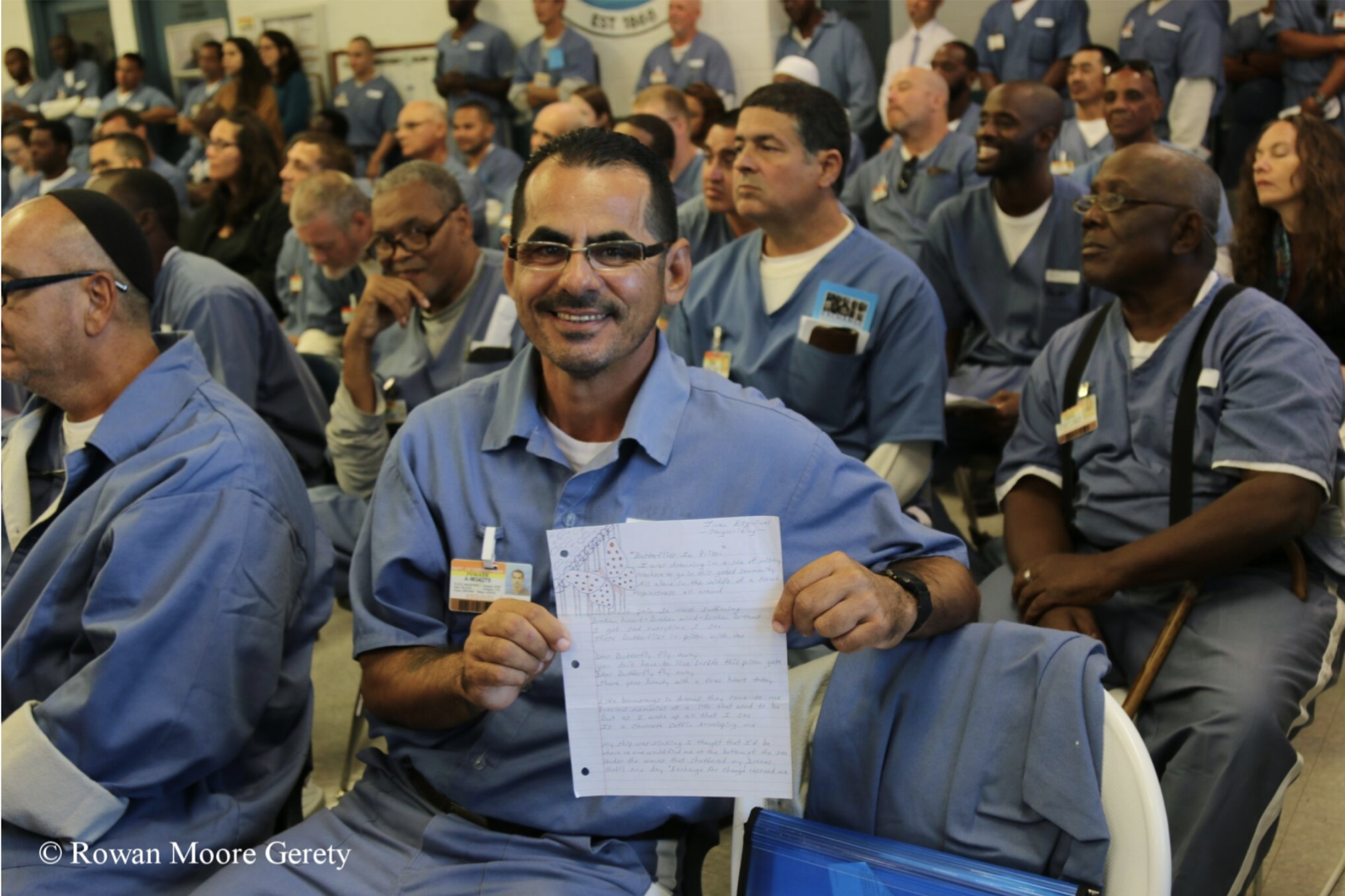 An oasis
"I want to believe that they'll go out into the world and this will have influenced them," FIU English professor Kenneth E. Johnson says of the writing course
 he teaches at the prison. "It's practical 
in that they become better writers and communicators so that they gain some skills that will serve them in the future."
Johnson has signed onto Exchange 
for Change, a local nonprofit started by former journalist and tour de force Kathie Klarreich. She has recruited faculty from 
FIU and elsewhere to teach songwriting, fiction writing, legal writing, memoir and, in Johnson's case, film review. After negotiating with the program warden, he received the go-ahead to show his 15 students "The Shawshank Redemption" and "Birdman of Alcatraz" during the spring semester.
"The classes are an oasis from incarceration," Johnson says, explaining 
that only those with good behavior qualify to participate. "They're so thankful for somebody who takes an interest in them, and they're
 so thankful for being in circumstances where they're not treated as a prisoner. It's the only freedom they get," he says of the students' weekly meeting with him, "and they cherish it."
Glenn Hutchinson, director of FIU's
 Center for Excellence in Writing, has taught playwriting to the convicts and sees how 
the act of writing offers this population,
 or anyone, for that matter, powerful opportunities for venting and self-expression.
"Some people chose to write directly about being incarcerated and others did not," Hutchinson says. "What I remember most is their writing about seeing their children on visitation days and the joy that brought, but also the heartache."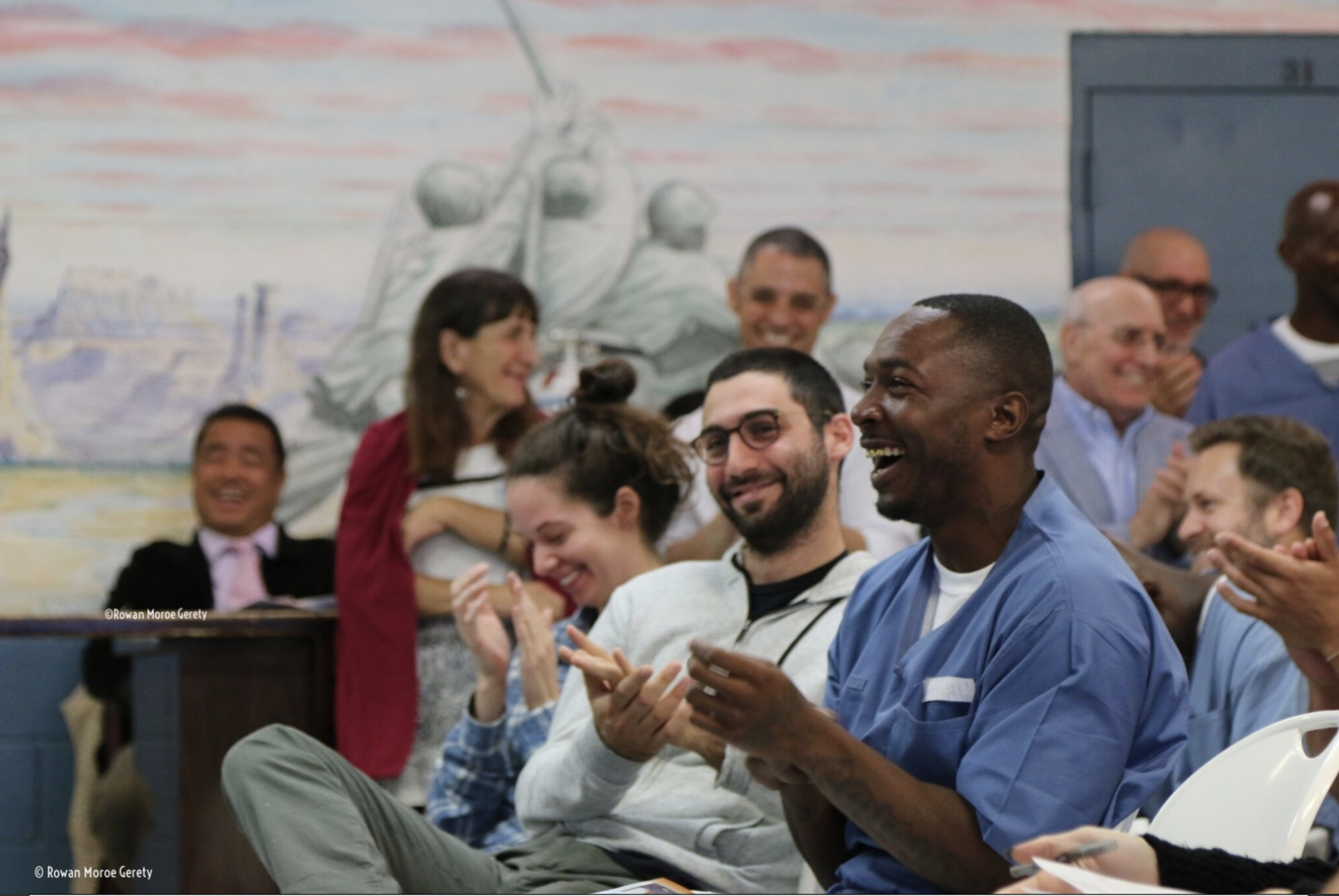 A limited opportunity in Florida
Earlier this year, FIU for the first time provided continuing education certificates to inmates who completed pass/fail courses taught 
by FIU faculty, something Hutchinson and Johnson, along with other members of the English department, helped make happen.
Klarreich hopes that FIU's lead will encourage other institutions likewise to offer some type of formal recognition, which she says can serve as both a measure of accomplishment for prisoners as well as impetus to continue learning once they get out—iƒ they get out.
Whatever the future holds for any one of them, Klarreich says, the writing experience has value.
"For so many of these guys, who either hated education or were told they're stupid or had to battle a whole lot of other things, all of a sudden they have found an outlet that they never thought possible," she explains. "They have found an interest and a talent and a way to express themselves."
Dade Correctional Institution houses more than 1,500 men, some of whom have been behind bars for upwards of 25 years. Beyond mandated GED prep, Exchange for Change—which has served more than 800 individuals since 2014—is currently the only educational program available there. At Everglades Correctional Institution, home to almost 1,800 prisoners, it is one of just a few.
State Representative Dianne Hart would 
like to see Exchange for Change expanded throughout Florida. She stresses the program's transformative nature and has suggested that those who complete courses should see a reduction in their sentences.
"I believe that this gives them a real opportunity to change, to see themselves differently," she says. "Even though you may be incarcerated, writing gives you an opportunity to really leave where you are. Mentally, it gives you an outlet. When you learn to express yourself, a lot of times you can give up some of the anger and your feeling of inadequacy."
Until that time when Florida finds the funds to pay prison educators, Klarreich must rely 
on volunteers, all of whom say they receive much in return. "All I know is when I go into the classroom, they become my students," says Johnson, a 35-year veteran of FIU. "Some of them are very talented, intelligent, and most
 of them, because of the writing, they're very expressive and they're excellent. I leave there always thinking about what I've been given."
Outside support
Among those who submitted to a pat 
down and electronic screening to attend the end-of-semester event was Kimberly Green. An activist and head of the Green Family Foundation (FIU's Latin American and Caribbean Center bears her name), she saw an opportunity to bear witness to those without a voice.
"Today I experienced what happens when true compassion, self examination and reflection meet creativity and expression," she shared on social media. "Exchange for Change provides vision and understanding on both sides of the fence."
Also moved was alumnus P. Scott Cunningham MFA '08, founder of the annual O Miami poetry festival and a 
regular attendee at graduation. In April, during National Poetry Month, O Miami and Exchange for Change named a "prison poet laureate" whose work the Miami Herald published. Cunningham has partnered with the writing program on a number of projects and believes strongly in its mission.
Writing, like any form of art, he says, "teaches you about the world and yourself. Engaging with it is a way to figure out your place in the world and process things that are happening to you," he continues. "No matter what their sentences are and what they've done, they're still human, and they deserve to engage in art as much as anybody."
Getting out (the writing)
Having their voices heard remains important 
to the incarcerated students, a way to connect from the shadows. Some submit their work to be considered for inclusion in "Don't Shake the Spoon," a publication of Exchange for Change (available through Amazon) that features essays, poetry and stories. And outsiders 
who attend graduation each receive a poem transcribed onto a paper plate by the author to take home as a souvenir.
Watching but not participating in the graduation performances—which also included a few numbers by songwriting students, a humorous skit and interludes by prison band Skynny Lyzzyrd—was Martin Vann, one of Johnson's students. The two sat next to each other and kept a running conversation between acts.
All the while, Vann held onto the prison library's copy of "Since We Fell," a novel by Dennis Lehane MFA '01, an FIU alumnus whom Johnson once taught in a graduate class.
Vann says he loves Lehane's writing and lights up as he talks with a visitor about books and movies, anything but prison
 life. Scanning the eight-page graduation pamphlet—which included the full text of two reviews by students in Johnson's film class as well as a congratulatory note to the prison poet laureate from FIU alumnus and poetry professor Richard Blanco '91, MFA '97—Vann was delighted to see that a paragraph he had written about his experience with the program had made it into print. There among several students' comments, he found his own:
"[Exchange for Change] is a breath of fresh air, a welcome escape from the mindless drudgery that is life behind the fences. Classes are diverse, lively and engaging. The visiting professors are dedicated, high-spirited and nonjudgmental. For those precious few hours a week, our words and voices have meaning, we're given honest feedback and treated with respect. What a concept! Can't wait for the next semester to begin."