Twerk and two-step away your insecurities at the Rec Center
February 27, 2019 at 12:00am
---
Instead of letting depression and anxiety keep her down, Maria Roman '16 laced up her shoes and twerked, pumped and two-stepped it off.
During a low point in her life, Roman developed Slay & Squat, a dance fitness class that helped her boost her self-esteem while breaking a sweat. Now, she and her team are working to help students find their groove.
"You go in and say, 'I'm going to go in and get a work out,' and along the way you find yourself, you fall in love with yourself, and you fall in love with dance," Roman said.
Roman, 27, founded the class in 2016, offered at the  MMC Wellness and Recreation Center. Roman was teaching Zumba courses there when she realized she was breaking traditional Zumba rules — based more on Latin dance — with twerking, pumping and other hip hop moves.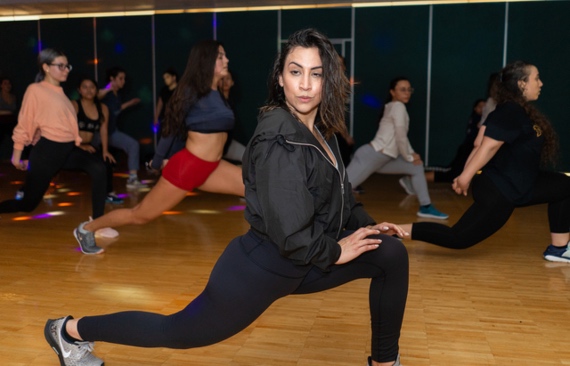 And so blossomed Slay & Squat. The name, Roman said, was an easy choice, given pop culture references to feeling confident ("slaying") and building the sought-after Kardashian-worthy derriere (hence, the squatting).
There are two versions — a dance fitness workout class and a high-heels dance class. The fitness class teaches contemporary hip hop dance moves; the heels class teaches new, advanced choreography each week to a hip hop, pop or R&B song. Both classes are meant to inspire confidence and embrace feminine sexuality while getting in a workout.
"We want to empower people, make sure that they feel confident in themselves and teach them how to love themselves," Roman said.
Each class begins with a "pep talk." Roman said she wants participants to feel like they can trust and confide in the teachers. Students are encouraged to compliment those around them, and then look themselves in the eyes in the mirror and say something empowering.
The fitness class requires no previous dance experience.The heels class is for more advanced dancers, but you don't have to be a pro, Roman explained. As long as you can walk in heels and pick up choreography, you can have fun in the class. Teachers also offer modifications for moves that may be too complicated or for someone with an injury. It's not as much about the performance as it is about the workout, she explained.
Jessica Otalora '18, a former FIU Dazzler, began teaching this semester after a year of participating and helping out. She said that the class is all about pushing dancers to the next level.
"People come to the class for a challenge," Otalora said. "The only way you'll learn is if you try something new."
She said stress relief can become an important part of the class.
"I think one of the main purposes of the class is to leave all your worries behind the door from that day or that week, and to be able to be confident, look at yourself in the mirror, and accept yourself for who you are," Otalora said. "The class is a judge-free zone, and everyone is there to support each other. Everyone is there for the same reason: to have fun."
It's important not to worry about messing up or looking silly, says instructor Vallerie Bello '17. She tells her students every class: "When in doubt, twerk it out!"
Bello said letting go of insecurities is an important part of harnessing the confidence and power the class is meant to instill.
"We're just creating an atmosphere where it's fun to work out. My goal is to make it feel like you're dancing in your room by yourself," Bello said about the fitness class. "I know you dance like this at the club, I know you dance like this in the mirror. Pretend this is that moment. No one is there watching you."
Some come to class with that confidence, and others come to find it.
"It's really cool to see someone who was so shy and close off just blossom and open up to really own herself," Bello said. "That's my main goal, to help people open up and become their best versions of themselves."
Some people remain undecided about the class, Roman explained, believing that the choreography can be too sexual. To that, Roman says: "It's part of the experience."
"I feel like you can only do those movements if you are comfortable in your skin," she said. "If you aren't you're going to feel awkward. So that's why it's part of the class — it goes back to being confident and owning who you are."
Freshman Javon McAllister was intimidated by the idea of dancing in heels at first, but after seeing a friend post a video on social media, she took her first class this fall. The way she sees it, the class should put a little pep into dancers' everyday lives.
"You can either walk, you can stumble around, or you can strut a little bit," McAllister said after a heels class. "I feel confident in all aspects of my life now and I feel more empowered."