University community comes together to raise funds for homeless, foster students
---
When Enrique Sepulveda was 3 years old, his father was incarcerated leaving his 20-year-old mother to care for him and his sister by herself. With limited support, Sepulveda was left on his own and even walked himself to kindergarten at the age of 5.
"I was raised by the streets," Sepulveda said. "There was no one there to care for me, and I would get into fights and trouble."
Despite many hardships and a failing GPA, Sepulveda persevered. He knew college was his best opportunity. He pushed through, graduated high school and attended Miami Dade College. Sepulveda delivered his class's valedictorian speech at graduation. But still he faced uncertainty.
"I didn't know what was next, and once again found myself homeless," Sepulveda said. "I hadn't even contemplated getting a bachelor's degree until I heard about FIU's Fostering Panther Pride."
Sepulveda shared his story at the third annual Vine and Dine—a fundraiser that benefits Fostering Panther Pride (FPP) at FIU—on May 14 at Modesto A. Maidique Campus.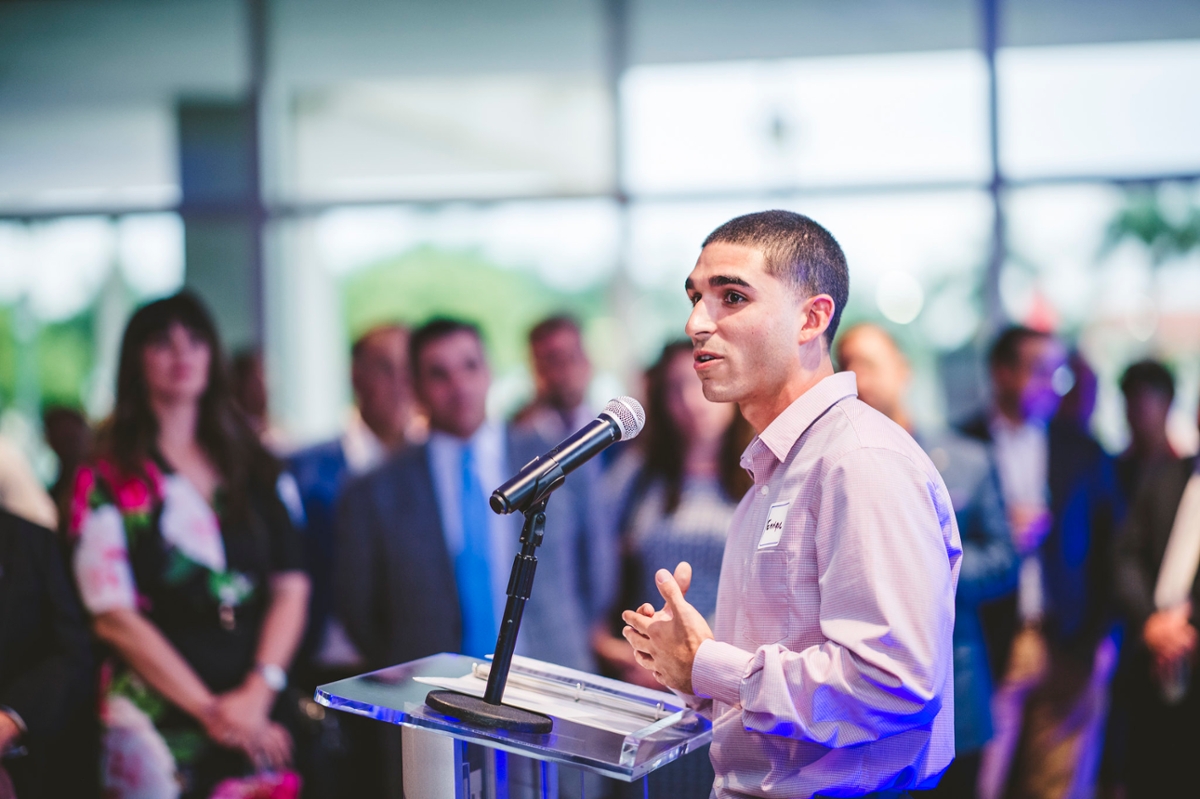 Launched in 2013, FPP offers tailored academic and support services to students identified as formerly in foster care or homeless. The program also helps participants in their pursuit of securing employment or graduate studies upon receiving their bachelor's degree.
Sepulveda is one of more than 400 students who have participated in the program. Today, Sepulveda is a junior political science major at FIU and with the support of the program is confident he will soon be walking across the stage again.
More than 170 people attended this year's Vine and Dine. Guests, university administration, community leaders and elected officials had the opportunity to interact and mentor FPP students.
Local vendors Los Ranchos, MIA Beer Company, Meringue Factory, Keys Bites Catering, Chartwells, Zyr Vodka, Don Camaron, Loco por Ti Wines, Exquisite Catering, Café La Rica , Frice Ice Cream, Nightowl Cookies, Southern Glazers Wine and Spirits, and Reposador Tex Mex tequila donated their services, food and drinks.
The event raised more than $150,000, which will go directly to the students' programming.
"I am proud that as the President's Council we are able to come together with other community leaders for such as great cause and make an impact on these students' lives," said Jerry Fernandez, who is president at Tropic Mechanical and has led the President's Council's efforts.
Surpassing goals
Fostering Panther Pride is dependent on private donations to function. In 2015, President Mark B. Rosenberg challenged the more than 100 members on his President's Council to raise $1 million for FPP over a five-year period. In the three years since they started fundraising, the President's Council has raised more than $1.8 million, far surpassing their original goal.
The council has devised and developed an integrated funding strategy through a variety of different vehicles, including fundraising events, private donations and grants.
The funds go directly to FPP and provide the students with housing, books, and emergency funds.
To learn more about the President's Council and the FPP initiative follow #fosteringpantherpride on Instagram or visit the program's website.