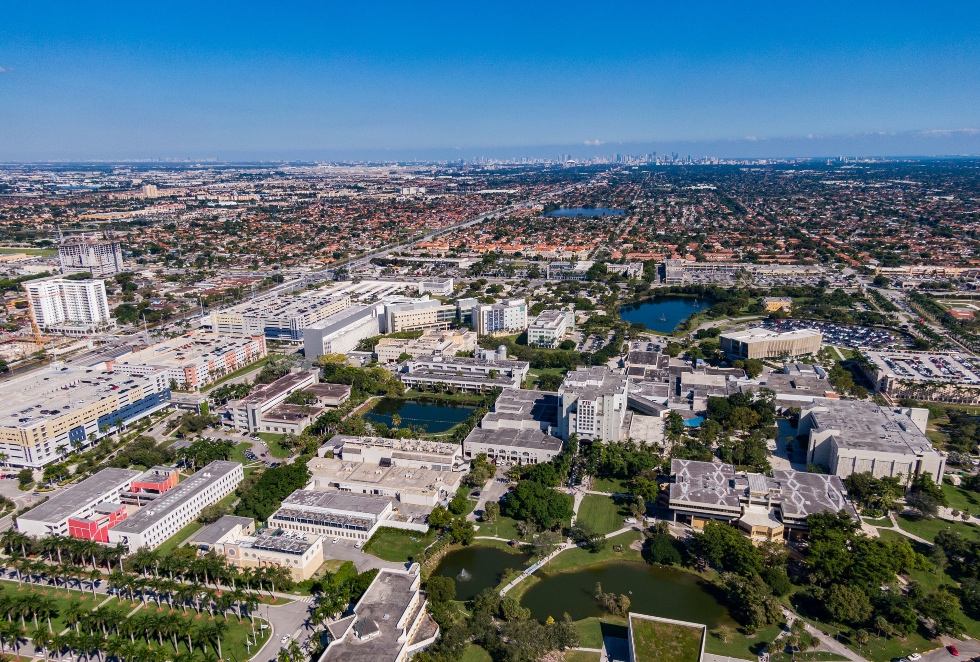 Back in 2008, the U.S. economy sunk to historic lows as Wall Street and the world's banking system lay in shambles 
and workers increasingly found their jobs outsourced or lost to automation. Layoffs and student debt soared, and many began to voice concerns that a four-year degree no longer held any value.
Soon after, FIU began taking a hard look
 at its future. Questions swirled—as they did 
at universities around the country—about the ways in which 21st-century students preferred to learn, whether schools provided them with the requisite skills to meet industry needs and the role of institutions of higher education
 in ensuring that new graduates find gainful employment in their chosen fields. These and other issues took center stage as FIU started to shift its thinking on how best to serve students and the community. 
FIU was born from a spirit of hope and determination to be a force for good. Every day, we obsess on student success. Every day, we use the blessings of our talent
 to offer solutions to community challenges. Every day, we seek win-win partnerships to foster well-being and prosperity for our community. —President Mark B. Rosenberg
Much of the evolution began with the installation of Mark 
B. Rosenberg as FIU's fifth president. A former FIU faculty member and provost and the then-outgoing chancellor of Florida's State University System (SUS), he took the helm in 2009 with a sense of urgency.
 It prompted a period of soul-
searching that reached into
 every aspect of university life and included self-studies, data analysis and a hard look at what, frankly, FIU could do better.
Flash forward nearly 10 years, and the payoff of all that introspection and the ensuing changes that followed—based
 on solid strategic planning—has become clear. On every  measure of success—from student and alumni achievement to faculty research to community engagement—FIU has triumphed.
Pulling rank
Perhaps the strongest validation of the university's overall accomplishment came this past September with the news that FIU now stands among the  top 100 public universities in the country. That's according to  U.S. News and World Report, the gold standard of higher education rankings.
The publication relies on 16 measures that education experts have proposed as reliable indicators of academic quality, such as first-year student retention, graduation rates and the strength of the faculty. The recently added criterion "social mobility" factors in a school's success at promoting upward mobility by graduating needy students who receive federal Pell Grants. (Nearly 60 percent of FIU undergraduates come from households with income of less than $50,000.) Class size, student-faculty ratio and the proportion of full-time faculty with the highest available degree in their fields likewise count toward the final placement.
Also critical: The magazine surveys top academic officials, such as presidents, provosts and deans of admissions, to have them gauge the academic quality of peer institutions with which they are familiar. As news of its innovative approaches to teaching, high-caliber research and community-oriented problem-solving has reached the far corners of the globe, FIU's profile on the national and international stage has grown.
There's a cohort of major public universities that are really reinventing higher education, and I think FIU is one. Inclusion and education and preparing [students] for careers, all things that traditional exclusive universities have looked down their noses at, can go along with being a high-quality research university.  —  Anne-Marie Slaughter, President and CEO, New America Foundation
Those same university leaders weigh in on specific academic areas of which they have particular knowledge. In the latest ranking of academic programs,  U.S. News and World Report placed 18 of FIU's in the top 100 within their respective fields. These include areas as diverse as nursing and social work, public affairs and business. Such recognition of excellence speaks directly to the knowledge and skills students take with them on graduation day.
And while national acknowledgement remains a goal for any university, FIU takes great pride in having this year earned second place—behind only the much-older University of Florida—among the 12 institutions in the SUS. That placement is based on some
 of the same metrics as mentioned above
 and recognizes the university's year-over- year improvement by the SUS Board of Governors. The success brings with it millions of dollars in additional state funding, money that the university has invested in the latest technology, the hiring of additional faculty and seed money for promising, early-stage research projects.
Research prowess
The flurry of recent rankings comes more than two years after FIU achieved one of 
its most important. In 2016, the Carnegie Classification of Institutions of Higher Education named FIU to its highest tier of research universities, making it one of just 115—or just 2 percent of all institutions of higher education in the United States—to attain the status. The standing puts FIU in the company of prestigious household names such as Harvard, Yale, the University of North Carolina at Chapel Hill, Virginia Tech and the University of Michigan.
During fiscal 2018, FIU commanded  more than $141 million in research funding from the National Science Foundation, the National Institutes of Health and the U.S. Department of Defense, among others. In the same year, FIU awarded 187 doctoral degrees, another achievement that figures into the Carnegie Classification as Ph.D. students are expected to combine the rigors of research, whether their own or in tandem with a supervising professor, with completion of coursework.
And while the national classification does not look specifically at the number of patents that scientists and engineers earn, the Board of Governors does put a premium on such activity. In 2016-2017, the university saw its faculty secure a record 66 patents for their discoveries and inventions. These innovations include a neural-enabled prosthetic hand, a hurricane-resistant roofing system, chemical tests for illicit substances and more.
The "solutions center" approach
[Charting] a strategic plan for a decade doesn't make a lot of sense because it's going to be a very different world you're operating  in before the decade has passed. The concept of a five-year plan, and no time to pause [before implementation], led us to focus on achieving our goals.— Douglas Wartzok, Provost Emeritus, architect of FIU's 2010-2015 strategic plan
Since taking the university's helm in 2009, Rosenberg has insisted that FIU harness the power of its growing body of applied research in support of impactful, real-world change.
To help the South Florida community achieve its goals of equality and prosperity
 for all, for example, the university has made 
a priority of working with underserved populations to lead improvements in health disparities and underachieving schools. Under the direction of physicians in the  Herbert Wertheim College of Medicine, the Green Family Foundation  NeighborhoodHELP® program brings together medical, nursing and social work students to visit indigent patients and offers a range of services, among them primary health care exams and mammography, in fully equipped, physician- staffed mobile centers.  The Education Effect is a collaboration with Miami-Dade County Public Schools to raise the academic skills of youngsters in underperforming elementary and high schools within the urban core. Both of these initiatives serve as national models.
Many of the university's designated  preeminent programs—areas called out for their research, teaching and community- engagement potential—are likewise outward facing. These include, among others, the  Center for Children and Families, which annually runs intervention and treatment programs for thousands of youngsters with ADHD and other mental health disorders, and the  Extreme Events Institute, which educates community leaders around the world about disaster mitigation policies and approaches.
Bold moves
FIU's impressive climb has everything to do with intentionality. The university unveiled five-year strategic plans in 2010 and  2015
 to serve as blueprints for reaching the goals set by both the SUS governing board and FIU leaders. Those critical roadmaps, based on input from every area of the university, mobilized the administration, faculty and staff to undertake methodical, data-driven steps to effect positive, meaningful outcomes.
For example, a renewed student-centered mindset put young people in the driver's seat in efforts to meet retention and graduation targets. For the first time, it was mandated that all students identify a major upon enrollment, and a combination of technology and enhanced personal advising were implemented to help undergraduates keep on top of degree requirements by making clear the path to completion. That led the university to offer more sections of required courses each semester—a recognition that students cannot graduate in a timely fashion if they are shut out—and change the way courses with high failure rates are taught. (Peer mentoring and a state-of-the-art math lab in the College of Arts, Sciences & Education, for example, have boosted pass rates in trigonometry, finite math and college algebra by double digits without compromising academic rigor.) At the same time, big data and predictive analytics have allowed staff
to identify at-risk students and develop appropriate interventions. 
FIU serves as an economic engine for the entire state, providing opportunities for students to better their lives, join Florida's workforce and pursue careers that match their talents and interests. — Marshall M. Criser III, Chancellor, State University System of Florida 
The concentrated activities all speak to new efficiencies as well as support for a unique population of students, nearly half of whom are the first in their families to attend college. (Nationally, 30 percent of all entering freshmen are first-generation students.) Many are also the first in their families to be born in the United States or are themselves immigrants. Most work 20 or more hours weekly to defray tuition and expenses. (In 2016-2017, 57 percent of
 FIU undergraduates received government Pell grants, federal monies made available based on need, and of those, more than half received the maximum award based on a family contribution of $0.)
Based on findings by the National Association of Colleges and Employers that approximately 60 percent of college graduates in 2012 who completed a paid internship received at least one job offer, the  Office of Engagement has led the charge to connect students to real-world opportunities in industries as diverse as biomedical engineering, finance, hospitality management and information technology. The  Division of Student Affairs has created an internship portal through which students and employers can find 
a perfect match. Those efforts have paid off by making young graduates that much more marketable: New FIU alumni are finding plum positions within their areas of study, and they average among the highest salaries of all recent graduates of the SUS one year after walking across the commencement stage.
So what will it take for FIU to become a next-generation global university? Simply for us to continue to be not afraid to embrace change and leverage technology to the benefit of our students and our community. — Kenneth G. Furton, Provost and Executive Vice President and architect of the 2015-2020 strategic plan and the forthcoming 2020-2025 plan
In the months ahead, FIU will begin the work of once again looking to the future and adjusting its practices to the coming challenges. With a growing body of internal data at its disposal and through interaction and consultation with national education think tanks and other organizations, and guided by its own expert faculty, the university remains committed to innovation, and even disruption, in the face of business as usual. Groundwork for the next strategic plan has already begun.
FIU will likewise strengthen its partnerships within the local community as well as with industry leaders around the state when it  launches the public phase of its capital campaign in early 2019. The fundraising effort will further deepen FIU's ability to meet the current and future needs of both individuals and the greater society, thereby continuing the central work of South Florida's top public research institution.