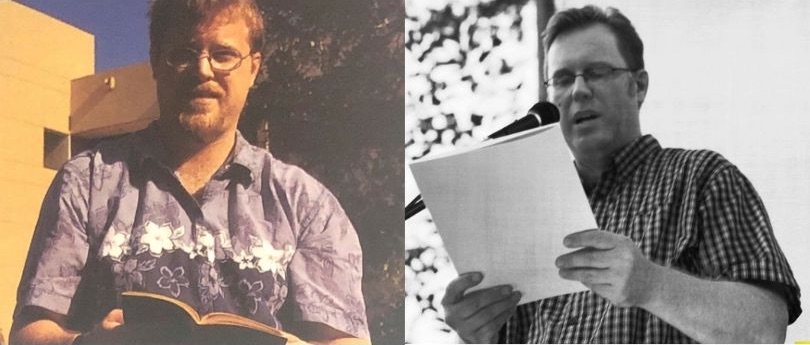 Godzilla-inspired poetry led this alumnus to a rewarding life of writing and teaching.
Nearly 20 years ago,  Jay Snodgrass MFA '02 was featured as a star student in FIU Magazine. At the time, he was celebrating the release of  Monster Zero, his MFA thesis and first book of poems, inspired by none other than Japanese monster Godzilla. The Boynton Beach native spent 13 years in Japan as a military dependent while his father was stationed there in the Air Force during the '70s and '80s.
"The book is about being displaced, not fitting in anywhere and feeling like a freak. I began writing from the perspective of an atomic bomb as I felt like my whole experience living in Japan was a result of World War II. But then I picked Godzilla because I felt it was also a metaphor for nuclear bombs," he says.
"Godzilla is a big destructive monstrous creature and I identified with that, " he adds, reflecting on his outsider status. "I've sort of grown into that notion."
Since his  Monster Zero days, Snodgrass has earned a Ph.D. in creative writing from FSU and taught at the college level as well as become the co-director of Anhinga Press in Tallahassee alongside his wife, Kristine.
"I don't think I could do anything else. Going into poetry was an artistic experiment," he reflects. He wrote many of the poems featured in his second book,  The Underflower, while riding the bus from MMC to BBC as a student. "It's just a little weird book about Miami," he says.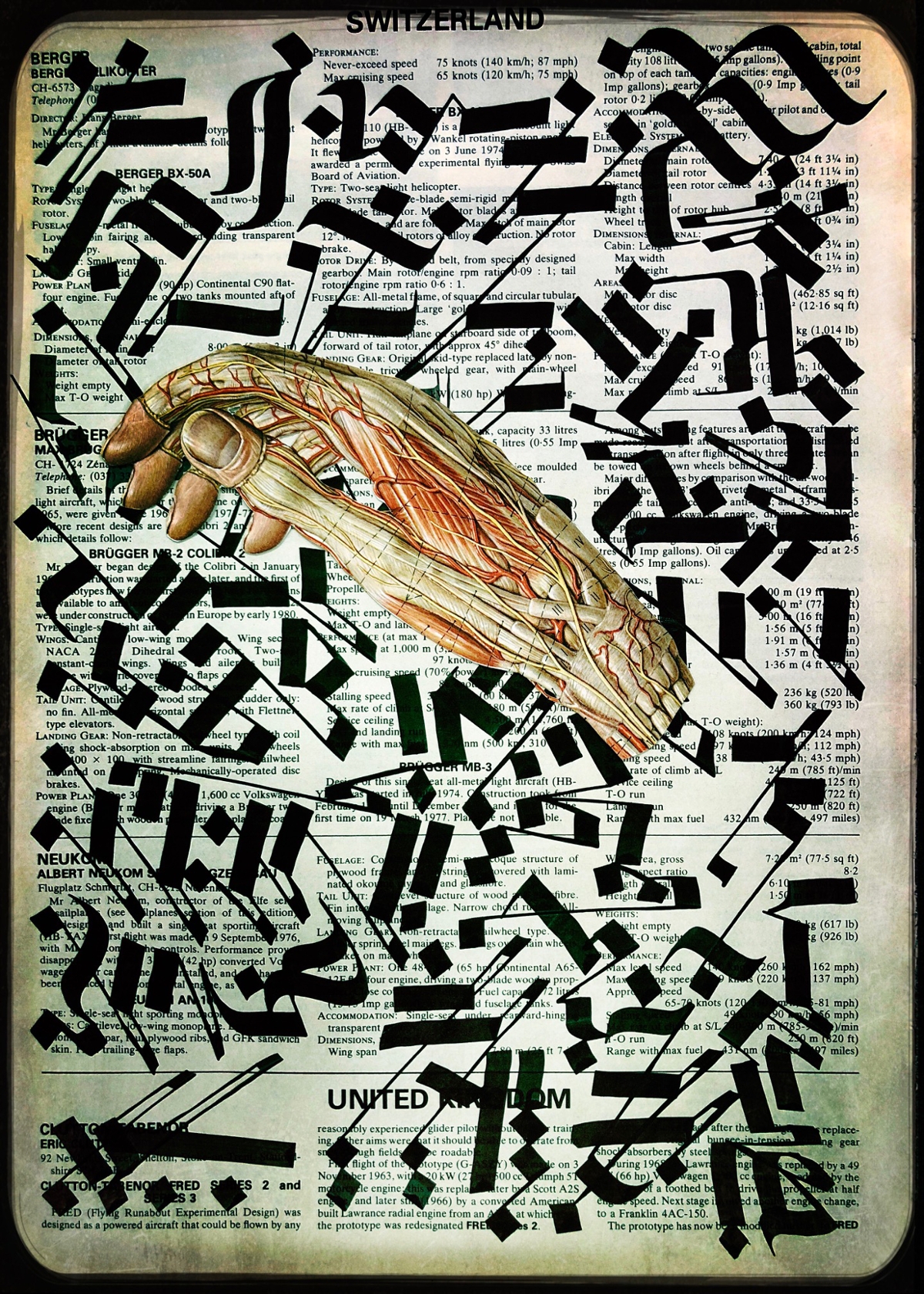 Snodgrass is a poet as well as a visual artist who works in a form known as " asemic writing" – what appears to be lettering but actually holds no traditional meaning. The piece above features an anatomical image that he overlaid on his original work.
In the book, Snodgrass says he compares "the strangeness" of his experience in Miami as a "poor grad student" with that of the city's historical figures, like explorers Juan Ponce de Leon and Hernando De Soto and "ghosts of the past" like Tequesta Indians.
"Jay continues to be a mover and shaker in the world of poetry," says  Denise Duhamel, poet, professor in the  Department of English and, once, Snodgrass' mentor. "His poetry thesis was the first I directed and I couldn't have been prouder when, almost immediately after his graduation, it was published," she adds. The two have stayed in touch, with him calling her one of his poetry heroes. "Our daughter's middle name is actually Denise, after her," he shares.
For him, getting out the work of aspiring poets has been extremely rewarding. "It's a good feeling to be able to publish someone's poetry and make them feel acknowledged by a community," he says, much like he experienced as a part of FIU's creative writing program.
"It's a unique program in that it's so supportive. Everyone involves you and is interested in what you are doing and wants to help you grow," he says. "I had a really fortunate experience to go there and I'm grateful for it."
He encourages young poets to seek out a space in which to share their writing, whether that's through academia or open mic nights. "There are so many ways for poets now to create outlets for their expression," he says.
Though his Godzilla days are far behind him, he's glad to reconnect with both FIU and the monster that helped launch his literary career by going to see the franchise's newest film,  Godzilla: King of the Monsters, which recently came out in theaters. "Godzilla will always be there in one form or another," he says. "Culturally, it still speaks to our condition and circumstance."
"Godzilla is an environmental message," he adds. "We've brought on this great destructive force, this calamity, and if we can learn how, we can turn it toward our benefit. The catastrophe, the nuclear bomb, climate change, the ability of our emotions to get the better of us."