100-year-old Holocaust survivor tells story of survival, shares message of love
On the 75th anniversary of the liberation of Auschwitz, students, faculty and members of the community gathered to hear a Holocaust survivor's story of survival and joy, by the 100-year-old survivor himself.
Julius Eisenstein, born in Tomaszów Mazowiecki, Poland, was forced into a ghetto, separated from his family and made to work in five different labor camps—all before he was liberated by U.S. soldiers in 1945. Since then, he has lived in Munich and New York—where he owned and operated several small bakeries—and  Florida, where he now lives and spends his time spreading Holocaust awareness among young people. 
During his talk co-sponsored by Honors College & Zeta Beta Tau Fraternity on Jan. 27, Eisenstein asked the audience to ponder the question: "You don't have to like me, but why do you hate me?" He encouraged those gathered to remove the word hate from their vocabularies.
"Please, do not forget what happened," pleaded Eisenstein.
He asked the audience to believe the Holocaust can happen again, but to be the ones to make sure that it doesn't. "Speak up if you see an anti-semite. He is no different to you. The power is in your hands." 
President Mark B. Rosenberg said that the event represented a milestone anniversary. Lara Suzenouski, Rosenberg's mother, was herself a Holocaust survivor.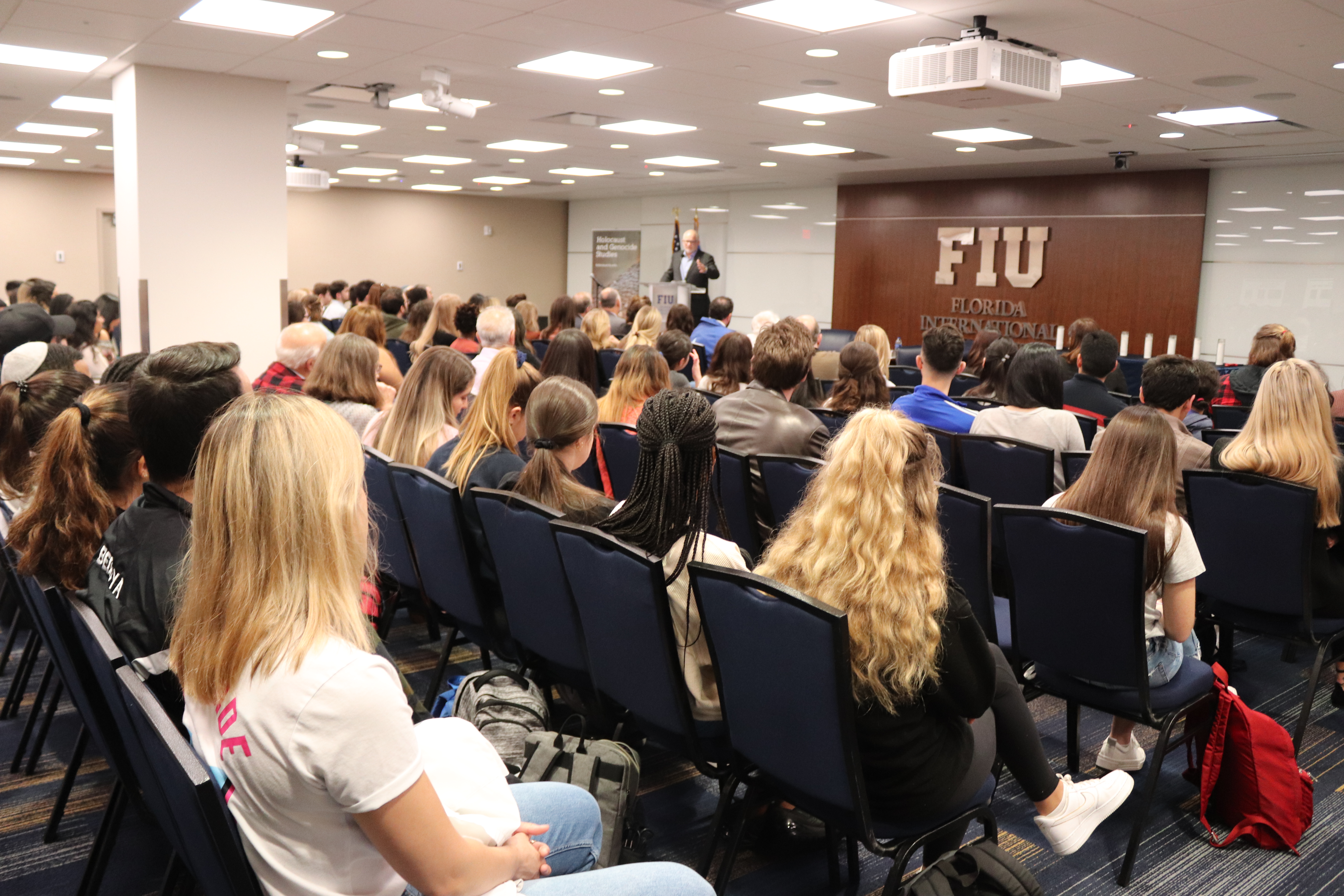 Rosenberg addresses the audience.
Suzenouski and Eisenstein were both in Birkenau, an extermination camp operated by Nazi Germany, during the same time period and may have known each other.
"My mother did not continually remind us of her experience in the Holocaust, except for '54326' being scarred onto her being," said Rosenberg of the numbers forcibly tattooed on his mother at the concentration camp. "In many ways, we continue to see racism today... anti-semitism, elitism–if you will. It still persists today. Holocaust education has to go on for us to reduce the likelihood of this ever recurring."
Rosenberg added that FIU's 2019-2020 common reading book, Determined: A Memoir by Martin Baranek and Lisa B. Cicero, was important to the development of FIU students. The book chronicles Baranek's experiences in a Polish ghetto and labor camp, escaping Auschwitz and evading execution numerous times. It is required reading for freshmen; nearly 5,650 students have already read the memoir.  
Executive Director of the Jewish Museum of Florida-FIU Susan Gladstone said that it is crucial for students to know the story of the Holocaust because that is the only way it can be prevented from ever happening again.
"Students benefit from visits like this one because there are so few Holocaust survivors left," said Gladstone. "The very best way is to hear it is from someone who lived it. The next best way is to tell the story to others so that it continues to live on."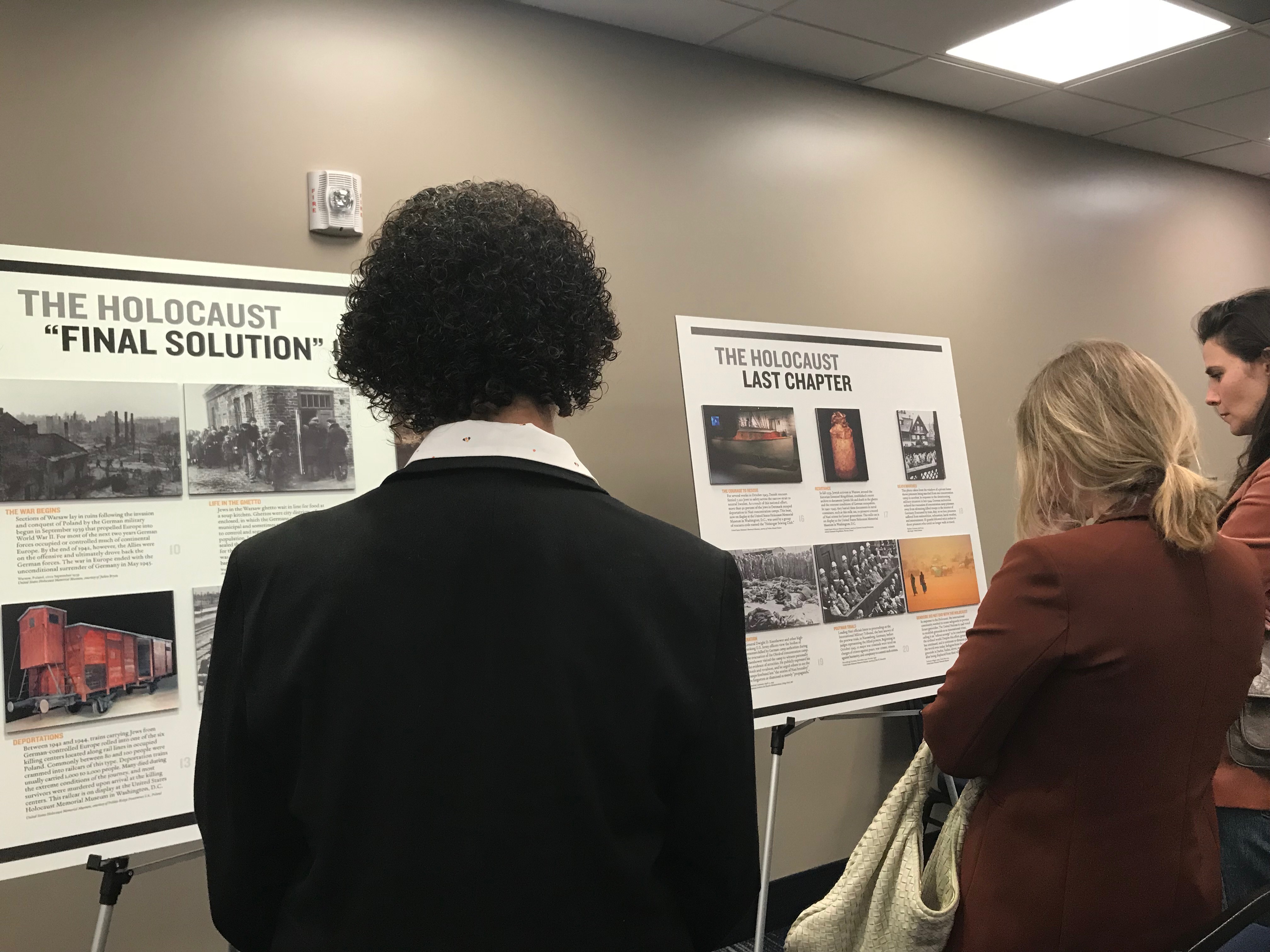 Poster boards showing facts and images of the Holocaust, genocides in Asia, Rwanda and indigenous communities were on display at the event.
Franz Katz, a local artist and father of an FIU alumnus, attended the event to show support for Holocaust education and and to learn more himself.
Katz said he wanted to forge closer ties to his German-Jewish ancestry. His grandfather came to the United States in 1885 and that he thought the opportunity to hear from a survivor was an opportunity to get a better perspective on what life could have been like for his ancestors had they stayed in Europe. 
Arvinder Pannu, an honors college student studying accounting, said she was "astonished" at Eisenstein's story.
"The fact that he says he's a happy man and is able to joke after what he endured is incredible."
Pannu said she wished Eisenstein could have stayed longer to share more about his experiences.
Branden Bedoya, a second-year student of finance, had this to say about Eisenstein's visit: "It's one thing to look at things from a history-book perspective versus seeing someone who actually lived through it and understanding the actual emotion behind everything." 
For more information on FIU's Holocaust and Genocide Awareness Week, visit here. For a student's perspective on the 2019-2020 common reading book, a memoir by a Holocaust survivor, visit here.