Alumnus follows true calling to found a construction company
Construction management alumnus, Oscar Morejon, selected as one of South Florida Business Journal's 40 under 40.
When Oscar Morejon was 15 years old, he asked his dad for a car. The next day, Morejon found a pressure cleaner in his room. His father told him if he pressure cleaned enough driveways and houses, he'd get the car. Morejon followed his father's guidance and started a company called Pressure Cleaning Pro.
From that day, Morejon pressure cleaned, painted and repaired homes throughout his college career at FIU, where he studied construction management and joined the student chapter of Associated Builders and Contractors. During a career expo hosted by the Moss School of Construction, Infrastructure and Sustainability, he obtained an internship with Suffolk Construction, giving him hands-on experience in the field.
Morejon, who earned his degree in 2013, very quickly went from intern to assistant superintendent, managing a $150 million multi-phased commercial construction project consisting of a 13-story parking garage with two residential towers of 32 and 28 stories and a Whole Foods Market on the first level in Downtown Miami.
Despite his success at Suffolk, Morejon knew being a business owner was his true calling. "I desired to start a company that defied the negative stereotype of construction companies," said Morejon. "We've all heard the horror stories – they took forever, they stole our money. I wanted to open a company that showed up on time, that was fairly priced, that provided superior quality and that really stood out from all other construction companies."
With the support of his wife, Isabella Morejon, an FIU nursing alumna, he pursued his dream, and in 2016 Morejon partnered with two of his best friends to form John Bell Construction. (The moniker takes part of both his and his wife's names."John is from Morejon" he explained "and Bell is from Isabella.") 
By the company's fourth year, annual revenue approached $7 million, and the team had grown to 55 employees. Today Morejon leads a team of 65 local employees ranging from project managers to machine operators. His main responsibility is to maintain the culture and core values of the company, constantly communicating the message to his organization's employees. He also meets with prospective clients for discovery meetings and oversees all ongoing construction projects.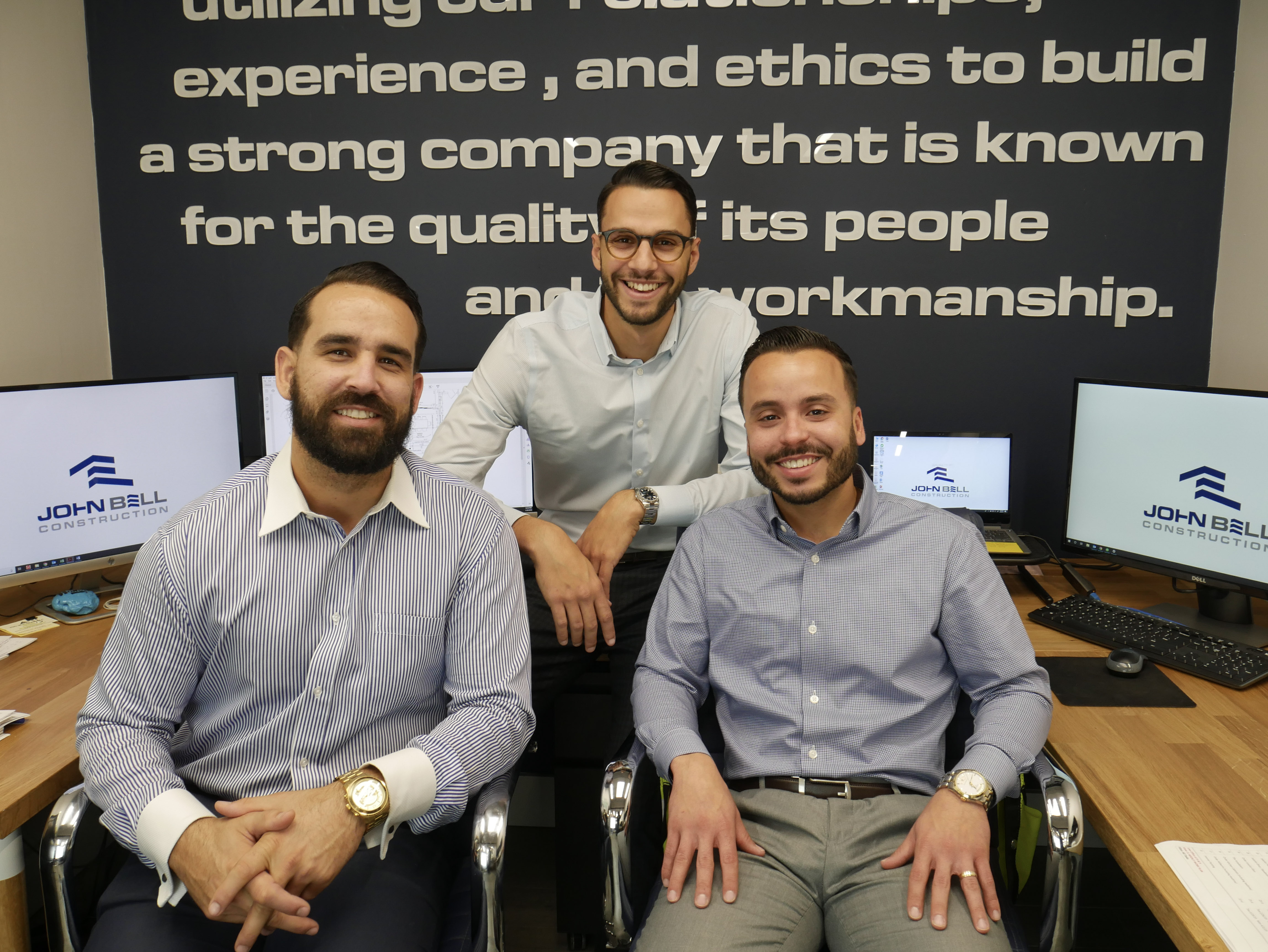 The company focuses on commercial, residential and masonry projects. A project Morejon is proud of is the completion of their first masonry project, the Miami World Center in Downtown Miami.
"We were a subcontractor for this immense project that came my way thanks to an old colleague of mine from Suffolk Construction," said Morejon. "This project took my company to the next level, and my team feels very proud."
Another major accomplishment was the remodeling of a clinical care network building, which consisted of turning an old 15,000 square foot space into a state-of-the-art medical center that houses a variety of medical providers in one location.
The team at John Bell Construction has completed several projects in the City of Coral Gables, such as street and parking lot improvements, renovating homes and the renovation of the Venetian Pool, a historical public swimming pool that was first built in 1924. 
Due to Morejon's significant impact in the ever-growing field of construction, South Florida Business Journal recognized him as one of their 40 under 40 honorees for 2020. "If it wasn't for my father's lessons in hard work and teachings of the value of a dollar, I wouldn't be where I am today," said Morejon.
Currently, Morejon and his team are looking into launching an internship program for current construction management students. He and his business partners are also in the process of implementing a $15,000 scholarship fund for first-generation FIU construction management students, in hopes to begin offering the scholarship in fall 2020. He is also joining the College of Engineering & Computing's Dean's Leadership Council to help the college and its students.
"My advice to students is to focus on what you enjoy doing. It's good to listen to advice, but you also need that self-confidence to follow your heart," said Morejon. "My second piece of advice is to remember that just because you study a certain career, it doesn't mean you will end up doing that in life. Life has a strange way of coming around. Be open to all the courses you take, even those electives you think won't make an impact." 
Morejon's successful career all started because of the teachings his father instilled in him. And in the end, Morejon got more than just a car.