Barely 10 years out of FIU, two-time graduate Tony Succar '08, MA '10 in November of 2019 won the Latin Grammy Award for Producer of the Year. Nominated in four categories, he also took Salsa Album of the Year for Más de mi.
The 33-year-old Peru-born, Miami-raised sensation accepted the honors live on national television and weeks later landed on campus to perform at President Mark B. Rosenberg's annual holiday party for employees, where more than 1,000 Panthers rocked to Succar's infectious beats. In between, he performed in Guatemala, Peru and Tenerife, Spain.
No wonder then that the usually high-energy entrepreneur-composer-arranger-percussionist-band leader sounded exhausted one afternoon in December, even as he discussed the biggest moment of his life.
"It feels rewarding," he says. "It feels very good to be able to get that industry recognition from the academy. It's one of the things that we all dream of."
Earning the pair of Grammys marked the pinnacle of Succar's still very young career and validates not only his two music degrees from FIU but his every creative decision of the last decade. That includes spending five years on his first studio album, a Latin tribute to Michael Jackson, which featured more than 100 instrumental and vocal superstars, among them Tito Nieves, Jon Secada and La India.
The masterpiece received rave reviews, and it reached No. 1 on Billboards' Tropical Albums chart. Succar still builds whole concerts around the salsa-fied Michael Jackson covers, much to the delight of fans. Controversially, however, the album was disqualified from eligibility for Latin Grammy nominations as the Latin Academy deemed its bilingual lyrics less than 51 percent Spanish.
At the time, Succar unsuccessfully contested the ruling and even started a change.org petition to get the decision reversed. Today, though, he says that the good that came out of the setback— including a positive response from older, seasoned industry professionals who stepped up as mentors—has him feeling as positive as ever.
"I think everything happens for a reason," he says. "My whole life has been a challenge, and every step of the way it's been work hard, you make it happen, you celebrate that moment and you keep going and conquer the next thing." 
FIU as launchpad
Overcoming challenges and then killing it pretty much sums up how Succar's career unfolded at FIU. A high school soccer player with dreams of earning a sports scholarship, he had his application for admission flatly denied: poor grades. 
He tells the story of his father taking a box of soccer trophies to campus to speak with the folks in charge. Dad wanted to explain that young Tony truly had spent all his time on the playing field—with great results—and now was ready to direct the same attention to his schoolwork. Problem is, no one was buying it.
"It doesn't work that way, sir," Succar recalls the response to his father's entreaties. Ultimately, though, "He tried so much he convinced them," Succar says. The deal: Take an assessment test and summer course at Miami Dade College, do well and FIU will accept you. "And that's exactly what happened."
Once on campus, Succar pivoted to music—the family business—and reveled in playing as a member of the Latin jazz ensemble and learning from a cadre of top jazz musicians on faculty.
"Mike Orta was one of the guys that truly gave me the opportunity to become who I am. He was such an incredible pianist and such a great role model," Succar recalls of the renowned musician who taught at FIU from 1992 until his death in 2018. The others Succar remembers as "also amazing" include Orta's brother, Nicky Orta, and several folks still teaching at FIU.
Jazz percussion professor Rodolfo Zuniga '03, MA '05 recalls instructing a talented and ambitious Succar back in the day. "A lot of students come through the School of Music and some move on, but he was always very committed," Zuniga says. The older man remembers Succar's willingness to work with everyone and his determination to complete not one but two music degrees before going on to hit it big.
"It's really hard to achieve what he has achieved," Zuniga, himself a two-time alumnus of the school, says of Succar's rising career. "I was surprised that it got off the ground as quickly as it did after he graduated. But in reality, when I look back, he was working, leading his own bands and learning as much as he could with his family since he was really young."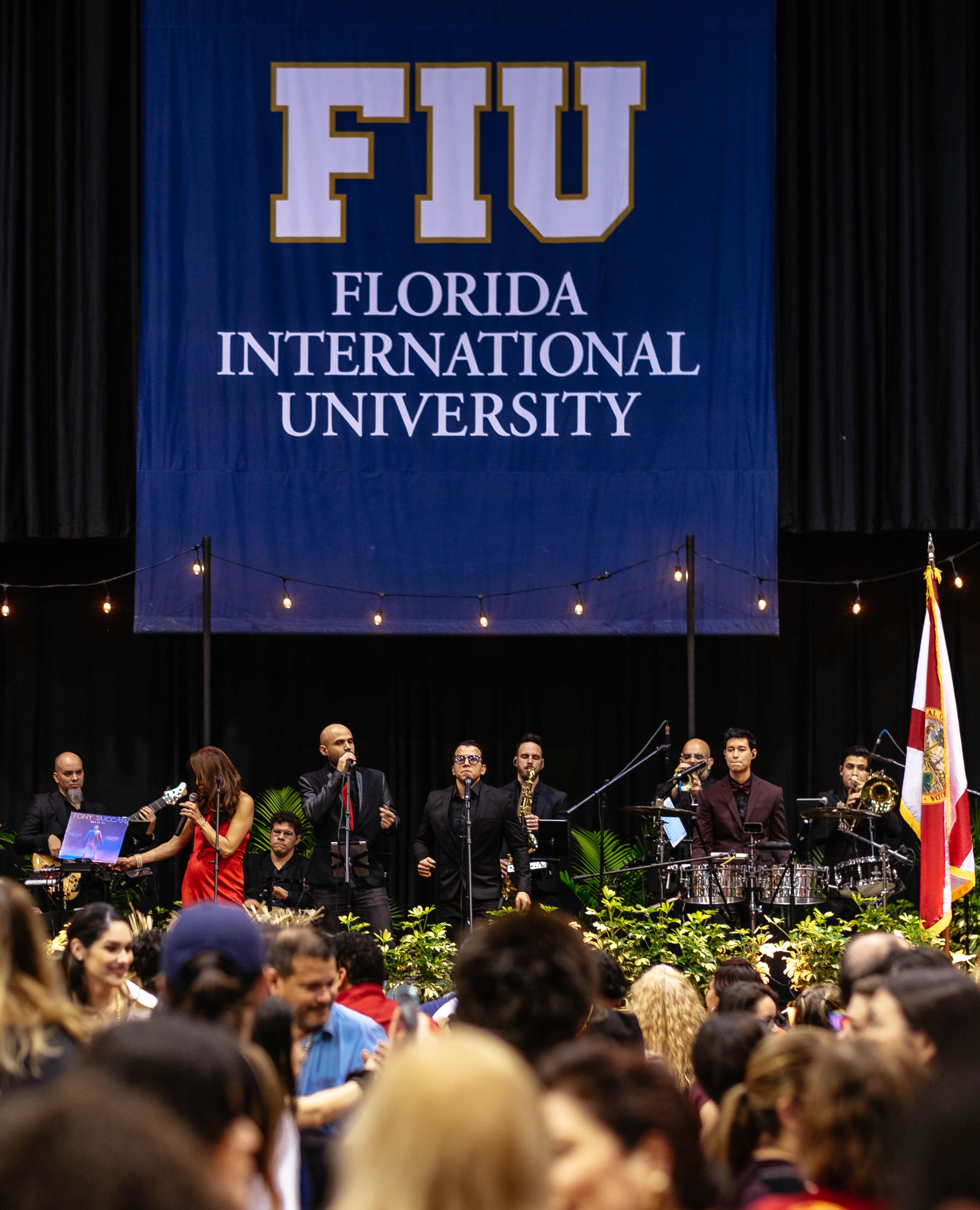 Succar and his Mixtura band played at the President's 2019 Holiday Party at FIU.
With his musical parents supporting him all the way—Mom sings in his Mixtura band, and Dad manages his career—it's no wonder Succar made his academic exit from FIU with a bang. In 2010, instead of holding his required graduate recital in the typical recital hall, capacity 30-40, Succar opted for the campus concert hall, which holds 600 people.
"It was huge," Succar recalls. "I brought dancers and lighting engineers, and I got a whole DVD and CD out of it, called Live at the Wertheim Performing Arts Center. My professors were like, 'Dude, this kid is crazy. Why does he complicate his life? Why doesn't he just do it like everybody else?' I said, 'No, I want to stand out from the crowd.'" (Notably, the school asked him to return as an artist-in-residence in 2012, the youngest person to ever hold the position.)
"That's the moral of the story here," Succar says. "People might see me right now and think, 'Damn, how did he get to the Latin Grammy thing so young, independently, with no labels, no investors? How is he the producer of the year?' I was just going step by step and making sure I was heading in the right direction."
Ain't no stoppin'
Succar has a full schedule for 2020. He has plans to drop an album in April or May even as he concentrates on his artistry as a performer by doing shows in Latin America and Europe.
"With me, you're never going to be able to predict my next move," he says. "There's a big band jazz album I'm finishing up. Maybe after that I'll go back to Michael Jackson, or the Beatles, or maybe do an '80s tribute or maybe I hook up with Bruno Mars and do an album with him. You just gotta go with the flow and see where it takes you."
Also on tap is educational work for the Latin Grammy Foundation and, one never knows, maybe more stops at FIU. Succar performed at TEDxFIU in 2012 and kicked off the university's capital campaign in January of 2019, in addition to playing concerts in between those years as part of the FIU Music Festival.
"I'm always going to be back for sure," says the proud alumnus, "whenever I can help, for me it's an honor."