Biomedical engineering doctoral students win prestigious NIH research fellowship
Valentina Dargam and Kevin Leiva will take part in an NIH program that focuses on both research and mentoring in order to increase representation within health-related research.
September 22, 2020 at 4:45pm
---
Two students from the Department of Biomedical Engineering recently won a National Institutes of Health F31 Ruth L. Kirschstein National Research Service Award - Individual Predoctoral Fellowship to promote diversity in health-related research.
Valentina Dargam and Kevin Leiva are the first winners of this award from the Department of Biomedical Engineering and in the College of Engineering and Computing at FIU.
A prestigious and highly competitive fellowship, the purpose of the program is to enhance the diversity of the health-related research workforce by supporting the research training of predoctoral students from population groups that have been shown to be underrepresented in the field.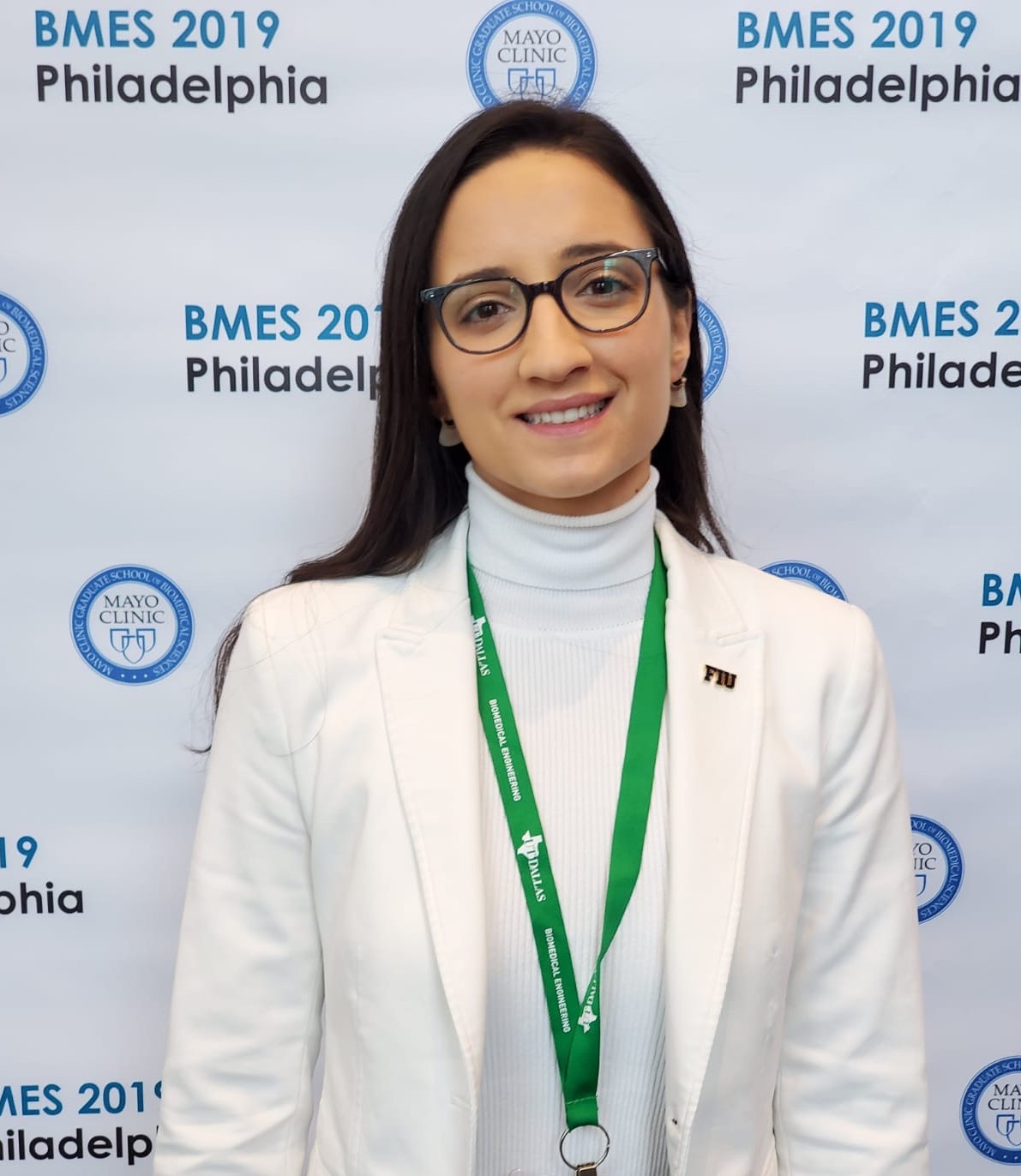 Dargam will be researching ways of using heart sound signals to develop a diagnostic tool that can quickly and accurately detect the presence of aortic valve disease. Aortic valve disease is fairly common, affecting 1 in 4 people over the age of 65 and can often be hard to detect because many patients are asymptomatic or incorrectly attribute symptoms to other causes, such as stress or fatigue. The longer it goes undetected, the higher the risk of heart failure.
Her research will be conducted with the collaboration of Dr. Joshua Hutcheson, an assistant professor of biomedical engineering and her Ph.D. advisor; Dr. Zachary Danziger, an assistant professor of biomedical engineering; Dr. Wei-Chiang Lin, an associate professor of biomedical engineering; and Dr. Armando Barreto, a professor of electrical & computing engineering—all of whom are also mentors and members of her Ph.D. committee and clinical collaborators at Baptist Health and Memorial Hospitals.
Dargam, who originally thought about attending medical school, went into biomedical engineering in order to utilize her mathematical aptitude while still solving problems in the health care field. As an undergraduate, she applied for and received a McNair Undergraduate Fellowship, which funded a summer research internship. She worked in the Adaptive Neural Systems Laboratory under Dr. Ranu Jung, chair of the biomedical engineering department, and fell in love with research. She decided to get her Ph.D. at FIU and is currently working in Hutcheson's Cardiovascular Matrix Remodeling Lab. She is also involved with StartUP FIU, a university-wide initiative that fosters and develops entrepreneurship and innovation, with an eye toward one day running her own lab.
Leiva will be developing tissue oxygenation indices for assessing acute wounds and diabetic foot ulcers using a near-infrared imaging approach. His research will be conducted with Dr. Anuradha Godavarty, associate professor of biomedical engineering and his advisor and mentor; Dr. Wensong Wu, associate professor of mathematics and statistics, as well as clinical partner from the University of Miami; Dr. Robert Kirsner; and clinical consultant Dr. Francisco Perez-Clavijo.
Leiva was drawn to biomedical engineering because of the opportunity to develop medical devices and help others.
"I have always enjoyed engineering and wanted to make contributions to science that can improve the lives of people, which is why I pursued a B.S. in Biomedical Engineering at FIU," he says. "After working with Dr. Godavarty and Dr. Jorge Riera for my senior design project, I came to further appreciate preventative and diagnostic imaging and decided to continue my education in the graduate BME program."
He is currently working in Godavarty's Optical Imaging Laboratory, and has already conducted clinical studies at the University of Miami Wound Care Center (on diabetic ulcer patients) and at the Miami Cancer Institute (on radiation therapy treated breast cancer subjects). Leiva is a distinguished author, with three published manuscripts (two as first author) and twelve conference proceedings (three as first author).
As part of the fellowship, Dargam and Leiva will not only conduct a research project, but take part in individualized mentoring and training from outstanding faculty sponsors and mentors. The twofold approach is designed to help fellows develop their career goals and ultimately become successful in their professions.
"FIU is a Hispanic-Serving Institution, so here, I don't often feel like a minority, but when I go to conferences, it's clear that women and Hispanics are underrepresented in the field and as faculty members," Dargam says. "That's why this fellowship is important, because it's developing people to not only be successful now as students, but to be successful as faculty members and researchers in the future."
Leiva agrees. "Diversity allows us to bring new ideas, experiences and talent to solve problems from a multitude of fronts and in ways we may not have thought of before. By promoting underrepresented minorities, we can pool together all these attributes to help solve the problems that we face today."