Arina Polyanskaya, a Ratcliffe Art + Design Incubator fellow at the College of Communication, Architecture + The Arts (CARTA), is changing the stereotype around second-hand clothing—one fabric square at a time—with her business project, Re-dress.
Re-dress is an up-cycling fabric business project Polyanskaya started in 2019 as part of her Ratcliffe Art + Design Incubator fellowship. The project focuses on sustainability within fabric manufacturing.
Textile dyeing is known to be a major pollutant contributor to the freshwater supply. And with dozens of clothing items that have had little to no use being discarded regularly, Polyanskaya couldn't help but worry what effect the fast fashion industry was having on the environment.
"I decided to create a project that would explore ways of upcycling or reusing second-hand clothing into new objects," says Polyanskaya. "I'm looking for long-term solutions that will help reduce waste and prolong the lifecycle of everyday objects. My hope is that this project will help shift the mindset of my local community about upcycling clothing."
Polyanskaya's original idea for Re-dress was to create custom pieces of fabric squares that could be used for a variety of purposes, like furniture design, pet beds and more, but when the coronavirus pandemic struck, she realized she could use her platform for a much more urgent need – creating face masks.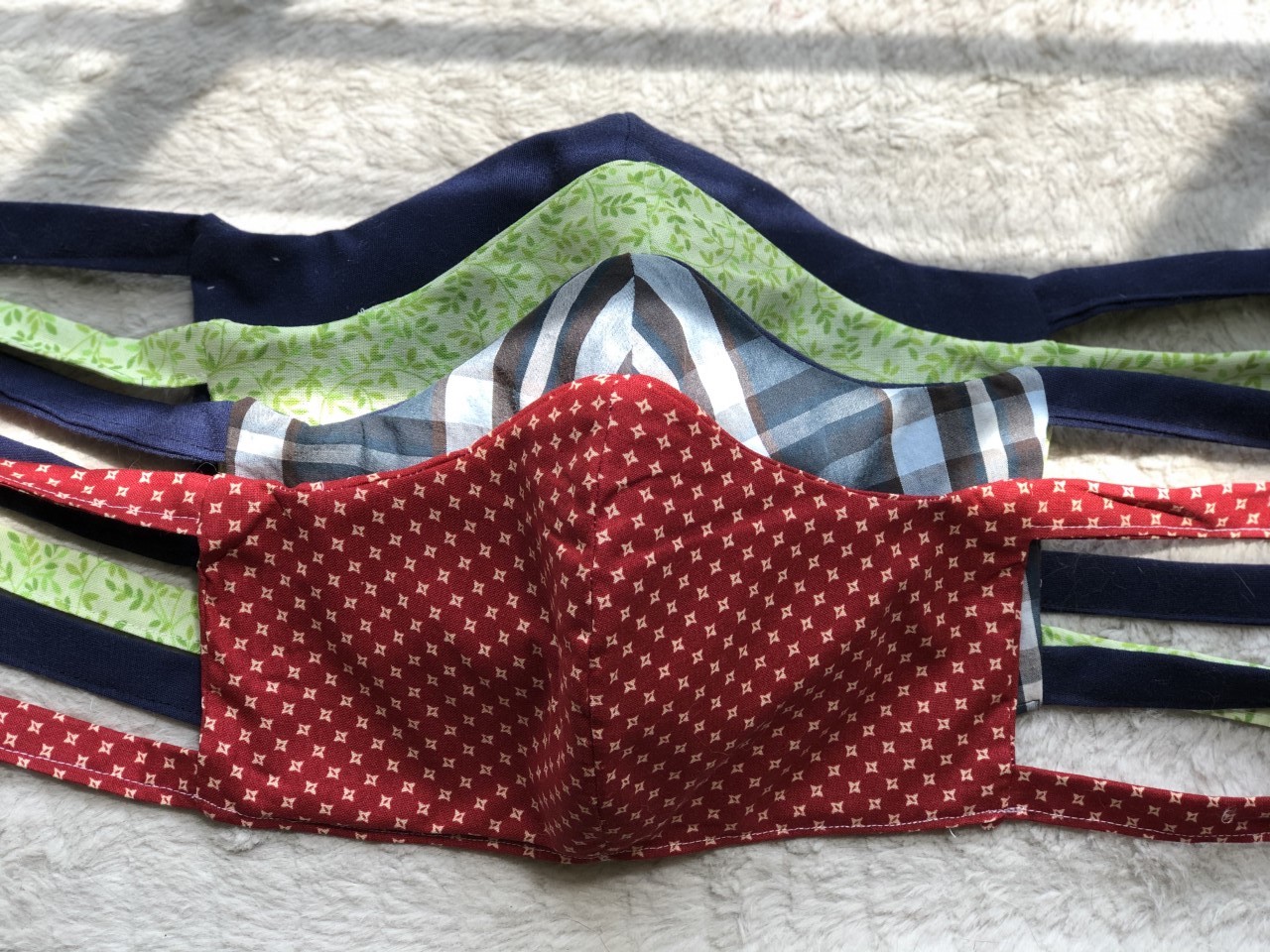 "A family member of mine works in a local hospital, and, since the beginning of quarantine, she's been really concerned with the amount of protective wear available for health care workers, as well as for the general public," Polyanskaya adds. "Making fabric squares felt inappropriate with this pandemic going on, so I thought there must be a way to utilize my skills and materials in assisting with controlling the spread of the virus. And I found it through sewing face masks."
After testing about four different various face mask models, Polyanskaya finally found one that worked best to protect wearers from touching their faces and releasing germs into the air. Polyanskaya says the most exciting part of these face masks is they can be washed and reused, which will help limit pollution from disposable face masks.
With the help and support from the Ratcliffe Incubator faculty, her family and students who have donated clothing articles, Polyanskaya has been able to create about 50 face masks for the public in just about four weeks.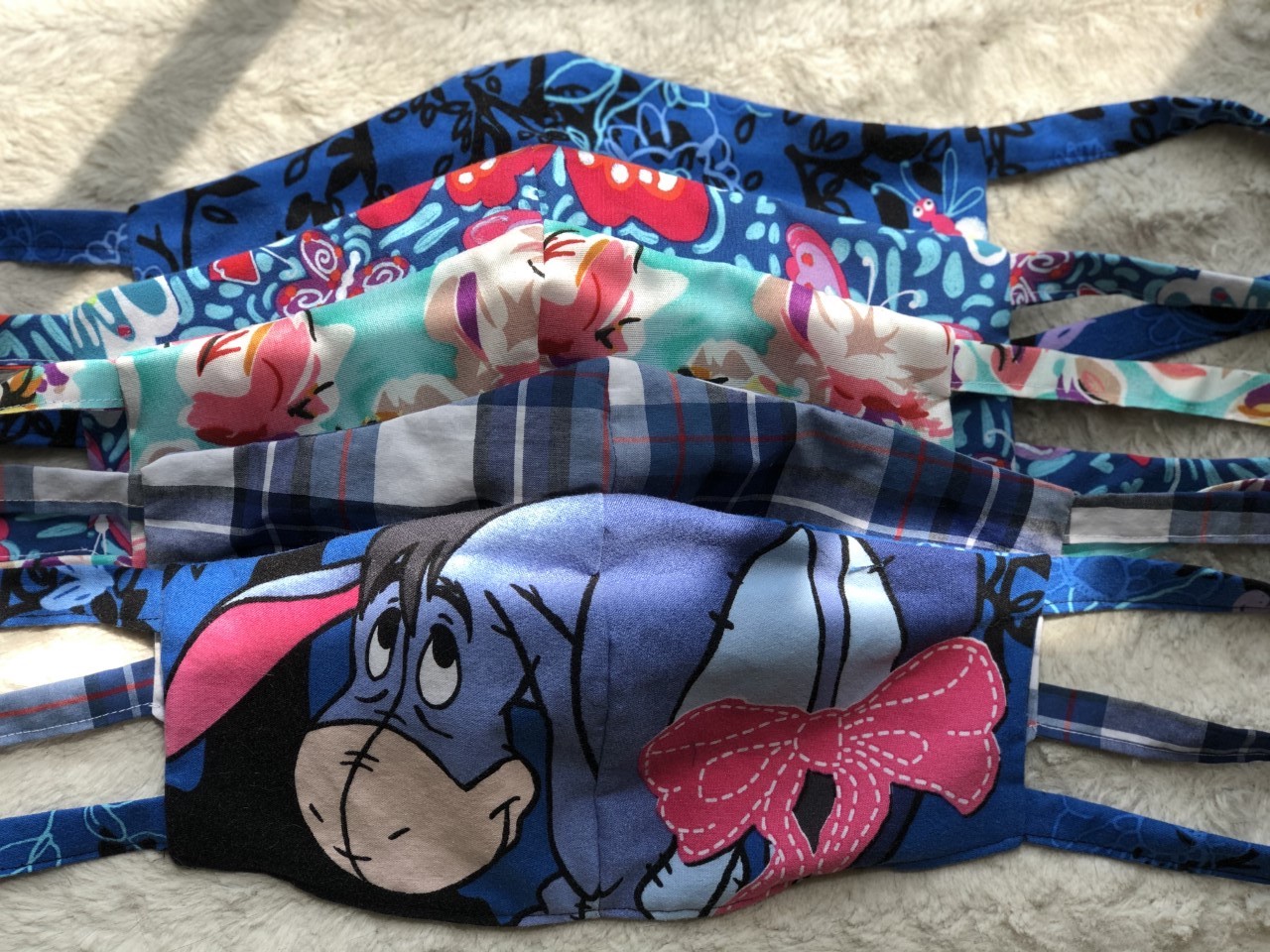 "Our RA+DI Fellows' discrete stories are narratives of extraordinary creativity and resilience," says Jacek Kolasinski, director of Ratcliffe Art + Design Incubator and associate professor for the Department of Art + Art History. "The pathway to success is forged through a thousand small modifications."
Once the pandemic subsides, Polyanskaya is hoping to go back to creating original fabric squares and other projects using second-hand clothing items. She's even considering collaborating with local designers and providing them with custom fabric squares to use in their business.
"I think it's really important to reframe the negative mindset we have around second-hand clothing and working with creative, forward-thinking minds would help in making upcycled objects valuable," says Polyanskaya.
Those interested in obtaining a custom and reusable face mask from Re-dress can contact Polyanskaya through Instagram.